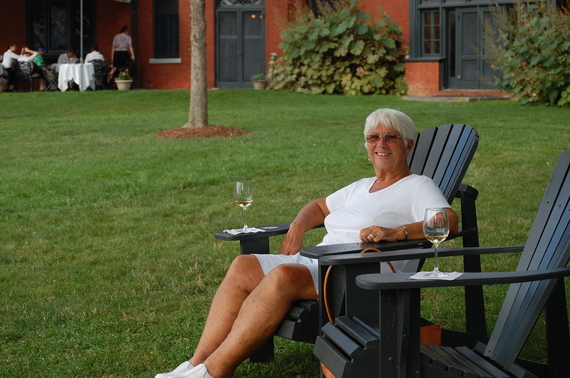 I like to buy my own gifts (to my husband's dismay). I like gift cards (when my sister says if all I can select for her is a gift card, don't even bother!), and I prefer dishwashers or a new fridge if I need one over something frivolous or romantic.
But from my very first year as a mother, a WONDERFUL Mother's Day gift was a must! I saw how on this day (and on Father's Day), it is so important to show our moms and dads how much they mean to us and thank them for all they do, day in and day out. On this one day, I absolutely feel I deserve the best... and some effort should be made!
Often, in mothering my own sons, I've thought about how I want to do it -- what to give, what not to give, how much to hold, how much to push, how much to say or not say. I've looked to my own upbringing to lead my way. I was one of the fortunate ones to have been given the perfect mother for me -- so much of the good in my life and my relationships has come from what she gave to me.
Every child is different, so the same mother's qualities may touch siblings in diverse ways. Their experience may or may not be similar. I've also seen that mothering over different phases of life can be different -- a young mother to a first child can be a very different mother ten years later to the last child.
In honor of Mother's Day, I want to give a big hug (from afar) to my mom for all she did for me and share the best things she gave to me:
My mom is funny. She's a bit of a comedienne without trying. She laughs most of the time and from deep in her belly -- it's honest, heartfelt... and infectious.
I can vividly remember coming home from school in the second grade and my mom, sitting on the couch, would ask, "How was your day?" I would proceed to give her the blow-by-blow description of every minute of my school day... "Well, when I got on the bus..." She'd listen. My day seemed the most important thing to her. She didn't shut me down, or not have time for me, or quell a child's enthusiasm.
My mom would rather take us to the beach than clean the house, so that's what we did! She taught us to skate, ski, dance, play, eat ice cream, sled, swim. She was a do-er. We got out there and tried everything. Oftentimes, she'd have to go to work at night, but we'd spend that entire day at the beach and drop sandy towels at the door as she slipped on an outfit and rushed to work. We slept deeply after hard days of play; she worked and never let it hold her back.
This may sound a bit counterintuitive, but it was perfect parenting for a child like me (and happens to be the perfect way to parent my own older son). She let me loose. I made my own decisions from when I was a small child. I was never too fat, too crazily dressed, too dramatic or not giving my all. She never criticized me. She let me date a boy from the time I was 13, although her friends were telling her she must shut that down; she let me get on a plane to England when I was 21 when it was not as common as it is today; she let me build a deep relationship with my father, her ex-husband, and she made room for me to choose, 100 percent for myself, the life I wanted to live.
And.. .I've been married to that boy for 29 years; England and my European travel were one of the most joyous times of my life; and, my father's influence is the reason that I've been in the investment field for 30 years.
My mom was right. She was good. Her love for me shows in everything she does and says. What she gave, mattered so much.
Happy Mother's Day to my mom... and all moms. And a great BIG thank you!
Photo: My mom at Shelburne Farms, Vermont.