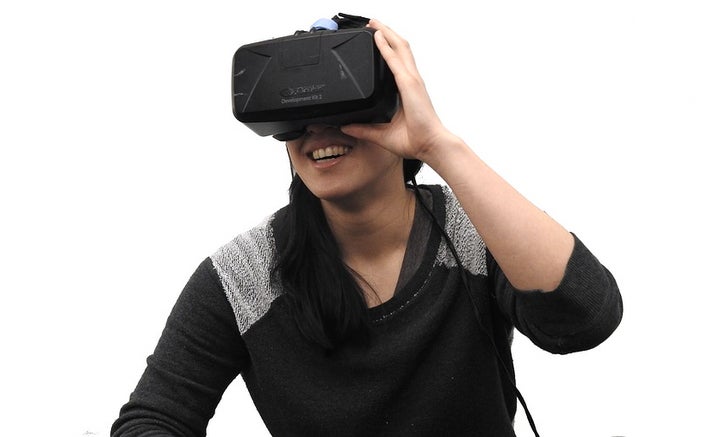 Virtual Reality is a visual experience. The immersive nature of a high-quality virtual experience is through the eyes. This what the major manufacturers have focused on as well as media and gaming companies. Creating an amazing visual experience. The proliferation of headsets from HTC, Oculus, Microsoft as well as some up and comers demonstrates this. Viewer headsets that allow the user to watch VR using their smartphone have made watching VR more accessible, but without a controller, VR remains an "eyes only" experience.
As VR develops and the visual experience develops and the market matures the end user is going to want an even more immersive experience. Something more indicative of a real life experience. The ability to interact, to move and "touch" objects will enhance the overall experience. Manufacturers and video producers will be developing these amazing worlds, end users will want to interact with them. It will be critical for the success of VR that the experience includes, for example, swinging the bat, steering the plane, or even casting a spell with a magic wand.
The development of controllers has been secondary for now. But that is soon to change. Google is developing Daydream View, due out in November. Daydream View will include a headset and an easy to use controller. The controller will feature a volume control and a thumb based tracking pad. Google Daydream is expected to create the smartphone VR game market by drawing popular game titles, and moving beyond passive VR viewing.
Google Daydream: https://vr.google.com/daydream/ In creating this market they have opened the door to third-party manufacturers and developers. One such company is Wonder Leauge Corp. Their controller, aptly named Vroom is looking to move to the forefront of the marketplace as a third party smartphone VR platform to compensate where Daydream does not offer support or customization.
According to Wonder League it is the world's first VR motion controller for iPhone and Android. Vroom is compatible with many of the headsets currently on the market, including Google Cardboard.
The Vroom project will enable the expansion of this new market based on three key features: 1. Development and support for the motion controller on iPhone 6.7 and current Android devices. 2. The controller itself is open source to allow anyone to create their own smartphone controller. 3. Unity support for developers with an SDK and assets to allow easy app development.
A software development kit (SDK or "devkit") is typically a set of software development tools that allows the creation of applications for a certain software package, software framework, hardware platform, computer system, video game console, operating system, or similar development platform. The development of such products is a bit of the chicken and the egg scenario. Consumer-oriented business, game companies, for example, must wait for the widespread adoption of VR devices to become successful before investing more capital into projects. Games are only as good as one's ability to interact with them. By making both the hardware and the SDK open source, Wonder League is has created an opportunity for businesses and developers to jump into this segment of the VR world. One that will be critical for a truly immersive VR experience.
Vroom also tackles the cost of Virtual Reality head on. With just a smartphone ($400), a Samsung Gear VR, ($100) and the controller ($70) a simple Vive like experience can be accessible to more people. Making VR more accessible to more people will only help increase the adoption of VR into more markets. It will be particularly interesting to see where VR will go in the educational and healthcare markets. Wonder League is a venture company headed by Katsuyoshi Kitamura, a former Toshiba subsidiary president and smartphone content director among his other work in a varied career. "Smartphone VR is here, so that's our business!" –Katsuyoshi Kitamura
Popular in the Community