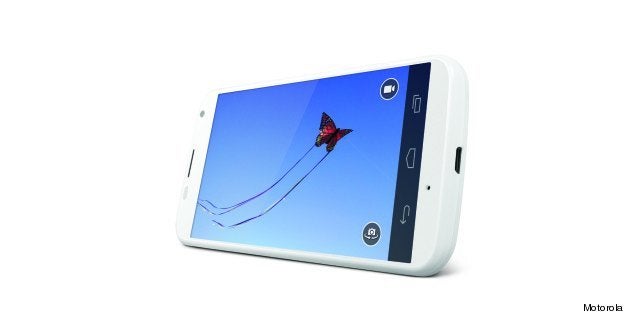 Google on Thursday unveiled the Moto X, the first smartphone fully designed and built by Motorola since it was bought by Google last year.
But thanks to recent leaks, the phone's biggest features didn't come as a surprise: The device can be customized with different colored rear casings and accents, it has a camera that is activated with a flick of the wrist, and like the new Droid lineup announced last week, many of the phone's functions -- including Google search -- can be controlled solely by your voice.
At a press event on Thursday, Rick Osterloh, Motorola Mobility's senior vice president of product management, lamented that smartphones today aren't actually very smart.
"Phones today require you to manually enter a pin and touch it," Osterloh said. "It should be able to respond to you."
Motorola is touting Touchless Control as one of its best features. It allows Moto X owners to set alarms, get directions, make calls, send messages and schedule appointments -- all without touching the phone.
Touchless Control works by way of three microphones that are always on, waiting for owners to utter the phrase, "OK Google Now." That phrase activates the phone and makes it perk up, eagerly awaiting your question or command: "Get me directions to Central Park," "Make me an appointment tomorrow at noon" or "What time is it in Singapore?"
A phone that's always listening may seem like a privacy nightmare, but privacy experts told The Huffington Post that Touchless Control is actually executed quite well because it's optional -- and, by default, off -- and processes the information on the phone rather than through Google's servers.
"If it's only happening locally on the device, then that really eliminates most of the privacy issues most people would have," said Sarah A. Downey, a privacy analyst at Abine, a company that makes consumer online privacy tools. "There isn't any data stored."
But it still remains to be seen whether Touchless Control -- which is also available on the Droid Mini, Droid Ultra and Droid MAXX, all announced last week -- will boost sales for the new phone. One of the issues with voice-activation technology, analysts say, is that people may still not be ready to change the way they interact with phones.
"Nobody has really been able to overcome the consumer resistance to people talking to their phones," said Tero Kuittinen, a mobile analyst and vice president at Alekstra, a firm that works to reduce companies' phone bills. "They feel self conscious about doing it if there are other people in a room."
"So I'm somewhat skeptical about whether that feature alone will sell a phone," Kuittinen added.
Charles Golvin, a principal analyst at Forrester Research, agrees.
"By and large, people's decision making is a melange of price, look and feel, ecosystem preference and how invested they are in Android versus iOS," he said. "It's not any one feature."
Motorola is also pushing its new camera, which can be activated by twisting your wrist, a gesture the company likens to "turning a screwdriver." This, combined with the fact that users can take photos by pressing anywhere on the screen, allows for fast picture-taking. Moto X has a 10 megapixel rear-facing camera and a 2 megapixel front-facing camera. Both are capable of shooting 1080p HD video.
The company says the phone's customization makes it hugely innovative, but in actuality, the customized features only affect how the phone looks. Customers will be able to use "online studio" Moto Maker to choose from 18 different colored rear casings with accents, pick a black or white front, and engrave messages on the back of the phone. Moto Maker is currently only available to AT&T customers, and there's no timeline of when customers who use other carriers will be able to buy it.
The American version of the phone is assembled in Fort Worth, Texas, which Motorola says will allow the company to complete custom designed phones within four days of an order placement.
Motorola did not provide exact dates as to when Moto X will be available, but said that black and white versions of the phone will be sold with AT&T, Sprint, US Cellular and Verizon Wireless for $199 with a two-year contract. It did not reveal the price of the unlocked version of the phone, or how much it will cost T-Mobile customers.
Related
Popular in the Community