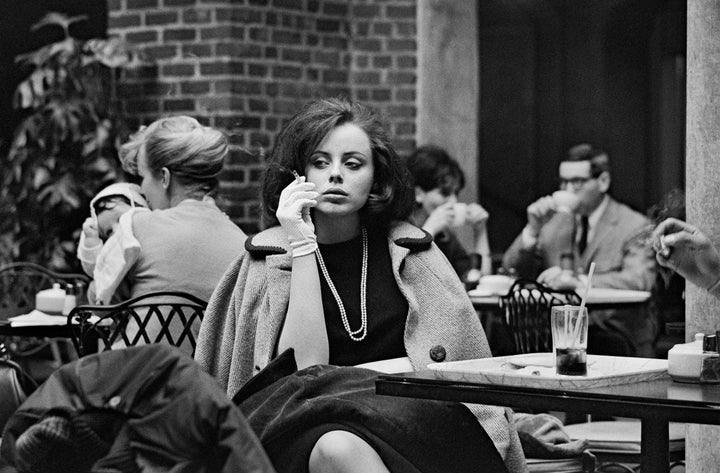 Photographers have been aiming their lens at Detroit for decades, and a new exhibit shows how artists have captured the city historically and today.
From famed photographer Henri Cartier Bresson's image of a couple posing for wedding pictures on Belle Isle in the 1940s to Nicola Kuperus' recent images of dramatic interactions between women and cars, the images avoid cliched narratives and focus on what is particular and individual. Their work all adds up to an animated, complex and beautiful portrait of Detroit.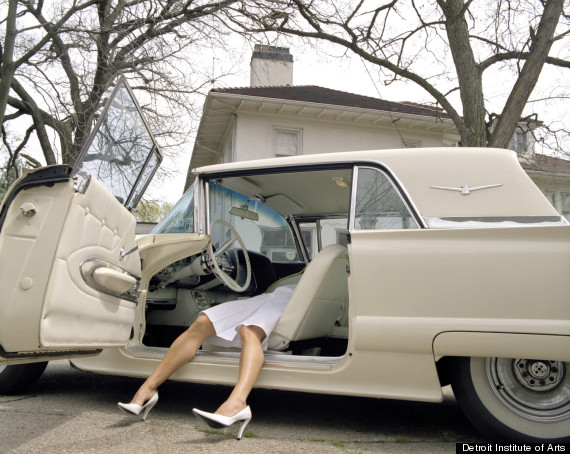 Nicola Kuperus, "T-Bird," 2005.
Photographers Bill Rauhauser, whose street scenes and spontaneous, striking portraits were selected from his collection of more than 10,000 negatives, and Dave Jordano have continually photographed the city for decades.
In one of Jordano's projects, photographs of landmarks and buildings slated to be demolished he took as a College for Creative Studies student in the '70s are paired with recent images from the same vantage point.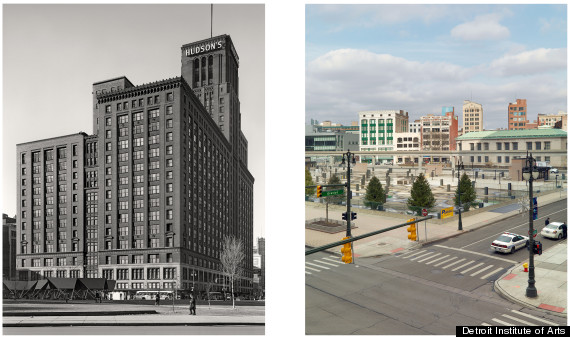 Dave Jordano, "Hudson's and Former Site of Hudsons, Woodward Avenue, Detroit," 1973 (left image), 2010 (right image).
The artist was compelled to dig up the old negatives and add a new twist to the work in part as a reaction to several Detroit photography projects in the last few years -- most of the ruins and decay variety -- hit the national arts scene.
"I'm trying to put a face on the city," he told The Huffington Post.
Like the exhibit's organizer, DIA Associate Curator Nancy Barr, who said she looked for work that went "beneath the surface," Jordano's eye searches for Detroiters' stories amid the visual temptation of the city's ruins.
"I wanted to share my experience that Detroit is still a living breathing organism, full of life and movement," he said about his recent work "Detroit -- Unbroken Down."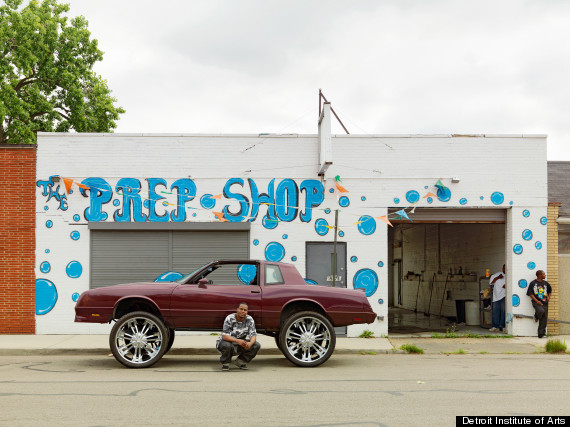 Dave Jordano, "Mike with Chevy Monte Carlo 'Donk' with 28 Inch Wheels, Conant Street, Northeast Side," 2010.
But the juxtaposed images of then and now, which reveal the effects of time in the city, might resonate most with local viewers and students of history. The new photos display abandoned structures, new buildings and empty fields.
"This is a body of work I felt I had to do" for historical purposes, Jordano explained.
One vacant lot on Oakland Avenue fills the space where Walker's barbershop stood in Jordano's first photograph. You can see beyond to the street behind where several houses on Melrose Street are visible. While more Detroiters might have memories of the old Hudson's building or the abandoned train station, the Oakland Avenue photographs held personal significance for two visitors at the show's opening Friday.
"[My neighbor] came back and said, your house is in a museum," said Sylvester "Sly" Robertson. "I said, what's my house doing in a museum?"
Robertson, who has lived in the house in Jordano's photograph since he moved to Detroit as a child, rattled off a list of businesses that had stood on Oakland and nearby, including a candy store, hotel, barbecue restaurant, pool hall, hardware store, a bathhouse (supposedly frequented by the infamous Jewish gangsters in the Purple Gang), the barbershop in Jordano's photograph, where Robertson used to get his hair cut, and some of the "coldest after-hours spots." Robertson's father owned several of the businesses.
"That was a beautiful community ... Blacks could not cross Oakland, " Robertson said. "That's where Motown, all the stars hung out." Nathaniel Williams, left, and Sylvester "Sly" Robertson, right, with Dave Jordano's "8000 Oakland Avenue," 2010. Robertson lives in the white house on the left.
Now, the longtime resident said, the area is more dangerous and violent.
"This has all changed in my lifetime," Jordano said. "That's what I find compelling. It's not old history, it's current."
While Robertson's experience might be a unique coincidence, it's intentional that the exhibit draws on the memories of Detroiters. Annmarie Erickson, the museum's executive vice president and chief operating officer, said their shows about the city have been the most popular with visitors to the DIA.
"We in Detroit like to see ourselves," she said.
The exhibit also includes work by photography giant Robert Frank, who shot in Detroit for his series "The Americans" in the 1950s. His images of the Ford River Rouge plant in production's controlled chaos are paired with Russ Marshall's humanizing portraits of workers from the same factory and others in following decades.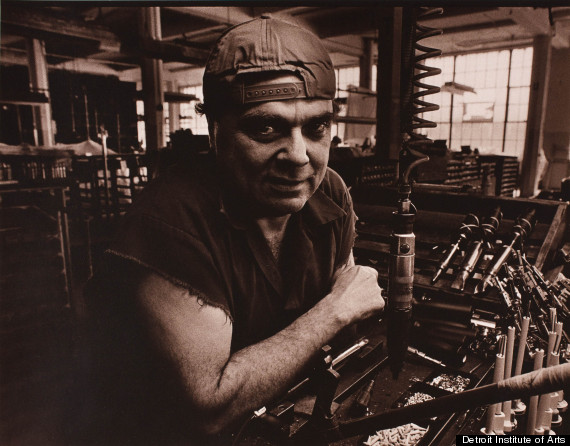 Russ Marshall, "Assembler, American Beauty Electric Irons and Heaters, Detroit, Michigan," 1993.
Karin Jobst also feels a connection to Frank's work, as both Europeans approached the city as outsiders. She studied his work at the DIA when she photographed the city between 2010 and 2012. Her experiments with light and color draw out different elements of the city, and despite her relatively short time in Detroit, her work evokes the city's long history.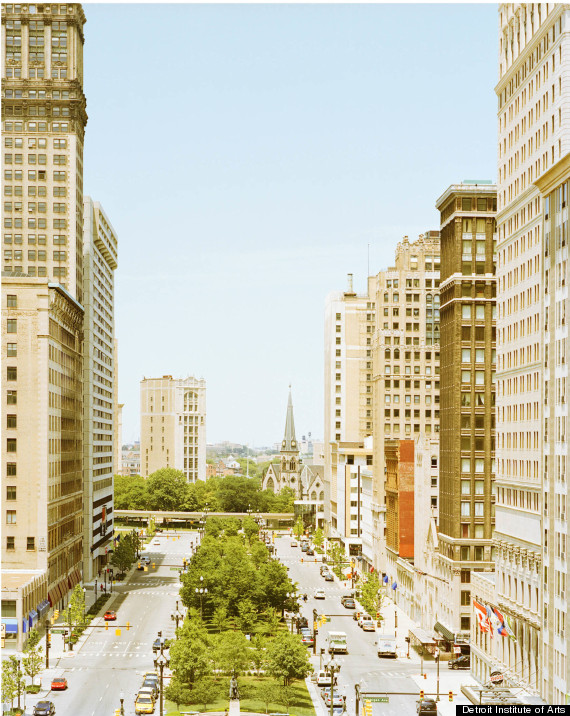 Karin Jobst, "Detroit for John, Mary Lou and Mr. Duke," 2011
The nostalgic images from the Detroit School of Automotive Photography take on a different perspective when updated by the still perfectly composed, but much darker photographs from Kuperus, who has previously worked on commercial car shoots.
Curator Nancy Barr pointed to the interlocking dialogues between the exhibition's photographers, whose work takes on new meaning when seen in the context of others. In fact, the show title's reference to "then and now" doesn't seem to quite fit. While past and present are both represented, the show reveals not a static present and past, but the nuances of a city that constantly evolves.
"Motor City Muse: Detroit Photographs, Then and Now" is on view at the Detroit Institute of Arts at 5200 Woodward Ave. through June 16, 2013. The museum is open 9 a.m. to 4 p.m. Tuesday to Thursday. 9 a.m. to 10 p.m. Friday and 10 a.m. to 5 p.m. Saturday and Sunday.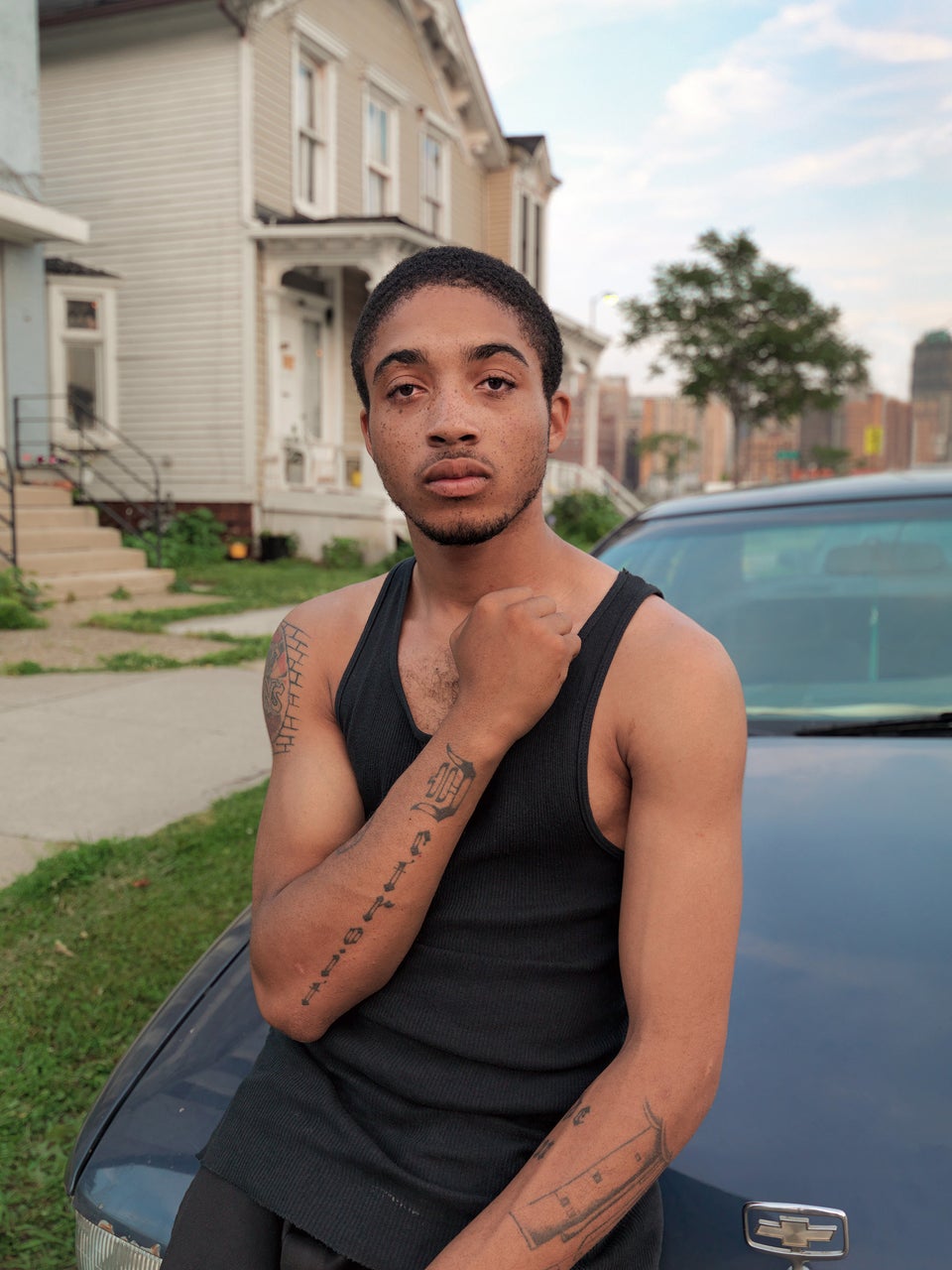 Motor City Muse: Detroit Photographs, Then and Now
Related
Popular in the Community