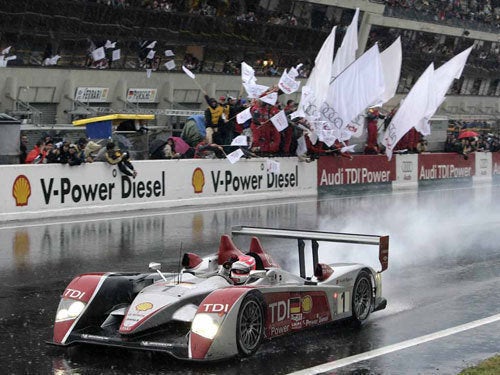 While the White House struggles to figure out how to appear to be helping Detroit and still screw the UAW, it's a good time to see how motor sports are reacting to the ruined world economy.
No sport is more dependent on sponsor dollars than motorsports.
With car sales suffering worldwide, the marketing and advertising budgets, where many companies keep their racing dollars, are often the first budgets to be trimmed.
Here's a rundown on how the racing world is reacting to the recession:
The biggest news around the racing world is that Honda has left F1 racing, a move which Honda President Takeo Fukui said will save the company $987 million a year (yes, you read right - that's Honda's budget for F1 R&D and fielding a two-car team for one year). Honda has also pulled out of the AMA's motorcycle road racing series in the US.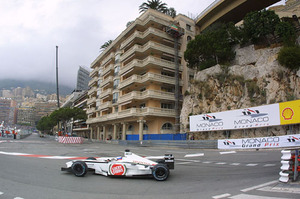 (That's a Honda F1 car in the 2005 Grand Prix of Monaco).
Formula One, NASCAR and several other series have drastically curtailed testing sessions for teams, one of the fattest parts of any race team's budget.
F1 is working with UK-based engine-builder Cosworth and two Britain-based transmission specialists, Xtrac and Ricardo, to develop a "reference engine" for F1 for use between 2010 and 2012. This would be like a "spec" engine, one with specifications shared by all the teams with very few changes allowed. Teams could still make changes to their car's super-exotic suspension systems and aerodynamics.
Using the "reference" engine would cost teams about $27 million for three years (which includes technical help and repair, rebuilding and shipping, often overnight, sometimes same day), about half what Ferrari charges teams using their engines. F1 has a slew of new rules to help lower costs, too many to document here.
While NASCAR is still much less expensive than F1, running a top-flight two-car NASCAR Sprint Cup team does cost from $15 to $20 million annually; much more if one or both drivers are high-maintenance prima donnas. If the team doesn't have its own jet or high-bucks twin turboprop, then add-in another $10 to $15 million. Pretty soon, we're talking about some real money.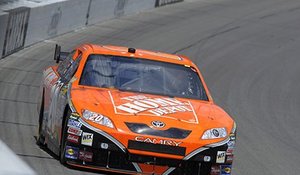 (Tony Stewart drove this Toyota for Joe Gibbs Racing in Sprint Cup this year; Stewart's creating a new team next year, and while he's supposed to get support from Chevrolet, he might find himself in a Toyota for another season).
The New York Times estimates that 400 corporate sponsors, with the Detroit Three in the lead, spent over $1.5 billion in NASCAR in 2007. With Toyota now a regular winner in NASCAR's three professional series, the company might be in a very awkward position when the season-opening Daytona 500 kicks-off the 2009 season in February; it's possible they could find themselves the only "factory team" still in NASCAR.
Detroit Three's NASCAR reps met with series officials in July of this year and told the sport's organizers that 2009 was already shaping-up as a tough year for Detroit. Chevrolet said it is cutting back on advertising and sponsorship deals with 12 race tracks. Ford is trimming NASCAR spending by 20 percent, and Chrysler by 30 percent, if Chrysler and their Dodge division manage to even survive until 2009. Chevrolet may also drop their major sponsorships of Daytona Speedway and the Daytona 500.
Petty Enterprises, organized by Lee Petty in 1949, is the most-storied team in NASCAR. Lee and his son Richard were both NASCAR champions (Richard is known in racing circles as "the King") and Richard's son Kyle has driven in the sport's top series for years, but without much luck. Kyle's son Adam, a fourth-generation NASCAR driver, was killed several years ago while driving during a practice session at the New Hampshire International Speedway.
Earlier this year, Petty Enterprises partnered with investment firm Boston Venture for a cash infusion, and negotiations are now underway between Petty and the Gillett Evernham team. With this soap opera playing itself out very publicly, Kyle Petty has left the family business and, apparently, the family, too. The team has also released driver Bobby Labonte.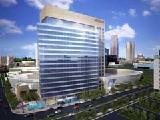 (NASCAR's brand-new Hall of Fame is scheduled to open next year in Charlotte, NC; though NASCAR has been asking racing fans to contribute to the HoF, the recession/depression could see that opening delayed - And why should fans, who will have to pay to visit the Hall, contribute to a sport which seems to have been flush with money, at least until this month?).
Also in NASCAR, Chip Ganassi Racing with Felix Sabates (now part of Earnhardt-Ganassi Racing) has shuttered its Nationwide Series team.
In sports car endurance racing, the traditional weekend of testing held for teams two weeks before June's annual 24 Hours of LeMans has been canceled.
Audi, which has dominated the top level of sports car racing for the past three years using turbo-diesel engines in their LeMans Prototype (LMP) race cars, has cancelled their involvement in the American LeMans Series (ALMS). Audi will be advertising on the Super Bowl, though; perhaps they got a good deal on the TV spots which GM cancelled.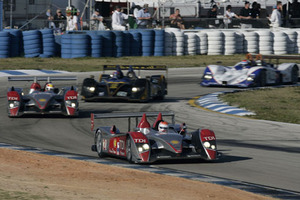 (Audi dominated sports car racing in the US and abroad the past three years, using turbocharged diesel engines, much of that effort aimed at promoting diesel power to Americans, because Audi is selling clean diesels in the US; they'll still race at LeMans in June, '09, we hope, but they've cancelled their 2009 involvement in the American LeMans Series in the US).
Porsche will stop racing their RS Spyder prototypes in the US. Roger Penske, whose organization ran those exotic open-cockpit cars for the Porsche factory, has put-together a deal to enter a Riley-Porsche Mk XX Daytona Prototype in the 2009 Gran-Am Rolex Sports Car series.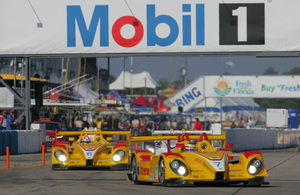 (Porsche factory-supported RS Spyder prototypes competing at Sebring; Roger Penske's racing organization ran the team for Porsche).
In IndyCar racing, Honda has been the series' single engine supplier. Manufacturers including Porsche, Volkswagen, Audi, BMW, Alfa Romeo and Mazda met with IRL officials in June and September. While Porsche is not expected to get involved, there is no word yet on respective levels of interest in joining the open-wheel ranks by any of the others. If Honda drops out of IRL and no new engine-builder takes over, IndyCar, too, could find itself in a very awkward position.
There's always gravity-powered Soap Box Derbies.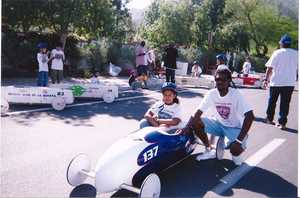 (Southern California Soap Box Derby competitors; it's a great American tradition which is still very much alive, but it could use everyone's support, and it's the least-expensive way we know to go racing).
By the way, you might be interested to know that in the TARP Bailout Bill, Washington found the time to help our nation's beleaguered race track owners.
The bill extended the current seven-year cost recovery period for construction of, or improvements to, a motorsports race track. Track owners currently follow a seven-year depreciation schedule and write each year's depreciation off their taxes. The IRS wanted to increase the depreciation timetable to 15 years, which would mean the track owner's depreciation would be cut in half. The approved TARP bill keeps the seven-year depreciation schedule for two more years and could cost taxpayers $100 million.

REAL LIFE. REAL NEWS. REAL VOICES.
Help us tell more of the stories that matter from voices that too often remain unheard.