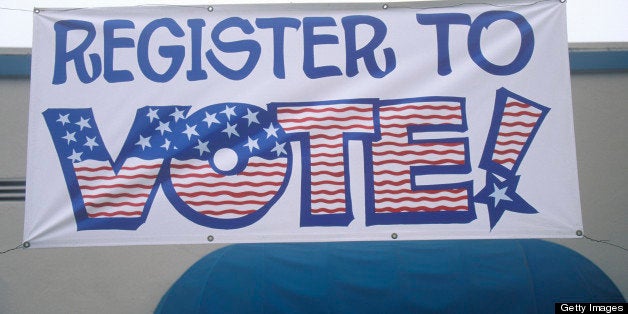 It may seem unthinkable now, but as late as the 1980s, Americans in many states had only one option if they wanted to register to vote: Show up in person at a central registrar's office, which might be open only during restricted business hours and located far from the voter's home. Even in places where voter registration applications could be distributed outside the registrar's office, strict limits often applied -- such as in Indianapolis where groups like the League of Women Voters were allowed to pick up only 25 voter registration applications at a time. Overly complicated and restrictive procedures meant that fewer and fewer eligible voters were registering -- and without registering, they couldn't vote.
Voting rights advocates knew that America must fiercely protect the freedom to vote for all citizens, regardless of race or privilege. So, they began a multi-year campaign to make voter registration more accessible. Their efforts paid off in 1992 when Congress first passed the National Voter Registration Act (NVRA), only to see President George H.W. Bush veto the bill. Not to be discouraged, the movement kept fighting, and 20 years ago this week, Congress passed the NVRA and President Clinton signed it into law.
Like the 1965 Voting Rights Act, the NVRA, commonly known as the "Motor Voter" Law, changed the voting landscape and opened access to registration. It set the first ever national standards for mail-in registration and increased the number of places and ways people could register to vote, including motor vehicle offices, public assistance and disability agencies, and armed forces recruitment offices.
In many ways, the law has been a major success. Almost 16 million Americans have registered or re-registered every year under NVRA provisions. Many people today don't remember a time when they couldn't register at their local DMV.
Yet, there is work to be done. Voter registration rates are still not as high as they could be, particularly among low-income eligible voters. Section 7 of the NVRA, for instance, requires that voter registration be made available at government agencies that serve low-income voters. However, investigations by advocacy organizations, including Demos, have revealed widespread non-compliance in states across the country.
This lack of proper oversight and enforcement can have a big impact on voter registration. In Ohio, for instance, the difference between voter registration rates with and without enforcement is remarkable. Pre-enforcement, Ohio public assistance offices were collecting only 1,775 voter registration applications per month but after the state adopted reforms, the monthly total jumped to 15,000, leading to over half a million applications since 2010.
While the fight for full implementation is critical, it shouldn't take extensive oversight and administration just so people can vote. Americans may be used to the burden of registration being placed on the voter, but in most democracies, the government is responsible for registering eligible persons. As a result, obstacles to the ballot are removed and, not coincidentally, voter participation levels are much higher in other countries. Similarly, here in the U.S., states with Same Day Registration, which has just grown to 13, see voter turn out rates an average of 10 points higher than states without.
The reason we care about registration is because a voter registration gap means a voter participation gap. If fewer eligible people are registered to vote, fewer people will participate in our electoral process. Voter registration rates among the highest income quintiles are regularly 80 percent and higher, and voter turnout rates among the highest income quintile are nearly as high. In contrast, registration rates among the lowest income quintile struggle to pass 50 percent and turnout rates struggle to stay above 40 percent.
Voting is the great equalizer. Our politics and electoral system are already dominated by corporate and affluent influences. If registration, and in turn participation, rates among the lowest income quintile were as high as the top income quintile, more under-represented voices would be heard.
To make our democracy stronger, we must cut the red tape from registration. We have embraced too many restrictions and hurdles as the norm. It is the right of every eligible citizen to participate in our democracy, and all levels of government -- local, state and federal -- should make it a top priority to ensure voter registration and our elections are free, fair, and accessible. There's a lot of work to do, but it's worth taking a moment to appreciate the NVRA, and wish it a happy 20th anniversary.
Support HuffPost
The Stakes Have Never Been Higher
Popular in the Community