The motorcycle is a modern American icon of freedom and individuality with a streak of rebellion.
So why is motorcycle fashion dominated by black leather?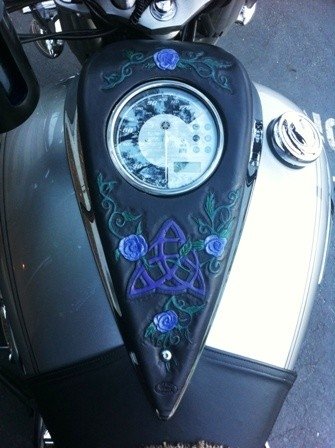 In a video interview, Nanci and ROAR Motorcycles President and Founder Kathy Tolleson reflect on the persistence of the black leather look. Kathy makes two observations: 1. In the past, when motorcycle chain drives spat grease, black leather was a practical choice. However, with the introduction of cleaner shaft and belt drives, what was once practical has become traditional. 2. If you walk into a men's shoe store, what colors do you see? Black and brown. Not surprisingly, those colors predominate in the male-dominated motorcycle industry and hobby, too.
But expectations are changing. Women and men alike want a wider range of colors and styles for their custom motorcycle gear. When you collaborate with a custom artisan, your vision for your bike can be realized in full color and to the last detail. This goes beyond customization, where you choose from pre-determined options for a mass-produced product. In the custom world, as Nanci explains in the interview, customer service means working one-on-one with people to get their ideas onto the products they want.
Have an image you'd like to turn into a theme for your bike? A customer approached The Saddle Shack and asked for a hand carved and custom designed seat for his Harley-Davidson that would feature a skull and barbed wire border design like the one on his jacket.