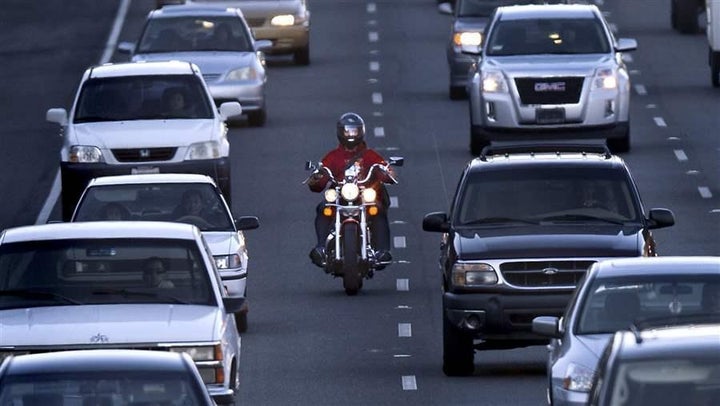 Every morning, commuter Surj Gish hit a major traffic jam as he crossed the Bay Bridge from his Oakland home to his San Francisco job.
Sedans and SUVs clogged five lanes of traffic and idled for miles on a trip that could take them an hour or longer. But for Gish it was no problem: He just zipped his motorcycle between lanes, moving past slow-moving vehicles stuck on the bridge.
"My trip usually would only take 30 minutes," said Gish, a digital marketing consultant who now commutes to other parts of the Bay Area. "It radically changed my daily commute."
That maneuver is called lane-splitting, and only California allows it. But a move is afoot to expand lane-splitting to other states, pitting motorcyclists against some law enforcement agencies and safety advocates. Both sides say their approach is safest — for drivers and motorcyclists alike.
Supporters of lane-splitting say letting motorcyclists legally share or split lanes with cars and trucks reduces congestion and is safer for bikers, who can avoid being rear-ended by distracted drivers in stop-and-go traffic. Opponents say it's dangerous for bikers who might be struck by cars that suddenly change lanes, and unnerving for drivers who might be startled by a motorcycle whizzing past them.
Over the past five years, legislators have unsuccessfully pushed bills to legalize lane-splitting in at least 15 states, according to AAA. California made it legal in 2016, though it had been common practice there for many years as there was no law prohibiting it.
Some measures were pushed by a legislator on behalf of a constituent or motorcyclist groups and didn't get any traction. Some died because of opposition from AAA clubs or law enforcement agencies or concerns about safety.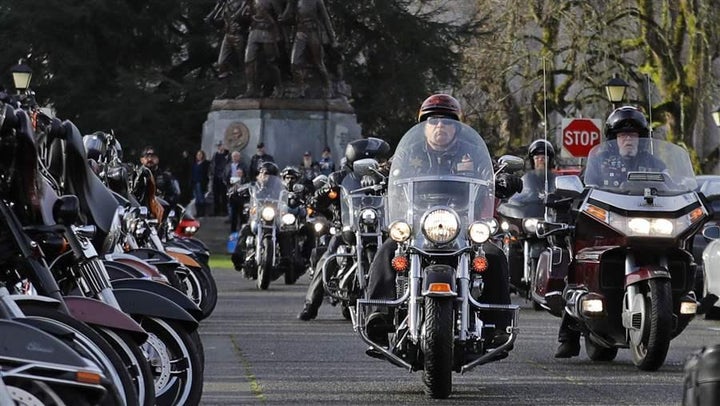 Many of the measures would have required that lane-splitters travel below a certain speed and not go much faster than the cars around them.
Arizona legislators in 2010 passed a bill that would have allowed a one-year lane-splitting pilot program, but it was vetoed by then-Gov. Jan Brewer, a Republican. She cited concerns about its impact on safety and whether motorists would have enough time to be educated properly about the changes.
This year at least seven states, from Arizona to Massachusetts, are considering lane-splitting bills.
In Washington state, the Senate last year passed a bill to legalize lane-splitting at low speeds, but it stalled in the House after the Washington State Patrol and the state Traffic Safety Commission argued the practice is unsafe and would not help reduce motorcycle fatalities or serious injuries.
The bill's sponsor, Democratic state Sen. Tim Sheldon, a tree farmer who is not a motorcyclist, dismissed those fears as overblown and said some of the opposition comes from motorists annoyed that bikers would be getting special treatment.
"There is a little bit of envy," he said. In traffic, "drivers think, 'Why should someone be moving when I'm not?' "
Sheldon said he's not going to push the bill this session, which ends next month, but he plans to reintroduce it next year.
"We have such a congestion problem in the Puget Sound," Sheldon said. "It's a way to help us with that."
While there isn't a lot of data on the safety of lane-splitting, the National Highway Traffic Safety Administration said the practice is common in many other countries and worthy of further study "because it offers a means of reducing congestion in addition to possible safety benefits."
The agency calls lane-splitting an option that "can provide an escape route for motorcyclists who would otherwise be trapped or struck from behind." A 2015 study by the University of California Berkeley found lane-splitting appeared to be a "relatively safe" strategy if it's done in traffic moving at 50 mph or less and motorcyclists don't exceed other vehicles' speed by more than 15 mph.
The Berkeley study also concluded that lane-splitting motorcyclists were less likely to suffer head or torso injuries or die in a crash than those who didn't split.
The American Motorcyclist Association, an advocacy group that represents more than 200,000 motorcyclists nationwide, supports lane-splitting and is working to make it legal in other states.
"It is very safe as long as you are keeping your speed reasonable compared to the surrounding traffic," said Nick Haris, a lobbyist for the group. "And it reduces traffic commute times for the rider and other drivers."
Haris said he understands that drivers might be startled if a motorcycle suddenly appears beside them, which is why it's important for any state that legalizes the practice to issue guidelines for motorcyclists and offer public awareness campaigns for motorists.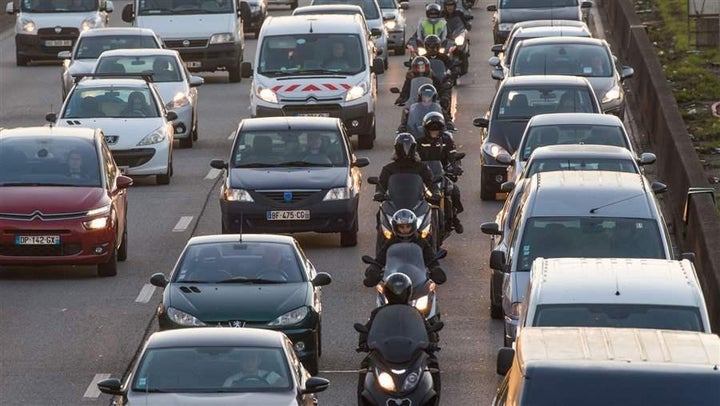 Gish, the Oakland motorcyclist, agrees with Haris about public education, but he doesn't buy the argument about drivers being rattled.
"If the rider comes up really fast, then it's the fault of the rider. But if they're only going 10 miles an hour faster than traffic, then it's the driver's fault for not turning their head and looking," said Gish, who runs a regional magazine for motorcyclists and a lane-splitting advocacy website. "Lack of awareness of the surrounding environment is just bad driving."
AAA opposes lane-splitting, and its clubs have helped defeat proposals in Georgia, Hawaii and Texas, said Richard Romer, the group's state relations manager. "Motorists who don't expect to be passed by a vehicle traveling between lanes can side-swipe a motorcycle or turn into its path."
The Governors Highway Safety Association, which represents state highway offices, doesn't take a position on lane-splitting. But Richard Retting, a traffic safety consultant to the group, called it "a very risky activity."
Retting said he was shocked to learn of the Berkeley study's finding that, between June 2012 and August 2013, of the motorcyclists involved in nearly 6,000 collisions in California, 17 percent had been lane-splitting.
"There's no compelling reason to allow it other than the most remote escape-route benefit for the motorcyclist," said Retting, a former motorcyclist.

Support HuffPost
The Stakes Have Never Been Higher
Popular in the Community