This summer a motorcycle rider is zigzagging across the country on a campaign to make riding and driving safer for all of us. He isn't just visiting a few states, he's visiting all 50.
Nate Hudson has been riding motorcycles for 20 years. He's taking the ride of a lifetime in an effort to make life on the road better for all of us. As I write this Hudson is riding to state capitals and motor vehicle departments across the United States. He's talking to lawmakers and motor vehicle department administrators about beefing up their motor vehicle safety test in all states. The idea is to place a new question on the state's car driving tests to increase awareness about sharing the road with motorcycles.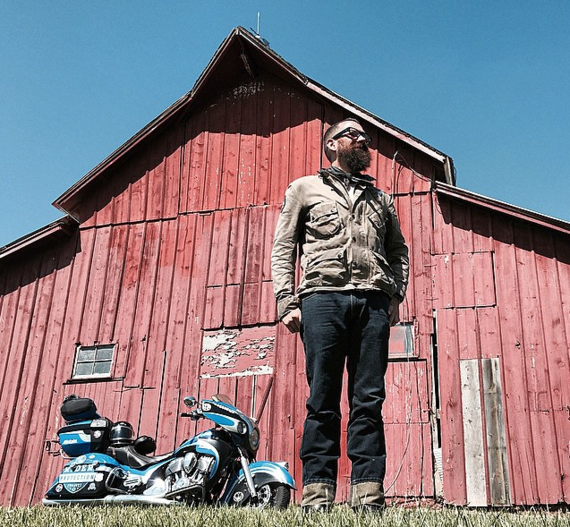 I'm interested in Nate Hudson's impact on state lawmakers because I myself ride on two wheels through city intersections, a lot. As the driver of a car, I never understood what little awareness I had of motorcyclists, until I became a rider myself. Now I know I have to be aware at all times about other motorcyclists on the road. I've also seen my share of distracted drivers, who at times drifted into my lane or pulled in front of me on my bike, when they didn't have the right of way.
Hudson says, "My hope is to inspire other motorists to learn ways to watch out for us, because there's no room for error on two wheels. Three motorcyclists get killed at intersections every day."
According a 2007 study by the National Highway Traffic Safety Administration (NHTSA), roughly half of all motorcycle accidents occur at traffic intersections. Agency statistics show the majority of the accidents involve a motorcycle and a passenger vehicle. The same motorcycle accident statistics reveal those accidents are most often caused by drivers of passenger vehicles. Simply put... car drivers often don't see motorcyclists until it's too late.
"Drivers zone out and someone gets hurt," Hudson tells me.
Hudson is spending 2.5 months on a motorcycle braving humidity, summer storms, and a bug splattered helmet to get the word out to drivers. Still, he has nothing but good things to say about his trip so far, where he has now visited twenty five state capitals, the midpoint being Lincoln, Nebraska. Hudson says he's met amazing, optimistic people across the country. This month, while riding for the motorcycle awareness campaign, Hudson learned his father had died. He took time off to attend the funeral, then climbed back onto his bike to carry the message of motorcycle awareness.
Hudson tells me his dad inspired him to ride motorcycles, riding them because they were fun, not because they were considered cool. Hudson says his father was completely behind him taking this trip to increase motorcycle awareness. Since his father passed, Hudson says the cross country mission has become even more sacred to him.
Hudson is sponsored by Allstate Insurance. Hudson's summer ride is called The Allstate Ride For Awareness.
Hudson told me he wanted to make the trip becasue he's all about passion. He hopes the campaign will encourage drivers to not just look once, but look twice for motorcyclists.
Hudson and his friends are so motivated by motorcycles that they started a riding club and motorcycle shop in Long Beach. It's called BA Moto and when he's not on the road, he's there working on bikes and socializing. Hudson also has a lot of friends and family that he's close to, who support his motorcycle obsession.
What's Hudson riding for 111 days? He's on an Indian Roadmaster and it's packed to the brim with supplies. Hudson's great hope for his ride is that it will inspire people across the country to ride and be safe.