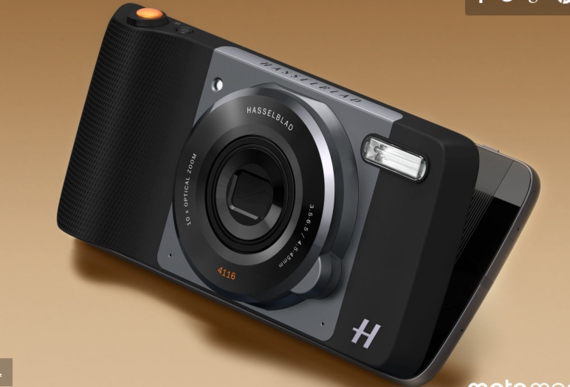 Most people these days are more than happy with their cell phone cameras, but some of us still carry around digital cameras because of better lenses, better sensors and -- very important -- optical zoom.
But now Motorola, a subsidiary of Lenovo, has a smart phone with an optional snap-on camera with a 10x zoom. And that camera is from Hasselblad -- a legendary high-end camera maker who's camera was used by astronaut Buzz Aldrin to snap a picture of his colleague Neil Armstrong on the moon.
The camera, called Hasselblad True Zoom, is one of Moto Mods that also includes snap on JBL speakers and an "Insta-Share" projector.
In addition to the zoom, the camera has a 12 megapixel sensor, a Xenon flash and allows you to shoot in RAW format to give photographers a great deal of flexibility when it comes to lighting and other controls after the picture has been shot.
Listen to Larry Magid's 1-minute CBS News segment on the new camera
I was at the IFA trade show in Berlin where the camera and phone were unveiled at a Lenovo press event and had a chance to play with the camera and loved that you use it pretty much like a standard digital camera with a shutter button and zoom control where you would expect them to be. The zoom definitely improves the quality of close-up pictures.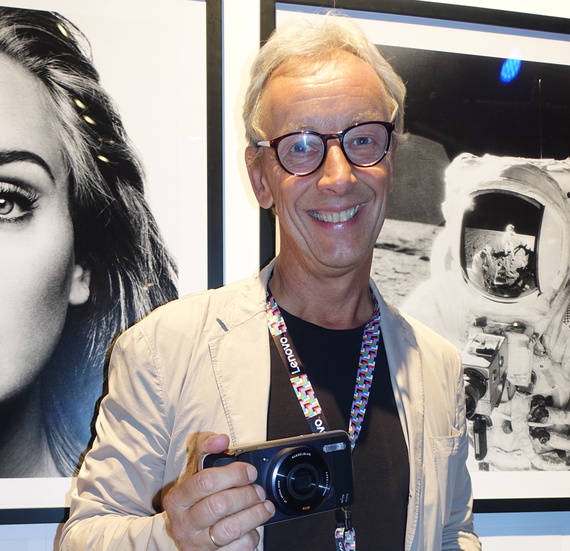 Hasselblad CEO Perry Oosting with the new Motorola Mod camera
Aside from its $299 price tag, my biggest issue with the camera is that it's one more thing to carry around and, when attached, makes the phone a bit bulky which strikes me as sort of defeating the purpose and convenience of a camera phone. The good news is that, because it's a phone, any picture you snap can be immediately uploaded to a social media service or shared via email. Of course there are numerous digital cameras that can transmit images to a phone for uploading, which strikes me as a preferable solution in many cases.
Specifications (from Motorola)
Compatible phones
Moto Z Droid, Moto Z Force Droid, Moto Z Play Droid
Dimensions
152.3 x 72.9 x 9.0 - 15.1 mm
Video resolution
1080p Full HD at 30fps
Zoom
10x optical/4x digital
Focal length
4.5-45 mm (25-250mm 35mm equivalent)
Macro
5cm @1x - 1.5m @10x
Flash modes
Auto, on, off

Image stabilization
Still: OIS Video: EIS
ISO equivalent
Auto, 100, 200, 400, 800, 1600, 3200
Capture modes
Photo, panorama, video, professional, night landscape, night portrait, sports, day landscape, back light portrait
Focus modes
Manual focus: select focus ROI Focus lock
Pro mode
Focus, white balance, f-stop, ISO, exposure
White balance
Auto, incandescent, fluorescent, sunny, shade
Color effects
Color, black & white
File format
Still: JPG, DNG (RAW) Video: MPEG4
Storage
Internal phone: 32GB-64GB microSD phone: up to 2TB Cloud: Unlimited via Google Photos
Battery life
Phone dependent
Connectivity
Phone connectivity: 4G/LTE, Wi-Fi
GPS
Phone: Enhanced geolocation
Calling all HuffPost superfans!
Sign up for membership to become a founding member and help shape HuffPost's next chapter