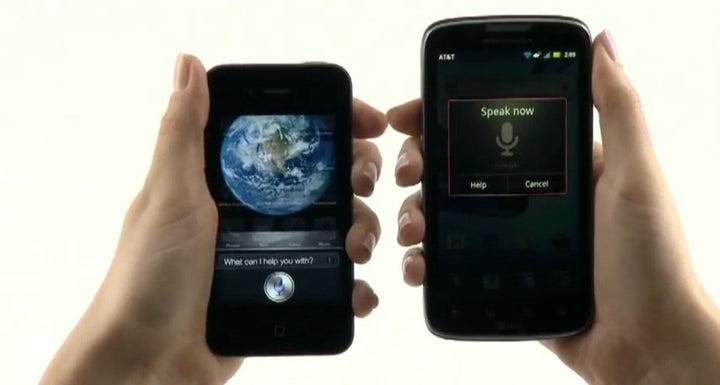 Motorola has challenged Siri to a duel.
In one video, Siri on the iPhone 4S competes with Voice Actions on the Motorola Atrix 4G, with both "racing" to perform three voice-activated tasks. (SPOILER ALERT: In this Motorola advertisement, the phone made by Motorola is victorious.)
In other videos posted Monday morning, Siri takes on Voice Actions on both the Motorola Photon 4G and the Motorola Electrify, two Motorola phones released in 2011. It loses both times to its Motorola foes.
(Attacks on the iPhone by Android phone-makers are nothing new, of course. Those of you who watched the Super Bowl probably saw Samsung's huge hit on iPhone fanboys in its 90-second, multimillion dollar Galaxy Note commercial; that expensive, controversial ad was itself the culmination of a months-long campaign that featured Samsung publicly dissing the capabilities of the iPhone 4S).
So, why is Voice Actions -- which is the stock Google voice control application, available to all Android phones with Android 2.2 or higher -- faster than Siri (according to Motorola)?
Both Siri and Voice Actions require an active connection to a network in order to process requests: With that in mind, Christian Zibreg of 9to5Mac thinks that Motorola is highlighting the fact that most of its phones run on a 4G network, faster than the 3G network that the iPhone runs on. (True, though the Motorola Electrify, which is one of the phones featured, is 3G-only on U.S. Cellular).
To get the inside scoop, we phoned up Motorola spokesperson Danielle McNally, who said that the ads are emphasizing a few things. Speed, obviously, both on the 4G network and in the way that Motorola smartphones can quickly render webpages and turn-by-turn directions. She also pointed out the availability of Voice Actions on all Android devices above Android 2.2. Only owners of the iPhone 4S can enjoy Siri, as technical limitations have apparently kept Siri from older iPhone models.
Now, regardless of speed or availability, the argument for Siri is that it can act on a wide variety of phrases and requests and can understand and learn from natural language, whereas Google's Voice Actions can be operated only by using very specific voice commands. So, for example, to get Siri to send a text message to Jennifer, one might say "Send text to Jennifer: I'll be home late," or "Tell Jennifer I'll be home late," or "Let Jennifer know I'll be home late" etc. etc. With the more static Voice Actions, only the first command will send Jennifer a text message telling her that you'll be home late.
Both Apple and Google have arguing points for their respective voice-activated assistants, in other words. And given that Google is supposedly releasing its own "Siri" some time this year, the arguments about which operating system -- iOS or Android -- has a better Voice Assistant will probably continue for the foreseeable future.
REAL LIFE. REAL NEWS. REAL VOICES.
Help us tell more of the stories that matter from voices that too often remain unheard.
BEFORE YOU GO