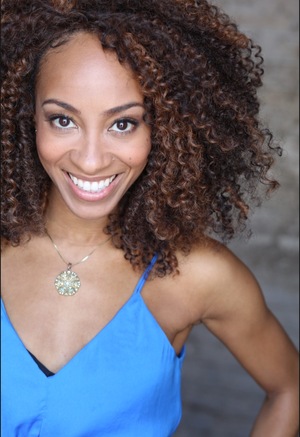 The Times Square subway station was packed. With the steamy July heat, tensions were high. It was a daunting obstacle course just to reach the steps to exit. I was anxious to get to the air conditioned coffee shop to meet with Broadway star Allison Semmes. Agitated and a bit fatigued, I made my way to the sidewalk. That's when I glanced to my left and there she was, dressed in a red romper with flowing sleeves.
"Allison!" I say shocked and excited to have a true New York moment.
We laugh at fate. Her energy is infectious and takes away the anxiety I was feeling. She's cheerful. After feeling a bit tired earlier in the day, she's ready to step into the role of Diana Ross in Motown the Musical. She's been bringing the legacy of Ross to the stage since April 2014 when the show launched its national tour in her hometown of Chicago. A true actress, no one would ever know that underneath Semmes' smile is some sadness. A few days ago she learned Motown the Musical, which was slated to run through November, would close on July 31. Although the news was devastating, it didn't come as a complete surprise.
"It was so weird because I think I kind of knew. For some reason I couldn't see November. I didn't know that it was going to be so soon. That was heartbreaking," Semmes says. "Then I started looking through all of the pictures throughout the tour and thought, 'Wow, this has been such a beautiful, long and amazing journey.' I feel like I matured so much as a woman and as a singer."
At a corner table in the back of the coffee shop, Semmes and I talk as old friends. As she sips coconut water, she continues to smile. She has every reason to. Even though Motown the Musical's return to New York was short-lived, Semmes' dream of having a starring role on Broadway came true. Now she's ready to focus on what's next.
You recently said, "After all that I've been through, I still have my joy." How do you manage to find joy even in the difficult times?
I find that in times that I feel that I can't go on I just surrender to God or the universe, and I feel that I can find and receive that joy. There's a scripture in the Bible I love that says, "The Lord's joy is your strength." When I go through the hard times I just tap into all that I'm grateful for.
Is finding that optimism something you've learned or were you born with it?
It's a little bit of both. I feel like I had such a happy, somewhat charmed childhood. Then I came to New York in 2009 to study at NYU, and it was kind of a crazy time for me. It was the first time I was really on my own.
What has New York taught you?
I learned it can be a bit unforgiving at times. It challenges you, and that's what I love.
How would you finish this sentence: Allison Semmes is the kind of woman who ...
Finds joy in every situation. After playing Diana Ross, I've noticed there is an innocence and a childlike joy in finding things. In any situation I like to keep that little cookie. I call it cookie because that's what my mother called me. In playing Diana Ross I've learned to find that joyful place, and she lives there, too. Even watching her in The Supremes she had that spark in her eyes.
Speaking of Diana Ross, you did a lot of research preparing for the role. You went to what you called "YouTube University." Is there anything that surprised you about her when doing your research?
I realized how smart she was---even when she was a Primette. [The name the group had before The Supremes] She knew what she wanted. I knew she was ambitious, but she was badass!
You have had the opportunity to meet many of the Motown artists. However, you've yet to meet Diana Ross. If you had the chance, what would you say to her?
I don't even know! I just want to hear her talk. I just want to experience her. I want to ask her what she does during the day. I would also want to know how she did it. How did she manage everything? She's been doing this her entire life. How did she deal with the loneliness? How did she climb in spite of her girlfriends being against her? A few years ago I saw her accepting the BET Award, and she said, "I would like to present the diva workshop." I want to take that class. I want to sit in on her master class and absorb the gems she has for us.
What gems of wisdom have you acquired on your journey with Motown the Musical?
Knowing what makes me happy. The biggest challenge was finding places [on the tour] to rejuvenate, whether it was a spa or a park. I had to find out what it was that rejuvenates me. It's not just your physical well-being, but also your spiritual and emotional well-being. There were times I couldn't pray, but I would meditate.
The story and music of Motown is still relevant today. When you think of what's happening, not only in this country, but in the world, songs like "What's Going On" and "Ball of Confusion (That's What the World is Today)" ring truer than ever. As you've traveled all over the country, what has gone through your mind?
It's all coming full circle. We always say that history repeats itself, but now we're actually living it. Playing Diana has opened up my solution and that is to spread love and unity. That is what we need. Obviously there is a lot of tension, but it doesn't do any good to add more tension. We need to add more compassion and tolerance into the mix and hopefully that will spread. Singing "Reach Out and Touch" daily and seeing people from all walks of life holding hands makes me visualize what can be.
Let's get to know you a little better. What's your favorite book?
Who was your first celebrity crush?
(laughing) Oh, God, really? JTT. Jonathan Taylor Thomas. I had a picture of him in my locker.
What's your favorite Diana Ross song?
I love "Love Hangover" and "Mirror Mirror." From the moment I saw her singing it in the fuchsia bodysuit in Central Park and then throwing down that mic---Ahhhhh!
With the ups and the downs, what truth do you hold on to?
Music, expression and togetherness. I really believe that music is unifying.
After everything you've accomplished, what are you the most proud of?
The tour. I didn't think I was going to make it. The last tour I did I said I would never do this again. The fact that I did it and finished on Broadway is a huge accomplishment. I love meeting the little girls after the show. They see me, and I hope I can inspire them. The first Broadway show I saw, Aida, had a strong black woman on stage, and it made me think, "I can do that."
Is it hard to say goodbye to playing Diana Ross?
It is, but I feel like I'm never going to leave her. She's always with me.
REAL LIFE. REAL NEWS. REAL VOICES.
Help us tell more of the stories that matter from voices that too often remain unheard.