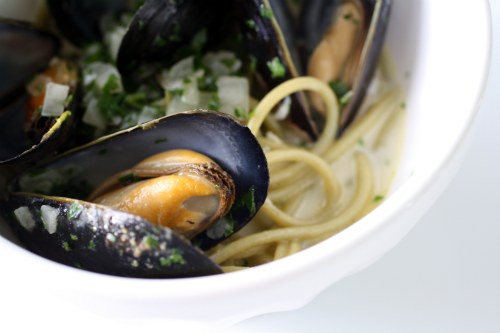 To me, when travelling, there are two kinds of places: those places you plan and plan to go to, and the places in which you suddenly end up. Though I often dress as I picture a Normandy gamine might dress--Breton striped t-shirts and snub-nose ballet flats--Normandy was definitely the latter. I never expected to go there, but as my stepfather recently hails from one of its cities, I found myself unmeditatedly in the coastal city of Deauville. Because I tend to be an obsessive trip planner, packing every never-to-be-lived-again second with activities I agonize over for months, I found the sudden appearance of the northern French coast both charming and disarming. And while I was supposed to be intoxicated with new family encounters, I was instead giddy at the sight of the carnival-striped beach umbrellas, Coco Chanel's first clothing shop location, and, of course, the mussels.
The mussels as I had them came in metal pots, heated underneath by a small votive, and they seem to be volcanically deep, as though you could eat your way through a mountain of mussels and find yourself in the center of the earth. Perhaps that's how Jules Verne came up with the idea. Alongside came a mountain of fries. And when in Normandy, eat the mussels as the Normans do: grab one empty shell in one hand and use it to pluck the plump mussel from the shell in your other hand. At the end of the pot, break the shell in two, and use it as a spoon to drink the sauce like a soup.
Moules Marinière, or sailors' mussels, is the most common variety I've encountered. A combination of white wine, garlic, and onion, along with my required additions of cream and thyme, they are both sweet and maritime. I love frites as much as the next girl, but they are a pain to make. So, I tore a page out of my favorite New York Italian, made extra brothy mussels, and poured them over a small bowl of spinach-green spaghetti, to match the parsley and thyme in the sauce. Not like an Italian pasta, a haystack of noodles lightly tossed in sauce, this sparse spaghetti nest sits in a sea of Marinière sauce as you work your way through the mussels. The last few bites are sauce-soaked strands: so good. Spoon the remaining sauce up, and you have, in my opinion, a wonderful and creative way to bring the moules frites bistro staple home in a fresh, convenient way. Plus, it's more figure friendly, so you can really flex those mussels. Bon app!
Moules Marinière over Spaghetti
serves 4
INGREDIENTS
2 pounds mussels (debearded and scrubbed)
3 tablespoons unsalted butter, cold and divided
1 small yellow onion, finely diced
4 small cloves garlic, finely chopped
Leaves from 1 small bundle of thyme (about 1/8 ounce including stems)
¾ cup dry white wine
½ cup clam juice
¼ cup water
12 ounces spinach (green) spaghetti
½ cup heavy cream
¼ cup finely chopped flat-leaf parsley
PROCEDURE
1. Bring a large pot of salted water to a boil.
2. In a wide braising pot with high sides, melt 1 tablespoon butter on medium-low heat. Add the onions and garlic, and sauté until translucent, about 3 minutes. Add the wine, clam juice, water, and thyme to the pot. Bring to a boil over high heat, then reduce heat to low, and simmer covered for 10 minutes.
3. Add the pasta to the pot of boiling, salted water. Cook until al dente, and drain. Place the hot pasta in a bowl with 1 tablespoon butter, salt, and pepper. Mix to combine.
4. Season the broth mixture with salt and pepper and add the mussels. Cover and cook over medium heat for under 8 minutes, just until all the mussels have steamed open. Shut off the heat and add the cream and the remaining tablespoon of cold butter. Add parsley, and stir to incorporate.
5. To serve, nest some pasta at the bottom of a bowl, and pour mussels and sauce on top. Serve with some nice toasted garlic-rubbed, olive oil-drizzled baguette.
REAL LIFE. REAL NEWS. REAL VOICES.
Help us tell more of the stories that matter from voices that too often remain unheard.