Picture this: Mount Everest, captured in astounding interactive digital detail. We're not talking megapixels, we're talking gigapixels -- as in two to three billion pixels. An image so detailed you can zoom in on individuals standing around at basecamp from miles away.
The folks at Glacier Works recently finished putting together such an image as part of their work to track climate change and its effects on the glaciers of Mount Everest.
"Our high-resolution gigapixel photography enables viewers to experience the glaciers as never before: up-close and with extreme precision," writes Glacier Works on the group's Facebook page. "Using our online tools, it is possible to soar thousands of feet above a glacier and view it in its entirety, or zoom down to the ground and explore pebbles embedded in the ice."
The image is actually the product of more than 400 individual photos, each taken with a 300mm lens then stitched together, David Breashears, the photographer and team founder, explained to NPR.
Breashears sees changes in the glaciers on Mount Everest as a canary in the coalmine of the Himalayas, a sign of dangerous things to come if we don't take action. His team's work also includes comparing old and new photos taken from the same vantage point to illustrate climate change, an example of which can be seen below.
PHOTO of glacier retreat in the Himalayas (captured in 2007 at the Main Rongbuk glacier in Tibet and used with permission):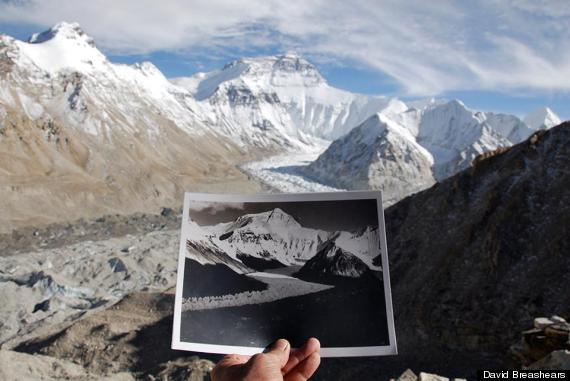 Support HuffPost
The Stakes Have Never Been Higher
Related
Popular in the Community