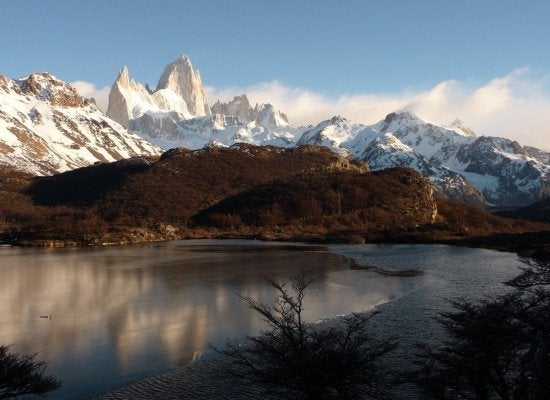 The air of adventure in El Chaltén, Argentina, is palpable. How could one not feel it,
when the town itself is cradled in the midst of some of the most impressive mountain
scenery this side of the Equator? And in the distance looms a whole line of magnificent,
unrelenting peaks, including the pinnacle of them all, Cerro Fitz Roy, a 6,000-foot tall
mammoth, and one of the most technically challenging mountains to climb in the world.
Which is why, crossing the threshold into town, I felt like a poseur.
I was on the last leg of my four-month backpacking trip through South America, a
journey that had me gallivanting around Peru and Bolivia, down Chile and, finally,
Patagonia. I'd come this far south not because I'm an intrepid mountaineer but
because I had wanted to see the mythical terrain: mountains crashing into turbulent
ocean, vast plains, moody glaciers, all so wild and damn romantic.
But because I was here, in southern Argentina, the trekking mecca of the continent,
maybe even the world, I couldn't not go hiking. This was a once-in-a-lifetime
opportunity, or so I could hear my friends back at home telling me. Thus, I would steel
myself and do it.
One of the most popular hikes in El Chaltén is Laguna de los Tres, to the base of Mt. Fitz
Roy. Relatively easy, eight hours round-trip, I felt ready for the challenge.
In the morning, which fortunately and worth noting was clear and not windy -- the
area's slogan: "viento, viento y más viento," "wind, wind and more wind" -- my group set
out for the path on the edge of town. We had apparently left early enough to beat the
crowds because the trails were not the overrun boulevards of human traffic that I was
expecting. Instead, silence, sunlight and well-marked trails prevailed.
The trail twisted through thickets, past clearings and low-lying shrubs and under
gnarled trees. It was forgiving and flat, neatly bordered by foliage. This isn't so bad, I
thought. We made quick progress and soon reached the first vista point of Mt. Fitz Roy.
An eyeful of jagged terrain greeted us. It was prismatic. All the colors of the panorama
were intensely-hued, as if someone had increased the saturation of the scene so that the
distant mountain range glowed. I felt like we were standing in front of a green screen
and what we were beholding was the result of motion-picture magic.
As we descended into the tundra-like grassland at the base of the mountains, we came
upon strange little brooks, low-lying and inconspicuous. Since all the water in the park
is potable, I refilled my bottle, which soon frosted over with condensation. That first
sip was memorable. Mountain spring water -- now I get what all the slogans are about. I
greedily sucked it up and declared crystalline a flavor. It was clear and gorgeous in my
mouth.
We continued hiking, were most of the way there I realized happily. As I anticipated our
arrival, we passed Poincenot base camp, where the hard-core rock climbers convene to
prepare for the climb to the top of Fitz Roy. It occurred to me that this place was their
Disneyland, one with no height tests or other safety precautions.
The last kilometer turned out to be treacherous. It reminded me of Half Dome's
Subdome, a perilous stretch of steep relentless terrain, narrow rock ledges, careful
footwork and frequent stops as people passed each other. I'm not cut out for this, I
thought, as we plodded along, upwards and upwards. Our exertion seemed in vain, even
as the views expanded below us, somersaulting into the distance.
And then we cleared a rise and the ground once again flattened. We had arrived.
Fitz Roy, so ancient and brooding. It was a razor tower surrounded by hushed heaps
of snow, a proud massif, powerful and enormous and solid. A padded
stillness emanated. Its companions, a whole cluster of lesser peaks, comprised a barbed
silhouette that fended off intruders like stoic sentries. But the lone master presided,
waited.
As we approached, we studied Laguna de los Tres, the placid pool of water at its base.
I couldn't understand how it had gotten there. It was cerulean in color, completely
opaque and menacing because it was so calm. It was like we had arrived in the
aftermath of some great event, a calamity that had been snuffed out like a candle flame
just moments before. Things were eerily still. The monster had shown its head and
disappeared.
Further away, behind a huge hill of what seemed like loose rocks, was an even more
chilling lagoon. It was a slightly different shade of blue that hinted at even greater
depths. Because it was obscured on all sides, it seemed like it was meant to be hidden.
Behind and above and all around, the mountains exerted their taciturn presence.
I got it. You have to earn these views.
I've come to realize that my hiking style is very goal-oriented. I had undergone the effort
of hiking to the base of Fitz Roy because I had wanted to see the end view badly enough.
Take my word for it, fellow reluctant hikers: you will not go unrewarded.