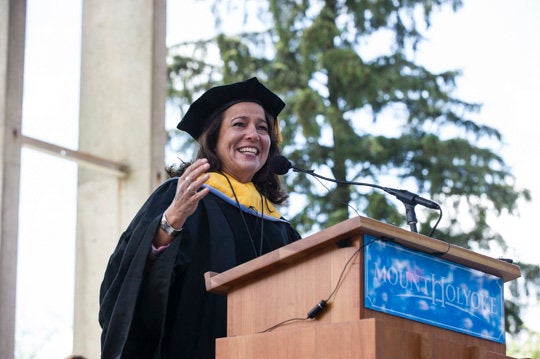 Joia Mukherjee, the chief medical officer for the international charity Partners In Health, celebrated the work of student activists during a commencement speech at Mount Holyoke College in South Hadley, Massachusetts.
"It is impossible to name all of the many ways you young women have already begun to disrupt hegemony, to change the status quo, to bring about a better world," Mukherjee said. "You have been truth-tellers and advocates. You are my sisters, and you give me great hope."
At Mount Holyoke, a women's liberal arts college, students started an online campaign called "MoHonest," used to highlight microaggressions that students of various minority groups faced. Microaggressions are slights, usually based on a stereotype of someone's race, gender or sexual orientation, that are perceived as offensive, but are not overt. 
All of which, Mukherjee said graduates should celebrate themselves for, according to a transcript of her speech.
"Through MoHonest, your work to highlight microaggressions at Mount Holyoke, you've challenged the forces of racism by disrupting the veneer of complacency, to speak the truth," Mukherjee said to applause. "Thank you for that. For your fight for transgender people, thank you for disrupting that status quo. Through your campaign, [Think Outside] the Bottle, you have brought personal responsibility and accountability for the environment, environmental justice to your own campus. Thank you for that disruption."
Calling all HuffPost superfans!
Sign up for membership to become a founding member and help shape HuffPost's next chapter