It was the morning of May 18, 1980 when the retired Navy veteran was attempting to fly toward Mount St. Helens to reach Seattle with his now ex-wife and two young daughters. Shortly after the volcano began to erupt, they snapped a series of stunning photos from their windows.
"We didn't have the TV on, so I had no idea what was going on," Cornwell, now 78, told The Huffington Post Wednesday by phone.
"As soon as we got in the air, someone said that the airways were shut off," he recalled. "Because we had full fuel -- we just fueled up -- we had plenty of fuel to stay above. They asked us to stay above."
Cornwell's Cessna 340 was pressurized, allowing the family to stay 10,000-14,000 feet in the air without it shutting off, he said. Other private aircraft didn't have that ability.
"We stayed around the west side of the mountain for a couple hours at least," he said, estimating they were 4 or 5 miles from the rim.
During that time, his family watched in amazement as mud and water flooded down the riverbeds, taking out a bridge and many lives with it.
He described their reaction to the scene below as "kind of a state of shock."
"It was something you've never seen before and you don't have an idea about what it's supposed to look like," he said.
As the plumes of smoke rose into the sky, he recalled seeing "a constant surge of lightning" in the mix. It was a phenomenon his photos didn't capture.
The particularly disturbing part, however, was knowing early on the extent of the injuries, deaths and damage the eruption would cause.
"We knew that there were a lot more people lost in the situation," he said.
In addition to seeing the effects of the eruption from above, he said his family could hear radio communications from first responders below.
"There were people on the road that were trying to block people off these roads from going up, and a couple of them had to escape too, and they were warning the people," he said. "I heard this one helicopter saying, you've got to get these people out. And then they said they didn't make it."
He called it pure coincidence that his camera was inside with them at the time and had been packed with extra film left over from a recent vacation. Usually, it was stashed inside the wing compartment, he said.
"It was unusual to have that type of arrangement," he said.
The family ultimately arrived in Seattle. Once back home, he said, they made copies of their film's negatives before dropping it off at a shop, which sent them to the Tri-Cities to be processed. It was fortunate the family made those copies, because they never got the photos back.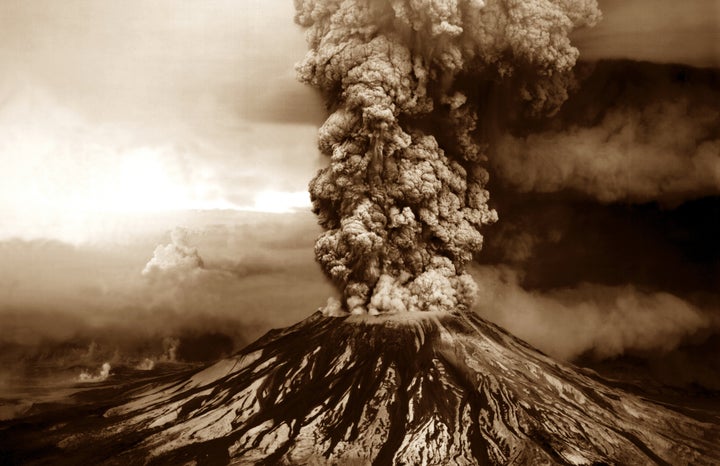 "Someone stole them and then we saw that some of those pictures were for sale," he said, adding that they saw the photos at a mall kiosk. He said it was "pretty obvious" they were their photos, as the wing of his plane could be seen in many of the shots.
Cornwell expressed his amazement at the amount of attention they were getting.
He hasn't flown for the past five years. Reflecting on that particular flight path, he said: "I've never had any desire to go back up there."
Related
Before You Go
Nicaragua's Momotombo Volcano Erupts
Popular in the Community