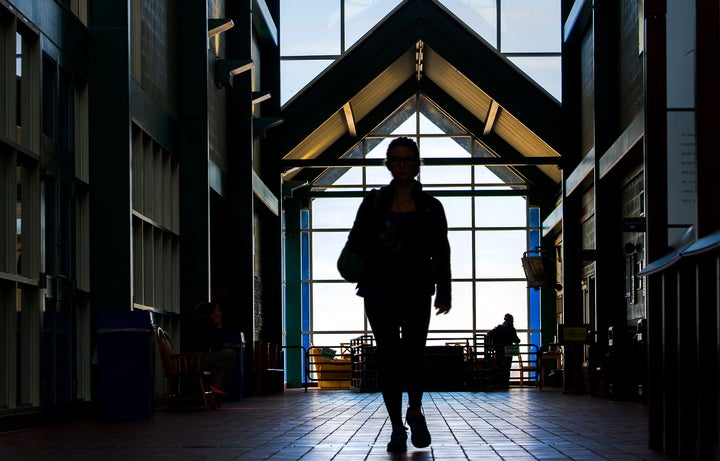 UPDATE: Feb. 12 -- At a faculty meeting on Friday afternoon, Mount St. Mary's University President Simon Newman reinstated the professors he had fired on Monday for disagreeing with his policies. It's unclear if they intend to return to their jobs. One of the faculty members, Thane Naberhaus, told the Foundation for Individual Rights in Education he would only take his job back if Newman stepped down.
The president of Mount St. Mary's University, who last month was quoted in the school newspaper comparing struggling students to rabbits who should be killed, has fired two professors who criticized his policies. 
On Monday, President Simon Newman fired the professor who oversaw the student publication and a tenured professor who has condemned the leader of the small Catholic school in Maryland. 
"Firing a tenured professor -- that's nuclear," Peter Bonilla of FIRE told The Washington Post. "That's something that universities don't do lightly. It's definitely a shock if a tenured professor has gotten the ax; it raises a lot of questions about their right to free speech, their right to dissent."
At a meeting with faculty members last month, Newman apparently advocated pushing 20 to 25 struggling students to drop out early enough in the year that they wouldn't count against the college's retention rate, which is taken into account when determining a school's ranking.
"This is hard for you because you think of the students as cuddly bunnies, but you can't," Newman said, according to The Mountain Echo. "You just have to drown the bunnies ... put a Glock to their heads."
Since that meeting, staff members have indicated that they are reluctant to speak out against Newman, for fear of retribution. It seems this week's firings have only breathed new life into these concerns. 
"It's terrifying, and nobody is safe," said a faculty member who spoke to Inside Higher Ed on the condition of anonymity. "It is shattering. It feels like the end of what so many of us have sacrificed for."
"Speaking freely is a dangerous proposition at the Mount if it is willing to go this far to silence its critics," Bonilla warned. 
PHOTO GALLERY
Most Polite Colleges: GrubHub 2015 Ranking
Calling all HuffPost superfans!
Sign up for membership to become a founding member and help shape HuffPost's next chapter