Officials issued a red alert and ordered Bali residents to evacuate after the Mount Agung volcano erupted, blasting ash up to 5.6 miles into the air.
The steam-based eruptions evolved into magmatic blasts over the weekend. Indonesia's Center for Volcanology and Geological Hazard Mitigation raised its alert from orange to red, its highest level, early Monday local time, The Associated Press reported. Some 40,000 people were evacuated to temporary shelters over the weekend, but an additional 60,000 would still have to move, officials said. They targeted 224 locations for evacuation and told everyone within six miles of Mount Agung to leave.
Some fear a major eruption could be imminent. But the head of Bali's geological agency told AP: "We don't expect a big eruption, but we have to stay alert and anticipate."
Flights were suspended at Bali's airport at Ngurah Rai, stranding thousands as the volcano erupted three times Saturday and continued on Sunday, Bali's Regional Disaster Management Agency said. Lombok International Airport on Pulau Lombok also closed, CNN reported.
The Mount Agung ash plume extended up to 4.7 miles high late Saturday, according to tracking by Australia's Bureau of Meteorology, raining ash down on several communities. Masks were distributed amid evacuations in Bali and Pulau Lombok, CNN reported.
Related
Before You Go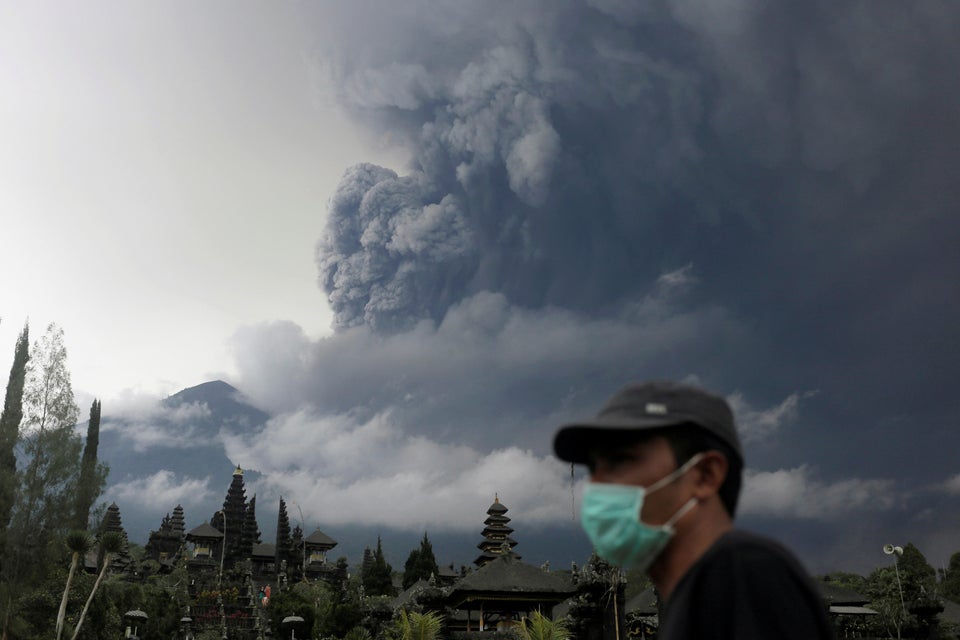 Mount Agung eruption
Popular in the Community