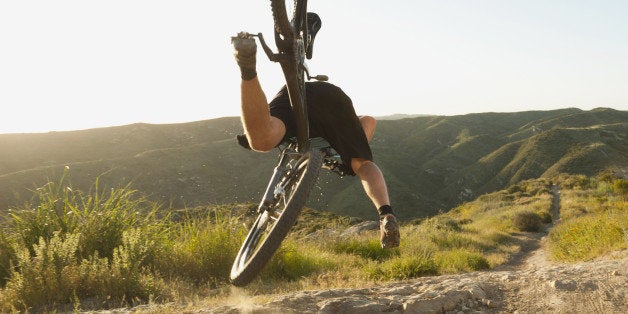 This biker popped more than a wheelie.
The injury, which was reported in the January edition of the Irish Medical Journal, occurred after the man fell onto the crossbar of the bike. When he finally got around to seeking medical attention five weeks later, he told doctors he had an erection the entire time.
A 22-year-old male presented with a five week history of ongoing priapism after he had sustained a blow to perineum when he fell on to the crossbar of his mountain bike. Perineal pain, swelling and bruising had settled within days but he had ongoing priapism with rigid erection. Examination revealed no signs of injury but the penis was erect.
When doctors at Dublin's Tallaght Hospital tried to treat the perma-kickstand with "manual compression," it worked at first, but the erection returned almost instantly. A two-week long "pressure dressing" also failed.
They were finally able to shift his penis into a lower gear using a process that involved inserting gel foam and platinum coils between an artery and a vein to alter the blood flow to the organ.
Browne noted that the procedure has a small risk of causing impotence, but not as high as the risk of other, more invasive procedures.
Calling all HuffPost superfans!
Sign up for membership to become a founding member and help shape HuffPost's next chapter
BEFORE YOU GO