 The recent rocket launch by North Korea, just in time for the holidays and the South Korean presidential election, was the latest installment in what has become a theater of the absurd. As John Feffer, co-director of Foreign Policy in Focus at the Institute for Policy Studies, points out, "North Korean leaders have always understood the importance of theater." In "North Korea's Nuclear Theater," Feffer writes:
The North Korean leadership has used its nuclear program for theatrical purposes from the very beginning. It has relied on the spectacle of rocket launches and covert nuclear facilities to keep the attention of its foreign and domestic audiences. It hasn't paid much attention to the critics and their punitive responses. As long as North Korean citizens are dazzled and foreign leaders are riveted, the nuclear program has accomplished its aims.
Both the rocket launch and its reception are entangled in a co-dependent, routine spectacle in which there is repetition with very little difference (although the North did apparently manage to put a satellite into orbit this time), thus rendering the hope for overcoming the division of the peninsula that much more unthinkable.
In The Division System in Crisis (University of California, 2011), Paik Nak-chung, emeritus professor of English literature at Seoul National University, argues that division has "solidified itself everywhere in the lives of ordinary people." Changing the terms of the debate about North Korea, and the division of the peninsula, will require creativity and imagination in the effort to generate feelings of connection and compassion between ordinary people in North and South Korea. Yet as the two countries move farther and farther apart in terms of language, culture, economy and physical appearance, finding something that ordinary people on both sides have in common is becoming difficult. One big thing they have in common is the Baekdu-Daegan mountain range.
The Baekdu-Daegan is a continuous mountain system that begins at Mt. Baekdu, a 2,744 meter peak on the border of China and North Korea, and winds 1,400 km south to the highest peak in South Korea, Cheonwang-bong, in Jiri National Park. This past summer, mountain diplomat Roger Shepherd completed his fourth trip to the North Korean section of the Baekdu-Daegan. Shepherd is preparing a photo journal book, to come out in 2013, which will feature images of the mountains and cultures from the entire peninsula, the first of its kind.
Shepherd's first two expeditions to the mountains of North Korea were paid for out his own cargo pockets. This past summer, a six-week expedition was primarily funded by the Korea Green Promotion Agency under the suggestion of the Korea Forest Service. In 2011, Minister Lee Don-koo of the Korea Forest Service pledged to help Shepherd after seeing an exhibition of his photos of the Baekdu-Daegan. Given geopolitical tensions on the peninsula, and a conservative regime in South Korea, organizing funding for such an expedition isn't easy.
Many Koreans want to support Shepherd and this project, but can only do so indirectly. For example, gear for the expedition was provided by Neve Lee of Garmin Korea, a company that sells high quality outdoor equipment. Mr. Lee provided a seven-man teepee tent valued at $3,000, six thermal mats, merino socks and a kerosene lamp. When the expedition was over, Shepherd left this valuable gear with his team in the north.
The Korea-New Zealand Friendship Society is an NGO located in Pyongyang, the capital of North Korea. Friendship societies were implemented by North Korea as a way of continuing cultural relationships with countries that have no official diplomatic ties to North Korea. While the Korea-New Zealand Friendship Society could not afford to sponsor the expedition, it organized the expansive logistics of the expedition, including the provision of local guides who helped Shepherd and his team get to specific sites along the Baekdu-Daegan.
The team included several civilians from Pyongyang along with Mr. Han Myeong-soo, their professional driver. Mr. Soo's job was complicated by the fact that they were not allowed to use a GPS, so had to rely on a compass and old maps which detailed the ridges of mountains, but not roads or trails. Yet whatever difficulties they encountered were eased by the fact that the team carried two 40-liter gallons of acorn soju (a distilled spirit) with them in the jeep to enjoy at the end, or beginning, of a hard day of hiking.
Unlike South Korea, where hiking is a massively popular leisure activity, recreational hiking doesn't exist in North Korea, as it would be a waste of energy. The mountains of North Korea are used primarily for hunting, foraging and as a way to get from one place to another. The guides often hadn't been to the local peak in over twenty years, so the team occasionally had to bush whack their way to the top, where a smooth trail would only then become visible.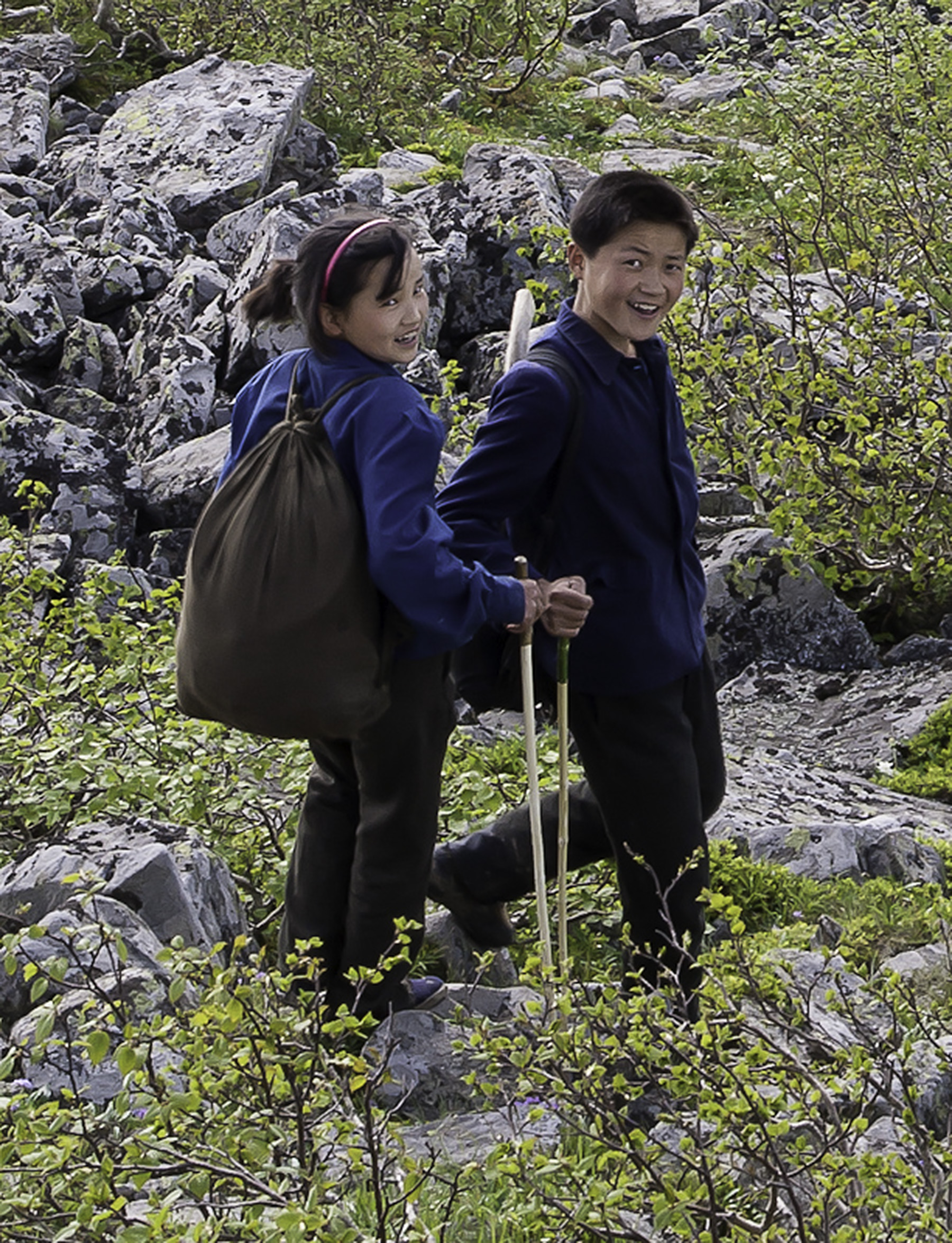 After reaching the summit of Duryusan (2309 m), Shepherd discovered that most of the water bottles were actually filled with soju. A couple of North Korean teenagers who were passing through led the team to a hidden spring so they could fill up their water bottles. Photo credit Roger Shepherd.
But despite a few wrong turns, the team trekked to all of the major mountains of the North Korean section of the Baekdu-Daegan: Mt. Geumgang, Mt. Duryu, Mt. Baek, Mt. Myeongdang, Mt. Godae, Mt. Baekdu and more.
The most memorable mountain for the team was Mt. Baekdu, which straddles the border of China and North Korea. Mt. Baekdu is a sacred mountain, considered the ancestral origin of the Korean people. A spectacular crater lake, Cheonji or "Heaven Lake," rests atop the volcanic mountain at a surface elevation of 2,189 m.
When asked about his impression of Mt. Baekdu (also romanized as Baekdu-san or Paektusan, the word 'san' means mountain), Shepherd told me:
Baekdu-san is easily the most impressive mountain in all of Korea. It was unreal! You stand on the edge of this massive volcanic crater. The air is crystal clear and its light chops and changes color from bruising purples, dark blues, heavy grays, filling blacks and brilliant whites. Meanwhile the weather is four seasons in one day. When the wind ceases, a silence beckons the mountain, which forces you to stop and understand where you are. You really feel like you are standing at the top of the peninsula, and that from here all the peninsula's energy and water flows south along the Baekdu-Daegan of Korea, dispersing identity and life for its people. For that, it feels like a point of origin. It's not a religious feeling, but more like a primal biological rooting to the planet's forces -- it could be shamanic, but it seems more powerful than that, because Baekdu-san is a mountain that for thousands of years people only talked about and looked at. It is void of shrines and human habitation, therefore empowering it with an aura of sacredness forbidden to humans.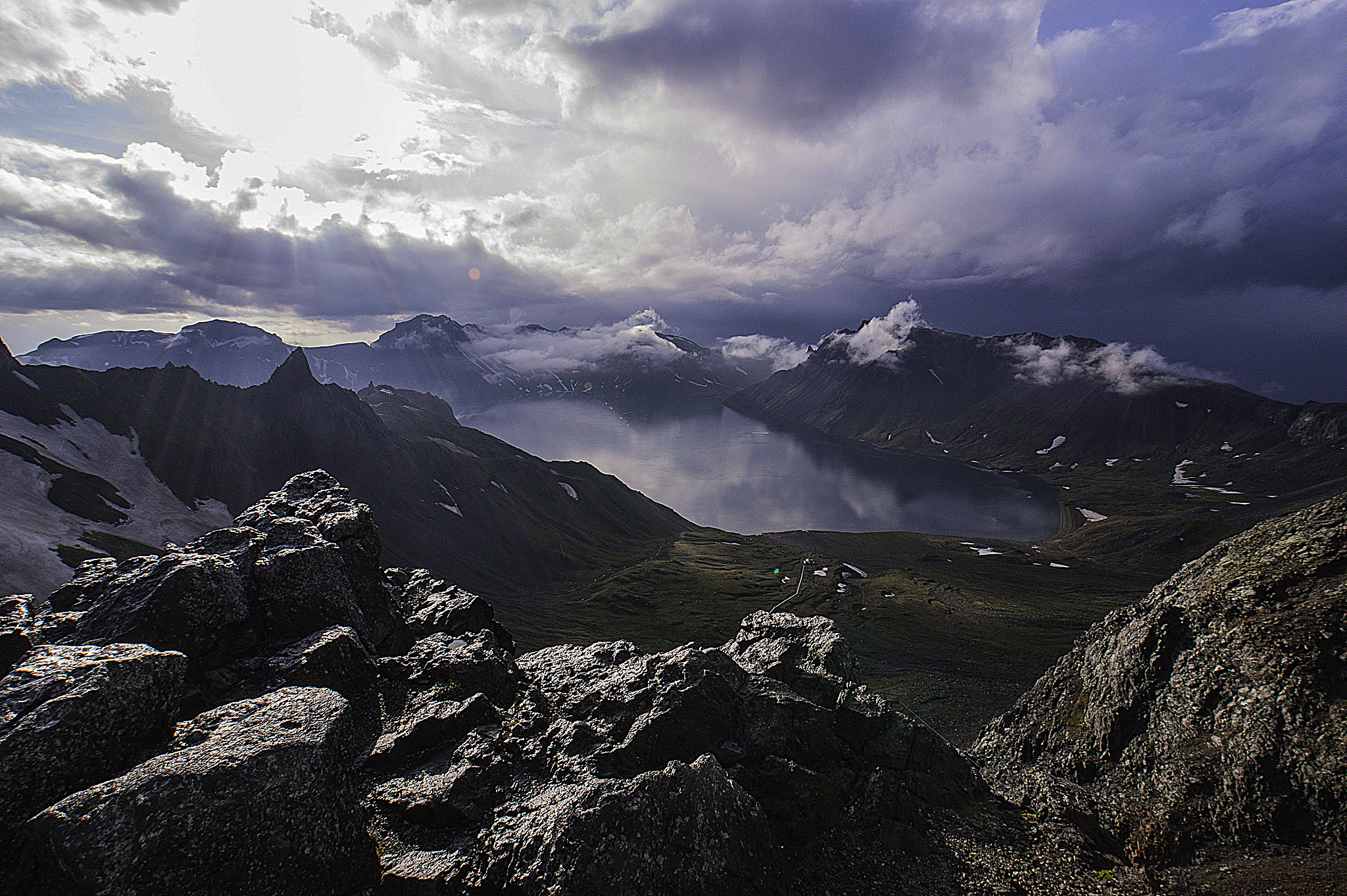 Mt. Baekdu and Cheonji. Photo credit Roger Shepherd.
The team also visited important sites such as Gaeshim-sa, a Buddhist temple located on Mt. Chilbo, one of the top five sacred mountains of Korea, and Dol-gang or "stone river." The team could hear, but not see, water running deep under this 2 km long river of massive rocks. There are apparently only two other stone rivers in the world, one in Bulgaria and one in the Falklands.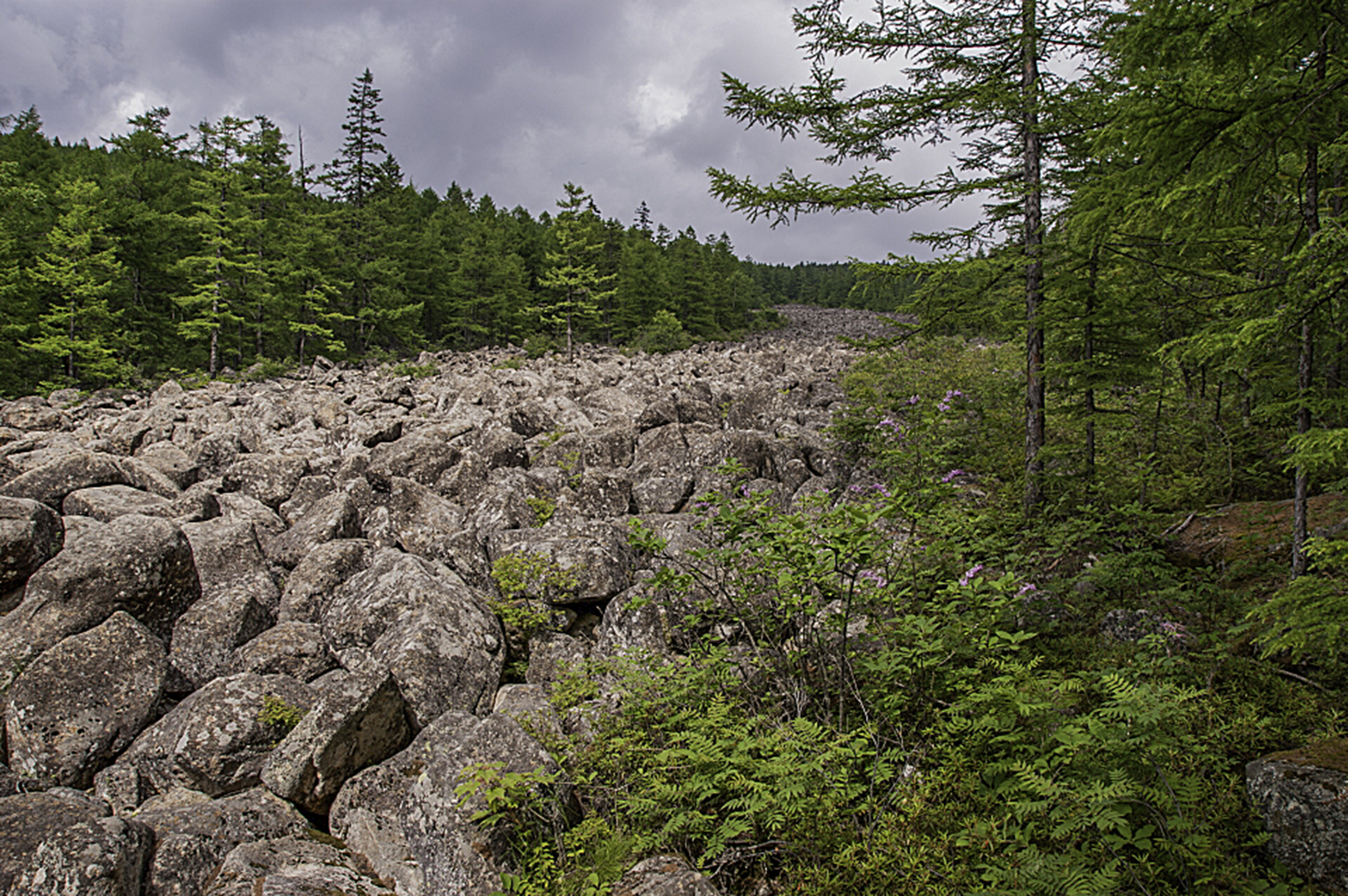 Dol-gang. Photo credit Roger Shepherd.
I asked Shepherd how he would compare the sections of the Baekdu-Daegan in North and South Korea. He mentioned that:
Due to its topography, the mountains in the central and southern part of Korea are not necessarily higher but steeper, more dramatic, and contain more exposed rock. In the northern part, the mountains, although higher in altitude, are more rounded, containing layers of forest and plateaus of wild grasses.
On November 27, 2012, Shepherd gave a lecture for the Royal Asiatic Society-Korea Branch (RASKB), in which he told the audience, many of whom were older Koreans, that the people he met in North Korea were "excited to have their mountains promoted to the world."
One attendee of the RASKB lecture was Mr. Huh Chang-sang, a seventy-seven year old retired publisher who was born in Kaesong, North Korea. As a 14-year-old boy during the Korean War, Mr. Huh walked over an iced up Imjin River, only to discover that he couldn't get back because enemy forces had taken his hometown. He was never able to return to his family and subsequently never saw or heard from them again. Mr. Huh's life, like that of too many others, has been deeply traumatized by the U.S. State Department's decision to divide the peninsula along the 38th parallel in 1945. Mr. Huh told Shepherd that it would be a good idea to do a book on the mountains of North Korea.
MBC, one of the four major national television networks in South Korea, is preparing a documentary on Shepherd's expeditions, outlining the common goodwill and local support his work has received throughout Korea, in particular North Korea. More than a few media outlets have asked to use his footage of North Korea, yet Shepherd turns them down when it becomes apparent that they want to use it for sensationalistic purposes.
Ordinary people in North and South Korea cannot contact each other directly, yet they can meet indirectly through images of the Baekdu-Daegan mountains. This MBC documentary, along with photo exhibitions and the forthcoming book, can help change the terms of the debate about North Korea, and division of the peninsula, through the production of an alternative spectacle, the spectacle of beautiful mountains.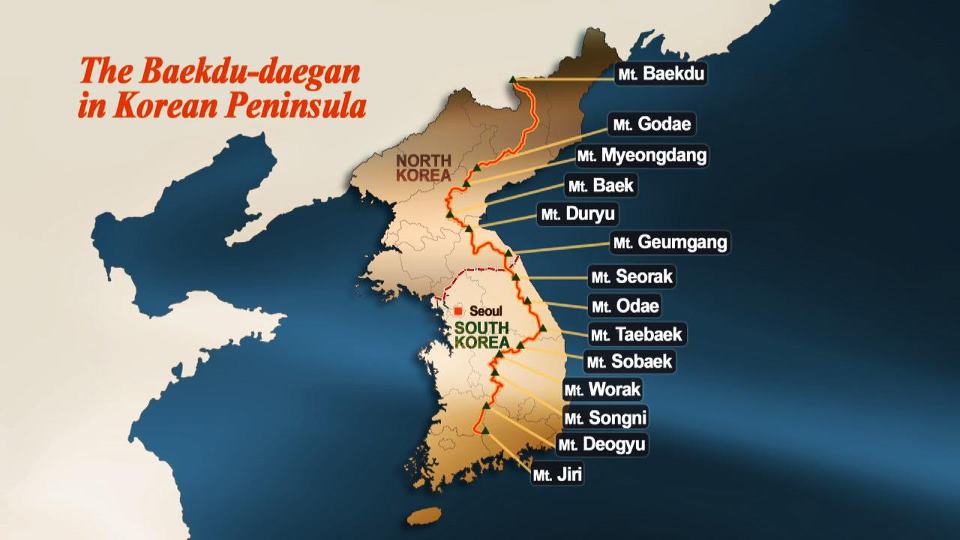 Photo credit Arirang TV
For more information, visit: www.hikekorea.com.
REAL LIFE. REAL NEWS. REAL VOICES.
Help us tell more of the stories that matter from voices that too often remain unheard.