A pair of backpackers recently got a jolt when they came face-to-face with a mountain lion. It was a heart-stopping encounter that they caught on video.
Brian McKinney and Sam Vonderheide were hiking California's Sequoia National Forest late last month when they spotted the big cat standing on the path ahead of them.
It was a mountain lion, Vonderheide told his companion. But McKinney wasn't sure.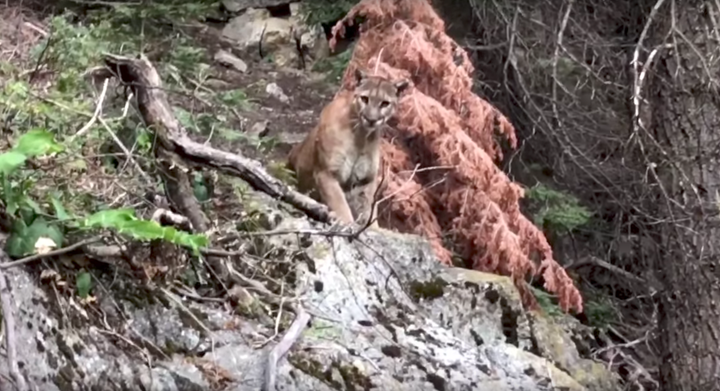 The video shows the animal trot around a bend in the trail and vanish from sight. The two hikers creep closer. At first, the mountain lion is nowhere to be seen. But then...
"There it is, right there!" one man says in an urgent whisper. The camera pans up to show the cat watching them from just a few yards away. It's sitting partway up a slope, looking down at the hikers.
"I don't really like this," one of them says.
"What are we supposed to do, back up?"
"I don't know. I don't think you're supposed to run."
The men were on the first day of an 11-day hike up Mount Whitney, but with the cougar not moving, they turned back and set up camp in another area.
"We said, 'forget it' and turned around. We just hiked two miles in the opposite direction to camp in a different place," McKinney told The Fresno Bee. "It was extra tough to get to sleep that night."
The men, who carried an ice ax and a bear whistle for defense, recorded goodbye videos for their loved ones, just in case something happened, they told the AP.
The following day, they returned to where they'd seen the big cat. Fortunately, the only trace of the animal was paw prints.
Popular in the Community