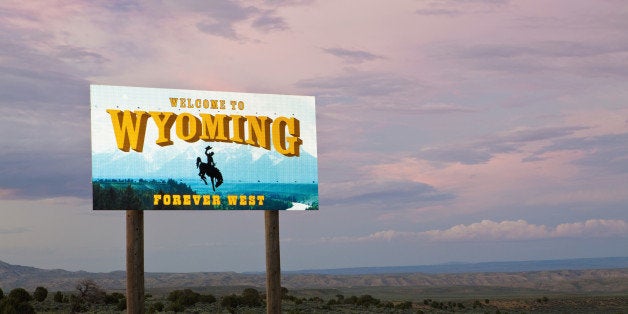 Forget about the golf clubs and beach chairs when it comes to your retirement.
A new report ranks the mountain West and plain states as the most desirable locations to retire and states in the Northeast and South as places you want to avoid in your retirement.
Wyoming was ranked number one and Arkansas ranked last.
The report from Bankrate.com bases their top 10 lists on a state's cost of living, taxes, health care quality, crime rate and it's well-being as measured by a survey of those 65 and older in each state of how satisfied they are with their surroundings and climate, says Chris Kahn, Bankrate's research and statistics analyst.
Wyoming came out on top for its low cost of living, low crime rate and low tax burden, Kahn says. Other states that round out the top 10 best states to retire are Colorado, Utah, Idaho, Virginia, Iowa, Montana, South Dakota, Arizona and Nebraska.
"The states that do pretty well and have done well for the past couple of years that we have done this ranking. They are Rocky Mountain West with a little bit of the Midwest (Northern Plains) thrown in there," Kahn says.
"Every state has something different, but those states did well on all of our rankings. They all had relatively low cost of living and relatively safe with lower than average crime rates and health care except for Wyoming had above average health care systems. Wyoming is the lowest tax state in the country. Not only do they have no income tax, but they have low sales and property taxes."
Kahn says in its survey last year that he was surprised how South Dakota ranked at the top of the list and isn't surprised by this year's finding focusing on the mountain West and plains.
"When people think of retiring, you don't think of those things," Kahn says. "I think when people think about retirement, they think about where they had their last and best vacation. They think about going somewhere where it's sunny and there's a beach nearby. I think it's always a surprise to see these states do so well. The reason is that weather is part of our ranking, but it's only one of several factors. We are taking away the emotional factor of it and looking at the hard facts of what living there would actually be like."
While Arkansas may have a low cost of living and plenty of outdoor recreation, Kahn says the state received below-average marks for weather, crime, health care, taxes and well-being. Other states that ranked at the bottom include New York, Alaska, West Virginia, Louisiana, New Jersey,
Hawaii, Kentucky, Missouri and Oregon.
We weren't looking for the states that were the most popular, and that would still probably be Florida and Arizona. There's a well-worn path to both of those states from the Northeast and Midwest. The question we wanted to answer is all else being equal and you could go anywhere, where would be a good place for you? We wanted to think about some of the things we think about all of the time at Bankrate, which is how much do you have in your bank account, how far you can extend those dollars, and how you can stay out of debt. We wanted to think financially here.

Kahn says an important part of the survey they wanted to include this year is a measure that he calls "touchy-feely." That's the community well-being as measured by the Gallup-Healthways Well-Being Index. It's based on a survey of questions like do you think your community is on the way up or way down, do you feel safe walking around at night, and how happy are you, Kahn says. If you move to some place, you want to go somewhere where people feel pretty good about the community.
"One reason we included these surveys of personal wellbeing is that I wanted to make sure those states that are highly ranked and the people who actually lived there liked them a lot," Kahn says. "That tends to be the case as well."
Weather is also very important, but it's just talking about the temperature. It's the percentage of sunshine and humidity, Kahn says.
"The one thing you think about with Wyoming, Colorado and that whole area is winter and skiing and the cold," Kahn says. "These are cold-weather states, but their summers are really mild and spring and fall can be really mild. They get a lot of sunshine, which is important and the humidity is really low. They're comfortable places to be living. There are many factors retirees should consider before deciding where to put down their roots. Warm weather may be an initial draw, but all the sunny days in the world won't make you happy if you're constantly stretching your budget or don't have access to quality health care."
Arizona cracked the top 10 this year. One reason for is its wellbeing score and weather helped push them into that ranking, Kahn says. Florida ranks Nº28.
"I will say this about Florida that if you look at a number of the factors we are ranking for -- they weren't terrible but they had enough below average scores with the crime rate, the health care system didn't rank as highly and the humidity killed their weather score. Florida gets a lot of sunshine, but in the summer it can be really uncomfortable," Kahn says.
Kahn says they saw two main themes at the bottom. The high cost of living in states like New York, New Jersey, Hawaii and Oregon pushed them down in the rankings.
"If you can imagine being someone moving to one of these states from somewhere else and you are on a fixed income, you really have to think about it," Kahn says. "If it's New York, be ready because the tax rates are high and the cost of living is high. It will cost a lot to rent an apartment or buy a home."
The second theme is health care. States like Arkansas, West Virginia, Louisiana and other southern states had low-ranking health care systems by the federal government, Kahn says.
"When you do surveys of people in those states with low-quality health care systems, their personal well-being rankings are pretty low," Kahn says. "They go together. If you have a strong health care system, there's a good amount of general wellbeing in those states."
The survey used in Bankrate's ranking also asked Americans which factors are most important to them when thinking of where to live in retirement, Kahn says. One finding in the survey is that women by a 59 percent total value a cheap cost of living more highly than men at 42 percent, Kahn says.
Three in five wanted to spend their retirement in another city or state but that desire to move away from home fades with age, he says.
Some 24 percent say being close to family is the most important factor in deciding where to retire, Kahn says. Four in 10 say locales with access to mountains, rivers and other outdoor recreation would be most appealing, while 25 percent prefer living near a beach, Kahn says.
"For a lot of folks the best place to retire is near your kids and family where someone can watch over you and take care of you in case something happens," Kahn says. Deciding where to live in the golden years is still a very personal decision. This list is meant to help inform, rather than choose a state for you. For example, if you want to retire on the beach and need top-notch health care, this can help narrow down your choices."
Visit NowItCounts.com, the new destination for Americans 50+ covering financial, health, beauty, style, travel, news, entertainment and sports.
Calling all HuffPost superfans!
Sign up for membership to become a founding member and help shape HuffPost's next chapter