It was the spring of 2000 in San Francisco and I was volunteering with the Pancreatic Cancer Action Network. My role was to host a booth, speak with attendees at the American Association for Cancer Research (AACR) conference, and share information about our newly formed nonprofit organization.
But my attention was quickly diverted.
All of my focus was on mismatched fliers and incomplete fact sheets. It was clear the organization needed a cohesive brochure to highlight its good work. I was asked to take the lead on its creation.
It was a project I took enormous pride in, knowing the organization didn't have the resources needed to get it done on their own. It was also another chance to honor my dad, who had recently died from pancreatic cancer.
I had no idea how to create a brochure, but working with my friends in business school, I was connected with a graphic designer and printer.
As it goes with most "firsts," today I look back at that brochure and cringe, but it was just what we needed 17 years ago. There's a framed copy hanging in one of our purple-clad conference rooms - it really illustrates how much we've grown.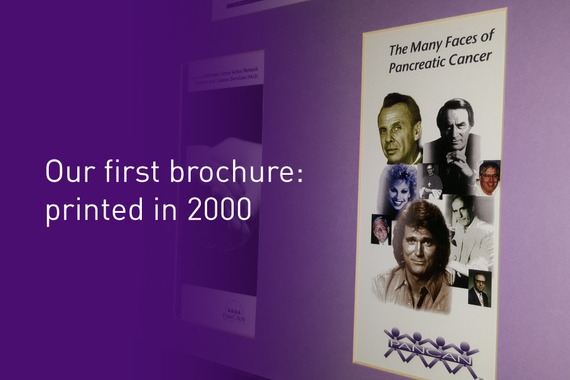 Within a few months of volunteering and graduating from business and law school, I was asked to join the organization as its first full-time staff member. The transition from volunteer to employee seemed like a natural fit for me, and I was thrilled to have the opportunity to devote all of my time to fighting pancreatic cancer and honoring my dad.
One of the first volunteer-driven events I traveled to was in Indianapolis. I still remember stepping off the plane and feeling overwhelmed with pride and anticipation. The event was a success and I was so incredibly appreciative of the volunteers. It became clear to me the extreme power of volunteerism. I knew that we would start a movement together.
I am lucky to have the perspective of both volunteer and employee.
April is Volunteer Appreciation Month and in support of our selfless champions, I've highlighted a few of the major accomplishments they achieved in the last year. Our volunteers:
•Gave 134,000 hours to the cause, totaling more than 5,583 days!
•Raised nearly $13 million through PurpleStride events and another $10 million through our Corporate and Community Partnerships teams!
•Sent 28,395 messages to Congress!
•Helped us reach 100,000 contacts through our Patient Central program!
The steadfast commitment of Pancreatic Cancer Action Network volunteers has made a positive impact for people fighting the disease. We simply could not have made it to where we are today without them. No one can fill their shoes.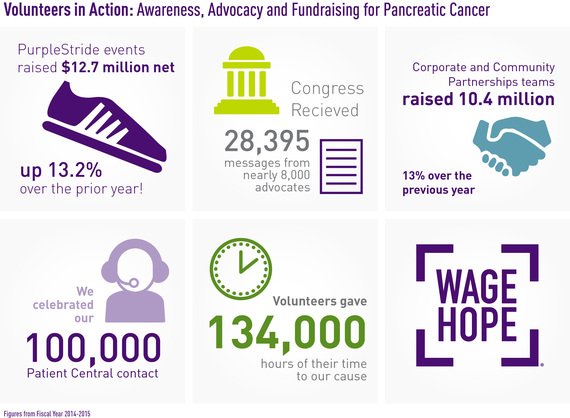 Popular in the Community