Once again, a community sits in grief. Once again our neighbors writhe in inconsolable pain. Once again family members and friends are left with more questions than answers in the wake of police violence.
Not only must a community mourn, but also it must ask why on earth has justice been denied in the wake of an insufferable loss? Is it a crime to be young and black and walking down the street in America? Is it a crime to be young and black and mentally ill?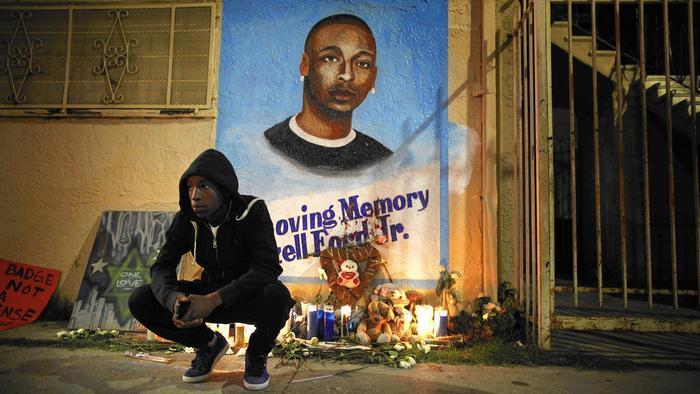 However a critical question remains. How often does racial profiling and implicit bias, as in the case of Ezell Ford, violate our citizens' civil rights and actually create a mental health crisis for the mentally ill that ultimately leaves them dead?
In my own context of Southern California, we saw this played out in the May 2015 shooting of Branden Glenn in Venice, CA. We saw it again in the July 2016 shooting of Alfred Olongo in El Cajon California, in the September 2016 killing JR Thomas in the Fall of 2016 in Pasadena, and we continue to see it in a growing number of body bags and hashtags. Indeed is seems that to be mentally ill is to flirt with death, but to be black and mentally ill is to have signed your own death certificate in the eyes of too many of our police officers.
Social psychologists like Dr. John Powell at UC Berkeley, Dr. Jennifer Eberhardt at Stanford University and Dr. Joshua Gorrell at the University of Colorado have taught us a lot the racial prejudices and implicit biases that reek havoc in our subconscious whether we intend to or not. Without proper training, simply add stress, a mental health episode, a badge, and a gun to this equation and it is a powder keg ready to explode. Why on earth would we think that our officers, whom many purport to have the most stressful profession on the planet, would somehow be immune?
So now another community must mourn not only the loss of a loved one, but the loss of a sense of basic fairness and justice as well. And we should all mourn with them even as we seek justice with them.
Every citizen in America should mourn the fact that the color of your skin or the state of your mental health almost guarantees that you will end up facing arrest, incarceration or death. Being an man or woman of color who is mentally ill should never determine your destiny in the land of the free and the home of the brave.
Like Branden Glenn, Alfred Olongo and JR Thomas, Ezell Ford is so much more than a trending hashtag on Facebook or Twitter. The men and the women who have died at the hands of those charged to protect them are more than even just the rallying cry for a movement of justice, though justice is surely what we will seek. Like so many others, the life of Ezell Ford matters because he was a child of God made in the image of God.
And for those who are left behind to mourn and to pursue justice, let us affirm that being black and mentally ill is not a crime. Walking down the street in your own neighborhood is not a crime. So let us engage in the sacred work of resistance to affirm that every Ezell Ford in our communities will be treated with dignity, with honor, and with respect. In doing so, we not only affirm the God given worth of the mentally ill, but we restore our own as well.
Popular in the Community