The lucky ones die quickly. Whether caught in a natural disaster, a freak accident, or being gunned down by friends or strangers, their lives end in a flash. Others might die peacefully in their sleep. But once a person's life has ended, they're not coming back for seconds.
That leaves the decedent's survivors to cope with recurring waves of grief, rage, feelings of abandonment, emotional baggage, and in many cases, financial distress. While death scenes can offer histrionic opportunities for many actors, the ancient Greeks had a formula for dealing with a character's demise. They let the action happen offstage and entrusted a messenger to deliver the bad news.
Back in December of 1972, when The Poseidon Adventure opened in movie theatres, Maureen McGovern's rendition of the Academy Award-winning Best Original Song, "The Morning After" (released as a single in 1973) went on to attain Gold record status.
Unfortunately, those who lose a loved one rarely get a hit recording to go along with their experience. Some end up in bitter family fights over what the deceased would have wanted, who said what to whom, and what comes next. Once "The Morning After" stops playing, the next hit tune becomes a very different Academy Award-winning Best Original Song (from 1969's The Happy Ending): "What Are You Doing The Rest Of Your Life?"
Written and directed by Maris Curran, Five Nights In Maine (which was seen during the 2016 San Francisco International Film Festival) is the kind of intimate drama about grief, compassion, and empathy that does not require car chases, gun battles, green screens or CGI effects. Written during a period of intense personal loss, part of Curran's goal was to capture what it feels like "when the floor has fallen out from beneath you."
The film begins one morning as Sherwin (David Oyelowo) and his wife, Fiona (Hani Furstenberg) are in bed. Neither one is anxious to go to work. Sherwin is having fun tickling Fiona and enjoying the warmth and intimacy of their marriage -- a closeness which, in some respects, was hard won.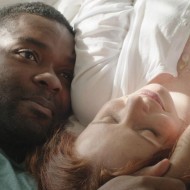 David Oyelowo (Sherwin) and Hani Furstenberg
(Fiona) in a scene from Five Nights In Maine
Fiona's taciturn, widowed mother, Lucinda (Dianne Wiest), never really approved of her daughter marrying a black man. When Fiona recently visited Lucinda in Maine, things did not go particularly well. Although Sherwin has persistently been pursuing his dream of starting a family, Fiona hasn't been particularly enthusiastic about becoming a mother. Lately, when they've gone out with friends or to a karaoke bar, Sherwin has noticed his wife drinking more than usual.
There is no footage of Fiona's death in an automobile accident -- just a message from the police, a quiet implosion of Sherwin's confidence, and then some sequences of him taking a shower, drinking some booze, and slumping around the house in a state of depression. When his sister, Penelope (Teyonah Parris), arrives with her young son (who has been coached to ask Sherwin to play some video games with him), they provide a momentary distraction. Then the phone rings.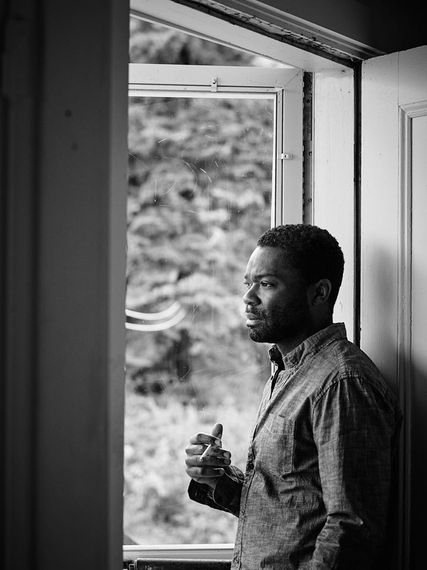 David Oyelowo stars as the bereaved Sherwin
in Five Nights In Maine
It's Lucinda, calling from Maine and suggesting that perhaps it would be a good idea for Sherwin to come visit "so that we can do this thing together." While Penelope and her grieving brother are acutely aware of the challenges that accompany any encounter with Fiona's mother, Sherwin packs a bag and starts driving north along Interstate 95.
When he arrives at Lucinda's two-story house in a wooded area, Sherwin is met by Ann (Rosie Perez), a nurse who has been in attendance. In addition to mourning the daughter she had expected would outlive her, Lucinda is battling a form of terminal cancer and is frequently on pain medication.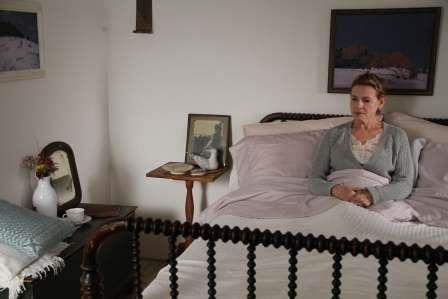 Dianne Wiest (Lucinda) in a scene from Five Nights In Maine
Lucinda has never been a particularly warm-hearted soul. Her brother, George (Bill Raymond), likes to joke that he's nice to his sister because he knows how much it will annoy her. Nevertheless, Lucinda understands that she is not the only person who is grieving Fiona's death.
Even with Ann on hand, making small talk with Lucinda is no easy task for Sherwin. Fiona's mother is eager to find something upon which to blame her daughter's death (was Fiona drinking while driving?) and, although her pain pills may calm her down, she is by nature a curmudgeonly soul. In the quiet moments when he is left alone, Sherwin goes for a walk in the nearby woods, takes a swim in a local pond, and runs back to Lucinda's house in a state of near panic after being frightened by the sound of shots being fired from a nearby hunter's rifle.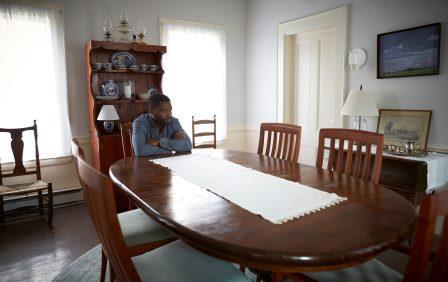 David Oyelowo (Sherwin) in a scene from Five Nights In Maine
Five Nights In Maine is not intended for 15-year-old boys in search of a heavy-duty action film. As Curran explains:
"This is an adult film. It is a film about real people struggling and coming together. I know that, as a filmgoer, I ache to see more films that reflect the challenges and joys of everyday life. It is a film for people who want that experience. And it is a film to see with someone -- to sit in the dark and leave talking and ideally, sharing."
Curran's film is squarely aimed at a mature audience of folks who have suffered deep emotional losses and can handle lots of introspection, moodiness, and emotional pain. David Oyelowo scores strongly as the bereaved husband, with Rosie Perez offering a touchingly subdued portrait of Ann. Watching Dianne Wiest is like observing a master class in internal acting.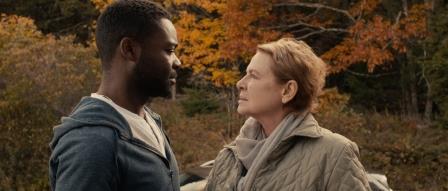 David Oyelowo (Sherwin) and Dianne Wiest
(Lucinda) in a scene from Five Nights In Maine
If Five Nights In Maine is rooted in realism, Whale's Wake (which recently received its world premiere from the Ragged Wing Ensemble in Oakland) is quite the opposite. Written and directed by Amy Sass, it explores death, loss, and mourning through a combination of symbolism, strained family relations, casual sex, a beached whale that could explode at any minute, and a healthy dose of black comedy.
The play begins with the voice of an auctioneer trying to raise the bids on an object. However, the bids start to falter and the price keeps sinking until one hears the sound associated with a patient who has flatlined. Suddenly, and quite unexpectedly, Mona (Sharon Huff) has become a widow. As she struggles to cope with the shocking turn of events, she is surrounded by her three children:
Shel (Keith C. Davis) must suddenly handle the phones for his father's business.
Dee (Mikka Bonel) is waddling around in the late stages of pregnancy, trying her best to cope with one thing at a time. By the time she gives birth (one of the wilder simulations to be seen on any stage), she's covered with blood from a deceased whale.
Emma (Anya Kazimierska) is the rebellious, "take charge" daughter who escaped her small town upbringing in her desire to conquer life in the big city. A driven Millennial who is accustomed to barking out orders to people, she is frustrated by her inability to get a good wireless connection for her smartphone. Having flown in for her father's funeral only to discover that his body had already been cremated, Emma is determined to make sure that things get done the right away. There should be a memorial service (with bagels) because her father was kinda Jewish. "Are these ashes even kosher?" she asks.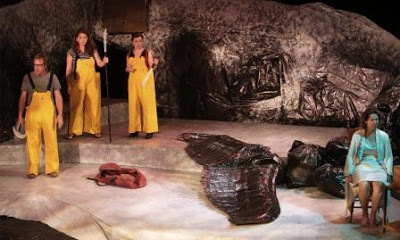 Mona (Sharon Huff) sits in shock as her children prepare to cut open
a beached whale in Whale's Wake (Photo by: Julia Robertson)
And then there is Mona's sister, Vi (Anne Darragh), a devout Catholic who never misses an opportunity to insert Jesus into a conversation. While Mona is shell-shocked, Emma is trying to take charge like a military commander, and Dee resents her older sister zooming into town to boss everyone around, Vi's solution is simple. She'll bake a cake for everyone to eat and, once they've had a good taste of cake and Jesus, everything will work out for the better.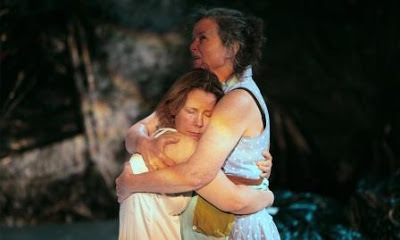 Mona (Sharon Huff) is comforted by her sister Vi (Anne Darragh)
in a scene from Whale's Wake (Photo by: Julia Robertson)
Meanwhile, the pipes are leaking in Mona's basement and all hell is about to break loose. When a dead whale laden with symbolism washes up on the beach behind Mona's house, Emma rises to a new challenge with gusto. In attempting to find a local service that can get rid of a dead whale, she meets Yellow Overalls (David Cramer), a local construction contractor who has just the right kind of tool to fix Emma's neglected plumbing. Then Mona rises from her chair with a curious look on her face and decides to go inside the whale's bloated belly.
Co-produced with PlayGround, Sass's impressively ambitious play requires an audience willing to embrace an unlikely combination of cetaceous gore and absurdist theatre as Mona and her family struggle to deal with their loss. Whether they end up literally and/or figuratively swimming in the ocean doesn't really matter. Their pain is genuine, their confusion undeniable, and their future an unavoidable challenge. As Sass explains:
"Whale's Wake is a playwright-driven piece. As writer/director, I write the script, lead the workshops, rehearsals, and design process, always remaining awake to the feedback, wisdom, and collective brilliance that happens when a team of great artists comes together. I think a lot about entrances and exits. The way we enter a room. The way we enter the world. The manner in which we leave both the room and the world. The place we fill as we live and love and fail and learn. The space that is left after we've gone. What do we do with that space?

By blood or by choice, to whom are you bound? What ties sustain while others tangle or tear? How do you navigate the spoken and unspoken topography of family? In this season, Ragged Wing Ensemble digs into the land of KIN, a powerful terrain of lineage and inheritance, boundaries and burdens, and the property of the heart. Ensemble is our group agreement, our way of working, our values, our training practices, and our investment in relationships. Everyone invests in the success of each other. We each have our particular roles in a project and we own our areas of expertise. But we can also move and create in decidedly fluid ways. We are like those schools of silver fish that all move together like one body."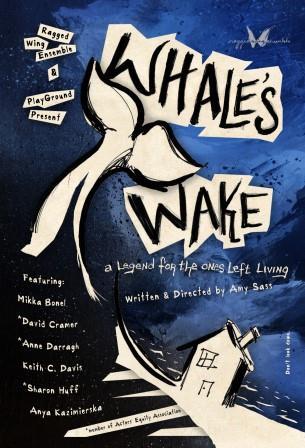 Poster art for Whale's Wake
With costumes designed by Abra Berman and lighting by Daniel Weiermann, Erik LaDue's unit set is filled with pots, pans, and a makeshift whale. By the end of the evening, Mona is calmly sipping a cup of tea into which she has mixed her husband's ashes because 'I wanted him inside me one more time."
As you might guess, Sass's play requires a huge suspension of disbelief, which is frequently compensated for with Anne Darragh's delightfully daffy performance as Aunt Vi.
REAL LIFE. REAL NEWS. REAL VOICES.
Help us tell more of the stories that matter from voices that too often remain unheard.