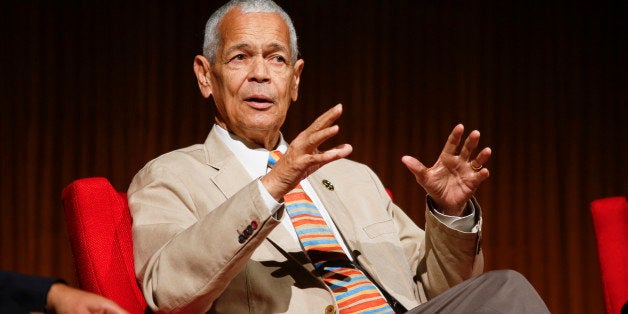 I have been inspired by stories about the late, great Julian Bond's life and accomplishments, from his days as a student organizer through his service as a state legislator and his years as an advocate for voting rights and equal opportunity. But I am also feeling a bit haunted by last Monday's New York Times, which featured a long profile of Bond on its front page.
Sharing that page was a story about Black people being barred from juries at triple the rates of white people, a process that often creates overwhelmingly white juries in cases involving black defendants.
And in the same paper on the same day was an article about the persistent racial wealth gap. That story reviewed the dispiriting evidence that even a college degree - widely presumed to be the essential stepping stone to social and economic prosperity - does not insulate Black Americans from the lingering effects of poverty and policies grounded in racial prejudice. Here's one jarring statistic to consider: From 1992 to 2013, the median net worth of Black Americans who finished college dropped nearly 56 percent, while it rose 86 percent over the same period for whites with college degrees.
Reading the morning paper is all too often a jarring experience, but it was especially so on that day. It is impossible to ignore the disconnect between the well-deserved recognition of Bond's life and the stark evidence that we have far to go in order to secure the ideals he championed.
That is certainly true about the deadly disparities in our criminal justice system, and in the arena of voting rights. For most of the past decade, I have been honored to serve with Bond on the board of People For the American Way, where he supported efforts to protect the right to vote. In The Nation, Ari Berman reminds us that Bond was blunt in addressing the attack on voting after right-wing election victories in 2010. "I was naïve to think voting rights were untouchable," he said. "I didn't dream that Republicans would be as bold and as racist as they are." Bond was similarly outspoken about the Supreme Court's conservative majority gutting the Voting Rights Act and he campaigned for its restoration.
Thirty-some years after I founded People For the American Way to stand up to the divisive agenda of the Religious Right, that movement is still resisting the advance of LGBT equality; still working to deny women access to reproductive health care; still trying to claim for itself the mantle of faith, family, and freedom. They are doing better on some of those fronts than on others. Right now there's a pitched legal and cultural battle over the definition of religious liberty, with the right wing claiming that supporting religious freedom means allowing public officials not to do their jobs when same-sex couples are involved -- and carving out gay exceptions to anti-discrimination laws -- or when women choose to exercise their right to birth control and abortion. As many have noted, Julian Bond was an ardent advocate for full equality for LGBT people.
Last Tuesday, while thinking about all this, I learned about the death of one of my oldest friends and partner, Bud Yorkin. It was a personal reminder that none of us will be around forever. But the values we have committed to, and the struggle to defend and advance those values, will outlive us. I am grateful that I am still able to devote some of my creative energies to the causes that Julian Bond, Bud and I shared. And I am even more grateful that there are new generations of activists and public officials bringing their own experiences, visions, energies, and strategies to these ongoing struggles. Life is fleeting. Vigilance must be eternal.
Popular in the Community