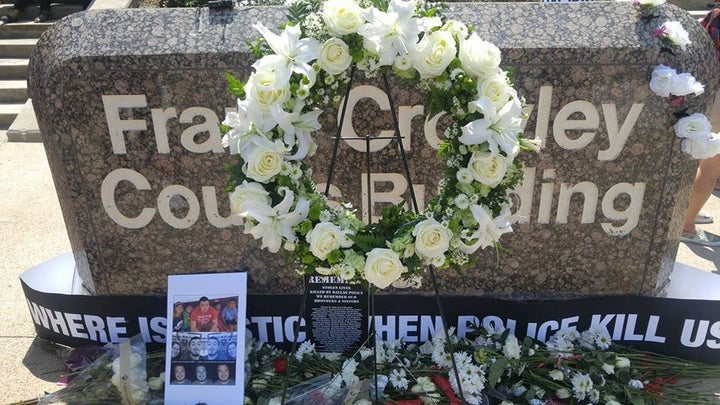 When I arrived, they were already climbing the steep steps, a sea of red ascending in a somber procession. Leading the procession were the parents of Jordan Edwards whose body had only been lowered in the ground a week prior. I hurriedly joined the procession, making it in time to help settle the wreath on the ground and to stand beside the family and the family's attorney.
The Edwards family was not alone. Present, too, were the families of other sons felled in fatal encounters with police. On Mother's Day Eve, as we stood together in front of the Frank Crowley Courts Building, one by one, mourning mothers offered remembrances of their sons forever taken from their warm embrace.
The stairs ascending to the Crowley Building are indeed steep. Under a bright and sweltering sun, they appeared even steeper. The building itself resembles a fortress, unwelcoming and inhospitable to the very justice that we seek.
Yet, we remained undeterred. We were there not only to remember, but to ensure that no more injustices come to the Edwards family or to any family still seeking justice for their loved ones.
I stood beside one particular mother as she shared precious memories of her son. The weight of her grief continued to grow as she spoke until it became so heavy that she could no longer speak. Her legs appeared to weaken, and I began to worry that she might crumble to the ground under the tremendous weight that she carried. I held her up and walked her away - away from the crowd, away from the cameras - under the cool shade of nearby trees.
I embraced her. She rested her weary head in the cup of my shoulder.
Then she wept. And wept. And wept bitterly.
She wept until her weeping turned to moaning.
Then she moaned. And moaned. And moaned. And moaned. And moaned.
She moaned so deeply it felt as if she might uproot the trees surrounding us.
I prayed with her and for her. When she regained her strength, we walked back over together to lay her white flowers upon the growing memorial. A sea of white flowers already adorned the pavement. Traditionally given on Mother's Day to those whose mothers have dearly departed, instead, this day, the mothers received white flowers in memory of their dearly departed sons.
Before I walked the mother over to the memorial, she did utter one phrase;
I did not offer a response for I wondered the same.
Calling all HuffPost superfans!
Sign up for membership to become a founding member and help shape HuffPost's next chapter
BEFORE YOU GO