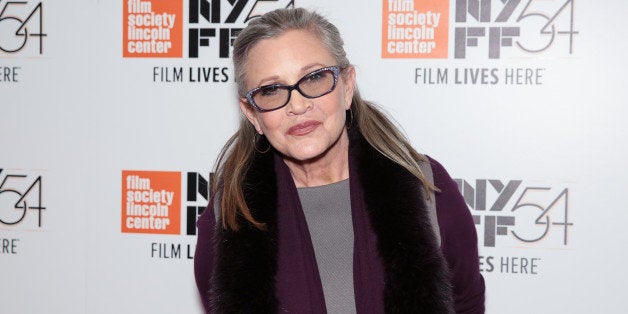 Like many women in my generation, my heart is heavy this week with the news of the death of Carrie Fisher.
But it's not just Fisher's passing I'm crying about. I'm mourning the loss of Princess Leia.
Star Wars was the first "grown-up" film I went to see on the big screen.
It was 1978. The film had come out the year before. But back then, long before the days of On Demand and Netflix, it wasn't uncommon for box office smashes like Star Wars to make encore tours of theaters one, two, even three years after they debuted.
I still remember how excited I was to see the film, how long I took to select the dress I would wear for the occasion. (After much obsessing, I settled on a royal blue polyester number). My father and brother had seen the film the summer before and had talked obsessively about the film's storyline. From them, I knew there would be space battles. I knew to be on the look out for a bad guy named Vader who wore a scary mask. And -- I'm burying the lead, here -- I knew there would be a beautiful princess.
Without question, the princess part of the story was what intrigued me the most. Growing up, I was one of *those* girls -- the girly girl types -- who spent hours reading fairytales and dreaming of spending my days in long, frothy gowns, waiting to kiss the frog that would turn into my prince or to be rescued from a turret in a castle. I longed to see the Star Wars princess my brother told me about because I longed to *be* a real-life princess.
But when the lights went down and Princess Leia first appeared on the big screen, she wasn't the princess I'd expected to meet. Yes, Leia wore a pretty dress -- but it was simple, not ornamental. And it wasn't a garment she was at all concerned about keeping clean. On the contrary, Leia gamely maneuvered in that gown in trash compactors and gun battles alike.
And yes, like any good princess, Leia was technically rescued by a pair of handsome would-be princes in the movie. But she quickly established that she was just as capable of doing the rescuing as she was of being rescued (and she quickly made clear, too, that were it up to her, she would have much preferred to get herself out of her own mess than be lectured to by sexist men, thank you very much).
Leia was a princess unlike any other. Thanks to Carrie Fisher's spirited portrayal, she wasn't demure. She was strong. She wasn't quiet. Instead, she had a razor-sharp tongue. She didn't stand back and let life and the men in her life determine her fate. Instead, she sprang into action, wielding weapons, barking orders, making her opinion known.
At the ripe old age of 5, I was decidedly confused by this woman who called herself a princess. She wasn't like any princess I had read about. I was intrigued. I was enthralled. And by movie's end, I had found my first real role model.
For years after seeing Star Wars, I wanted to *be* Princess Leia. I took a white dress and crafted my own Leia costume. I worked (unsuccessfully) to turn my pig tails into buns on either side of my head. I begged and pleaded for any Leia toy I could find (the pickings were slim, but I managed to score a pair of Kenner figurines that made poor Leia look like a constipated man. I didn't care. I loved those figures anyway).
I swung out of my tree house the way I'd seen Leia swing her way to safety. And, with ever-greater frequency, I took on authority figures (translation: my parents) with the confidence Leia had used to take on the men in her life.
I loved everything about Leia. For me, there was nothing *not* to love. Leia was smart, she was brave, she was bold. Looking back, I couldn't have asked for a better female figure to look up to. Nor could my generation.
Leia was the princess who broke the mold. Some 20 years after the dawn of Leia, when Disney's Beauty and the Beast premiered, movie critics went crazy over what they described as a "new kind" of princess, a "feminist" princess. To their credit, Beauty and the Beast's Belle was great. And I liked her just fine -- but Belle, those reviewers should have recognized, was nothing more than a Leia knockoff, a cartoon version of the woman who had shown us decades before what a smart, gutsy princess with discerning tastes and an unwillingness to settle looked like.
Leia was the first to demonstrate that a princess could be gutsy and vulnerable. Leia was the first to break the previously impenetrable princess glass ceiling and show she could lead the battle and rescue the prince that had previously worked to rescue her. She was a woman in a man's world, but never seemed to find the need to make that role feel like a struggle that would -- or should -- define her.
Perhaps most significantly, Leia was a princess who fell in love without losing her identity. When Leia declared her love for her rogue prince -- Han Solo -- she made clear she wasn't settling for anything, or anyone. Like everything Leia did, there was nothing weak about Leia's willingness to follow, and show, her heart. If anything, it was something of a bold move.
The latest showing of Star Wars -- better known as Episode VII in Star Wars circles -- showed us Leia as a more mature princess. Settling into the movie theater seats with my husband and four small children to see the film last year, I worried that the princess Leia had grown into in 2015 would not meet my expectations. But I had nothing to fear. Leia's scenes in Episode VII showed the princess I'd first fallen in love with nearly four decades before remained a woman -- and general and mother -- of substance. In short, Episode VII showed Leia remains what she's always been -- a renaissance princess, ahead of her time, that all of us earth-bound women can and should look up to.
It goes without saying that I will miss Princess Leia and mourn her loss.
Many feminist princesses have followed in her footsteps. And without doubt, scores more will come after her. But she was the first. And for that, I say, on behalf of my generation of women, a heartfelt -- and "force"-filled -- "thank you."
Mary Pflum Peterson is a multi-Emmy-award-winning television journalist. She spent time during her days as a CNN reporter covering, and loving, the Star Wars legacy. She is the author of the New York Times bestselling memoir White Dresses: A Memoir of Love and Secrets, Mothers and Daughters.