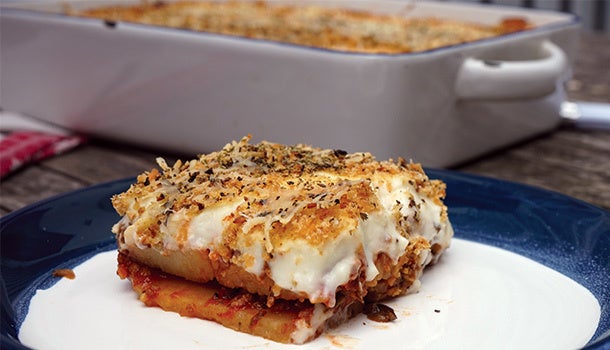 Moussaka Recipe
Moussaka is a scrumptious signature Greek dish that brings the flavours and traditions of the Mediterranean to your plate. With crispy strips of eggplant mixed with layers of soft, rosemary infused potato, smothered with rich lamb sauce and creamy béchamel, this moussaka will make your tastebuds crave for more with every mouthful.
With different variations of this dish being prepared around the world, my good friends (and twins!) Helena and Vicki taught me how to make this moussaka dish, just like their Yaya (their Nonna!) – and it tastes just like an old family recipe should – Divine!
Ingredients for Moussaka:
1 x finely diced brown onion
Italian tomato sauce (700ml)
Ingredients for the Béchamel Sauce:
5 tablespoons plain flour
150g grated parmesan cheese
1. To make moussaka, heat up a deep frying pan and add a generous amount of extra virgin olive oil.
2. Then, add finely diced brown onion and stir well using a wooden spoon letting it sauté.
3. Mix through the lamb mince, with cinnamon, dried oregano and a sprinkle of salt and pepper.
4. Break down the mince, mixing through all of the ingredients so they infuse the meat and it cooks through for the moussaka really well.
5. Leave the sauce to simmer for up to 30 minutes.
6. While the sauce for the moussaka is simmering, slice the eggplant into circular strips, making each one around 1cm thick.
7. Lightly grease a pan with oil, and grill the eggplants until they begin to change colour and soften.
8. Thinly slice the potatoes and then boil them until they soften and leave them to the side to infuse with a few sprigs of rosemary.
9. Once your béchamel (recipe instructions below) is ready, it's time to assemble your moussaka!
10. In a large, deep rectangular baking tray, line the bottom with your first layer of moussaka with grilled eggplant.
11. On top of the eggplant, add a layer of the strips of potato, then a layer of lamb sauce, then repeat the eggplant and potato and lather the creamy béchamel on top.
12. Sprinkle the final layer of moussaka with breadcrumbs and dried oregano and then finish it off with more freshly grated parmesan cheese.
13. Put the moussaka in an oven pre-heated to 180 degrees Celsius, uncovered for 30min.
14. Once the edges have started to become golden, you know your moussaka is ready to be demolished.
1. Melt 50g of butter in a medium size pot and add 5 x tablespoons of plain flour.
2. Mix really well using a whisk until there are no lumps and the flour has dissolved.
3. Add salt and pepper and keep mixing, leaving it to cook and become creamy in texture.
4. While mixing, add 4 cups of milk and stir really well, until the béchamel sauce thickens even more.
5. Then, mix in 2 x egg yolks and 150g of grated parmesan cheese.
6. Continue to cook until all of the ingredients have dissolved and mixed through.
1. Slice a generous serve of moussaka using a sharp spatula and serve on a flat, round plate. You can add a sprig of parsley on top for added presentation too.
Popular in the Community