Macadamia nut fudge is a rich, decadent, and silky smooth chocolate treat. And a little crunch from the macadamia nuts never hurts!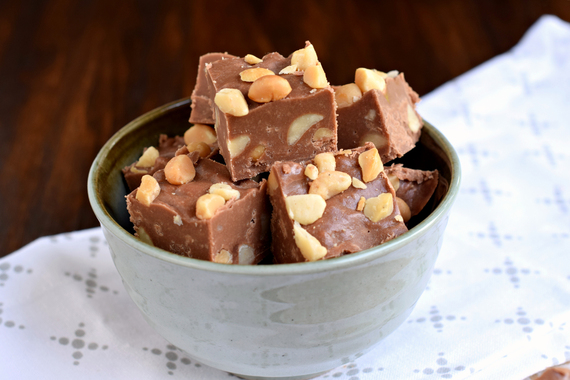 The struggle is real you guys. You know, the one that occurs mid-summer when everyone is sharing photos from vacation and all you want to do is be sitting on a beach drinking a Mai Tai.
Only, I was one of those people who was sharing those pictures back in May. Our family went on a wonderful 2-week vacation to Hawaii. We had the best time ever, and while I normally say I don't like to "repeat vacation," this is one I would do over in a heart beat!
While on our vacay in Hawaii, I happened to stumble upon some Hershey's Kisses with macadamia nuts inside. This bag of chocolate made its way into our cart and was devoured within days! Of course, you can't find them on this side of the ocean. Unless one of those said Hershey's Kisses made it back home in the bottom of your purse. Normally, I would NEVER eat anything from the bottom of my purse, haha, but this Kiss was eaten with no second thoughts! I wish Hershey's sold them here in Illinois!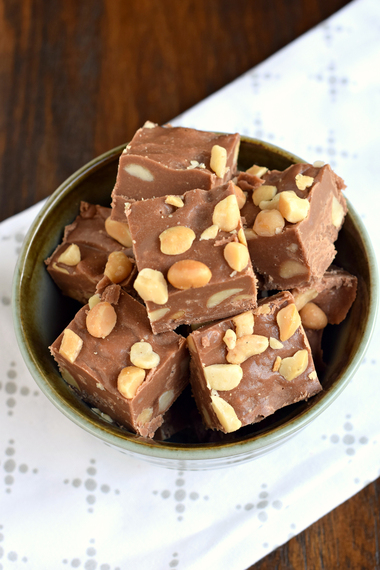 So, I did what any good foodie would do. I recreated them. And boy, these fudge bites are amazing. Unlike the Hershey Kisses with only one little nut inside, this fudge is chock full of nuts! Every bite is filled with crunchy macadamia nuts and creamy chocolate fudge.
Before you cringe, and think, "Ugh, fudge? I don't like to mess with candy thermometers."
DON'T WORRY!! No thermometers needed for this easy recipe! The hardest part about this recipe is waiting for the fudge to be ready to cut (about 4 hours in the refrigerator)!!
Now, how I do convince my hubby that we need another vacation ASAP? Are you going anywhere fun this summer? Did you already take your vacation? Tell me about it so I can live vicariously through your stories!!
Aimee Shugarman of
likes all things sweet, as you can probably guess. Writing about homemade candy came naturally, and we're oh so thankful she's our
.