If don't have enough space at home for everyone to live comfortably, is there anything you can do? Should you move? Or kick someone out? Not at all! The solution does not have to involve sacrifice. The solution is to change the walls: Instead of having fixed walls, make them movable.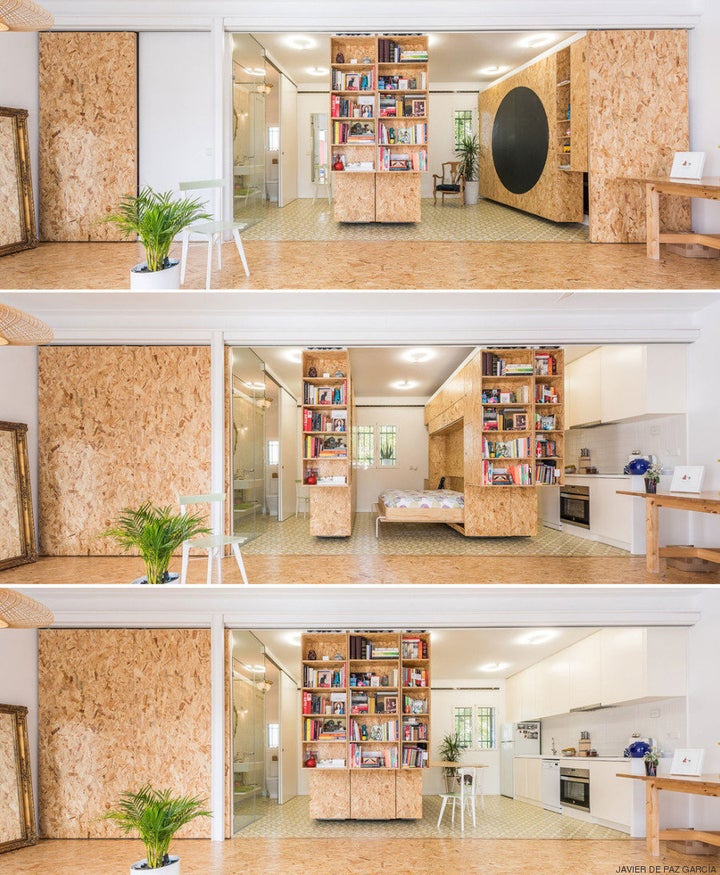 "Our first Little Big House was Yolanda's home," Carmelo Rodríguez Cedillo, one of the project's architects, told HuffPost Spain. "She met us at a Design Thinking event, where we were giving a lecture. We chatted for a bit, and there was a certain feeling. A few months later, she called and asked us to renovate an apartment that had belonged to her grandmother, which she now wanted to turn into a design studio."
The house was 538 square feet, and the only way to ensure that Yolanda got a large kitchen, a large bathroom, a large bedroom and a large studio was to incorporate movable furniture.
"We always say that behind every Little Big House is a great customer with a design sensibility and a desire to experiment with his or her house," Rodríguez Cedillo said.
A house does not need to be a particular size to have movable walls. "We originally thought about houses that ranged from 30 to 70 square meters [323 to 753 square feet], but, for example, Stella's house was about 120 square meters [1,292 square feet]," Rodriguez Cedillo said.
"In the end, we found that space and optimization problems can be adjusted to different situations, which means houses from 30 to about 150 square meters [323 to 1614 square feet]." Their goal is to "adapt the house to the lifestyles of its users, and not vice versa," he added.
Sometimes you need an extra room, or you need to expand the living room, or you need an independent workspace. Why give that up?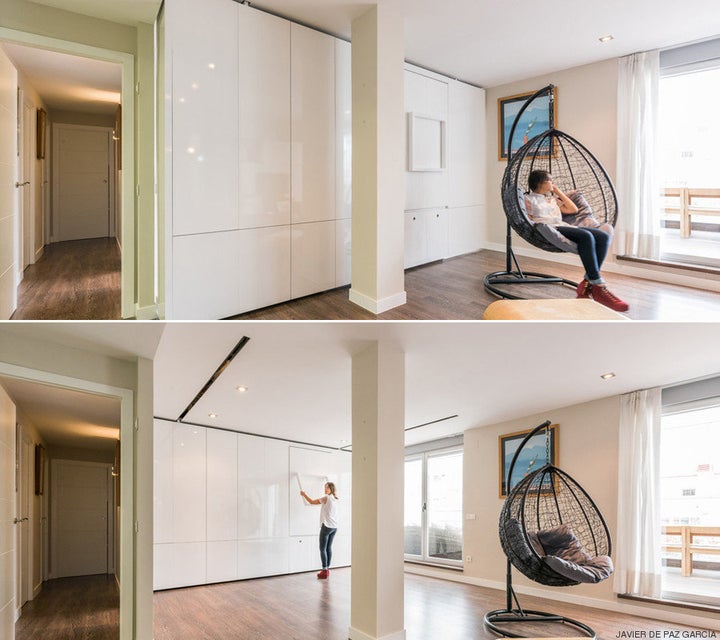 "In certain positions, when all the furniture is open, the space may resemble a loft, but once the furniture is removed, you get a different kind of space," Rodríguez Cedillo said. The point is to create large spaces, while maintaining privacy.
"A few days ago, we received a proposal from a girl who has an apartment with no partitions, and she wants us to design movable walls, so that she may have more contained spaces," Rodríguez Cedillo added.
The concept is far from new. Throughout the history of design, there have been numerous solutions for space optimization.
"In that sense, the sixties and seventies were particularly prolific, with designers such as Joe Colombo or Ken Isaacs. Today, there are even more examples, since space problems are common in large cities where real estate is becoming more expensive," Rodríguez Cedillo said. That's why there are similar projects, such as Studio01, based in Tokyo, or Gary Chang's studio in Hong Kong.
This story originally appeared on HuffPost Spain and has been translated into English and edited for clarity.