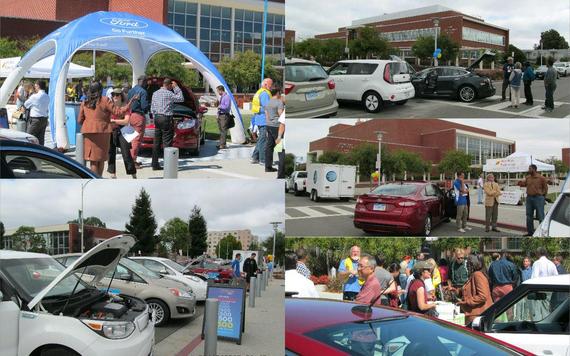 Photo Credit: Joshua Dowdie and Misha Kaur
Photo Above: 2015 Richmond California National Drive Electric Week Event
Have you ever thought about switching to an electric vehicle (EV)? Duped drivers of so-called "clean diesel" Volkswagen cars in particular may be in the market. This week, you have a terrific opportunity to check out truly cleaner cars at more than 200 National Drive Electric Week events nationwide.
After Volkswagen knowingly cheated emissions standards and manufactured cars that spewed illegal amounts of dangerous pollution, fueled sickening smog, and threatened the health of millions of people, the disgraced company is now offering their misled consumers a buy-back of their polluting vehicles. Almost half of the 475,000 affected U.S. drivers have already registered to participate in the Volkswagen AG settlement program. That means there are roughly 210,000 people in the market for vehicles that don't dirty our air or harm our climate.
Saturday, September 10 marks the start of National Drive Electric Week (NDEW). From September 10 to September 18, the VW owners now in the market for a clean set of wheels--and anybody else--can attend one of the more than 200 National Drive Electric Week events. Here they can get behind the wheel and talk to happy owners of vehicles that are fun to drive and cleaner for the air. Without dirty tailpipes, it's hard to cheat on tailpipe emissions tests.
Even factoring in the emissions associated with electricity used to charge EVs, these cars are significantly cleaner than conventional vehicles (and of course using solar power to charge them is the cleanest choice). EVs only get cleaner over time as we shift to more renewable sources of power.
National Drive Electric Week, organized by the Sierra Club, Plug In America, the Electric Auto Association, and many other local partner groups was founded on the idea that nothing converts the drivers of gasoline-fuelled cars to electric vehicle (EV) owners faster than conversations with existing owners and test-drives in cleaner, quiet and powerful plug-in vehicles. This week, we're expecting to hit the half-million mark for EV sales in the U.S. Will it be you that gets us there?
In San Diego, while parents check out the latest EVs, kids can get behind the wheel of a mini electric car. At the Poolesville, Maryland event, with an expected 10,000+ visitors, attendees will have the opportunity to win a wall mount charger for their EV. In Bakersfield, Cupertino, and Los Angeles, California, attendees can munch on food from delicious food trucks while test-driving the available EVs. In Knoxville, Tennessee, you can check out an EV tailgate party at the UT vs Ohio State football game. In cities like Juneau, Alaska and Richmond, California, event-goers will be able to check out electric transit buses. Mayors and other elected officials are expected to attend events in cities like Burlington, Vermont and Rochester, New York where people can encourage their local and state leaders to accelerate EV adoption through smart policies. The Mayor of Boise, Idaho will even be making a proclamation in honor of National Drive Electric Week.
An analysis by NerdWallet, created in honor of National Drive Electric Week last year, shows that owning or leasing the electric Nissan Leaf is significantly cheaper over a five-year period than the gasoline-powered Toyota Camry or the hybrid Toyota Prius--without even factoring in state rebates available to many. Thanks to federal, state and industry rebates and tax credits, decreasing prices in EV technology, and the much cheaper price of electricity versus gasoline, the cost of owning and operating an EV is notably lower than that of gasoline-fuelled vehicles. And with fewer moving parts--no mufflers, catalytic converters, or even oil changes--EVs are not only cheaper to fuel than any gas car, but they're cheaper to maintain.
With events in more than 200 cities, chances are there's a National Drive Electric Week event near you. So if you're looking to get rid of your dirty diesel car or generally thinking about making the switch from gasoline to electric, come out and see all the benefits EVs have to offer.
Related
Popular in the Community