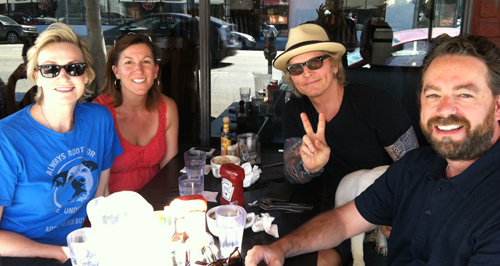 (Golden Globe and Emmy winner Jane Lynch, Co-Executive Director of Adopt The Arts Abby Berman, Grammy winner Matt Sorum and Congressional Candidate Brent Roske at King's Road Cafe in West Hollywood, CA)
A few weeks ago I attended an event for the group Adopt The Arts. Not knowing much about the organization but liking the people involved (Nicole Greenwood and Sean McLaughlin are amazing but that's a different article), I happily attended.
The night was not what I expected. More than simply a 'write a check/ go home and forget about it' snoozefest, the event re-awakened in me the very reason why I'm running for Congress. It's something Matt Sorum just said at lunch: 'We've got to move into the positive'. Yep.
Battling cynicism can be an overwhelming task. Sometimes we can get so wrapped up in negativity that it feels impossible to get out. Horrible headlines, cheap shots, the naysayers and the critics. Why leave the house? This group has a few answers.
Jane Lynch is a passionate person. While talking about the many causes she actively contributes both time and resources to she actually teared up at the table -- just for a moment -- before finishing her thought: "I'm never happier than when I'm a part of a group doing positive things. It's hard for me not to be able to fix it all."
Through emails it was decided that we would all meet at Kings Road Cafe (which acts as a sometimes base of operations for each of us) and talk about Adopt The Arts, but also about the act of doing itself.
Abby Berman is a proud mom in the neighborhood. She's also a world traveler and highly educated, but as Jane says it, 'her love of her children' is what started Adopt The Arts.
Matt Sorum is a rock and roll guy. He was the drummer for Guns and Roses, toured the world many times over with GnR and now Velvet Revolver, won Grammys and was even inducted into the Rock And Roll Hall of Fame. He's also a very positive person and his warmth and thoughtfulness are palpable entities when he talks. Matt the rocker moved in next door to Abby the proud mom, and then Jane the actress moved in to the house between them. This LA story spawned Adopt The Arts.
"Abby made Matt a cheesecake and here we are."
Adopt The Arts donates musical instruments and funding to help public schools, having started at Rosewood Elementary, where Abby's kids go.
It's sad that some people in this neighborhood pay for their children to go to private school because they don't want their white kids in classes with blacks and Hispanics. I want my kids to be prepared for the world they're growing into and being in a diverse school is a part of that fully rounded education. With Adopt The Arts we're focused on music, but my dad was one of the lawyers for the ACLU who fought against 'White Flight' in the 70's so it's all important to me. Every little bit you can do - it doesn't have to be a whole restructuring of society. You just can't neglect what's right in front of you.
Jane leans forward and shares her own public-school upbringing:
I was raised in a South suburb of Chicago. My high school was forcibly integrated right before I got there. And it was ugly. And it was violent. There were riots. There were so many kids -- the school was chock full. We had police roaming the halls. The whites hung out with whites, the blacks hung out with blacks and there was a lot of violence. And the only place where we all came together -- other than sports -- was in the choir room. In the choir room, in the last period of the day, there were white kids, black kids, cheerleaders, greasers, wood shop kids, football players -- everybody -- and that was the only place in my high school where that worked. Interestingly enough, that's what Glee is about: a place where kids can come together and be celebrated for things that may get them a Slushee in the face somewhere else. But in the confines of the choir room, they're cool. I'm a public school kid. We all were public school kids -- even the rich kids -- nobody was sent to private schools. We all went to public schools and we had everything.
One day Matt was loading up cases of instruments at his place and Abby asked him where they were going. When Matt answered 'Haiti', Abby offered a simple: 'You know, my kids go to the school at the end of the block and they don't have any instruments either.' A movement began.
When I was in public high school I had three elected classes that were music. Can you believe that? I used to ditch school, go surfing, and then come back to school at the end of the day with my hair still wet to take my music classes. If it wasn't for music I don't know where I'd be now.

At the Adopt The Arts event, after a grade school choir sang a song in Urdu (which was amazing), Matt invited friends Slash and Macy Gray to sing "Come Together." That's what it's all about.
In everything you do you can spread positivity. Even when I send out a tweet, I know that 1.5 million people -- not to brag (laughter) -- but that comes with its own responsibility. And I think we're coming into an age -- a paradigm shift and I hope, Brent, that you're a part of it as you run for Congress, of cooperation instead of survival of the fittest. We're wired for cooperation. We get more done that way. And that's why Congress today has fallen apart. It's all about individual egos and it's hard for me to stomach even watching it anymore. I used to be a huge political junkie but I got so mad I just had to turn it off.
"I got so mad I'm running for Congress." (Laughter. I wrote about the partisan divide here).
Get involved. Start or help out a charity. Run for Congress (preferably not in California's 33rd district, thank you very much). Stop complaining and start Doing.

(Macy Gray, Matt Sorum and Slash performing "Come Together" & the Rosewood Avenue Elementary Elite Choir 'The Changels')
Neel Grover, founder of Indi.com, wasn't at lunch but was an event co-sponsor: "I was very fortunate to have opportunities and support while I was growing up and getting into my career. Indi and Adopt The Arts can do the same and help others get their opportunity to be discovered."
Brent Roske is an Independent Congressional candidate for California's 33rd District. Learn more at RoskeForCongress.com
REAL LIFE. REAL NEWS. REAL VOICES.
Help us tell more of the stories that matter from voices that too often remain unheard.