Participating in a Move On National Day of Action, constituents of Congressman Ted Lieu, D-Los Angeles, recently delivered to Lieu's LA office over 2,500 petition signatures in support of the Iran Nuclear Agreement.
During a spirited rally in which supporters of the deal waved "No War with Iran" signs and drivers honked in solidarity, District Director Lisa Pinto thanked the crowd for delivering the petitions.
Among those speaking were actors Ed Asner, Ricco Ross, and David Clennon, along with Pacifica radio host Lila Garrett, former congressional peace candidate Marcy Winograd (me), and a one-time Iranian prisoner who applauded the agreement's potential to create peace in the middle east.
Comedian Cliff Tasner, also known as the Billionaire for Endless War, reminded the crowd the alternative to this deal is war -- and the only ones who profit from war are the war profiteers.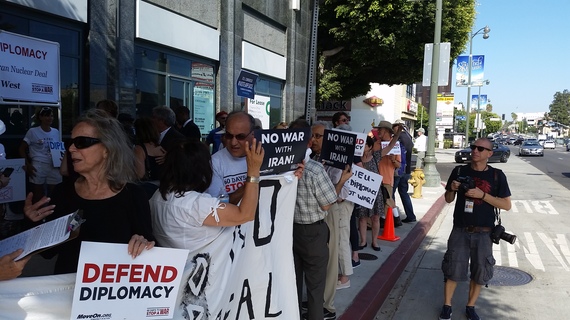 Kevin Lynne captured the rally on video, but had to disable AdSense, when the American Israel Public Affairs Committee's anti-Iran deal commercials immediately began running before the YouTube video. With AIPAC reportedly spending millions of dollars to scrap the deal, Lieu's constituents have been bombarded by anti-Iran deal messages on network television and Pandora, and on phone calls to constituents in his district.
Although Lieu, a freshman congressman, took an AIPAC-sponsored trip to Israel last July, the still "undecided" congressman has told activists supporting the deal that his foremost consideration is U.S. national security.
Calling all HuffPost superfans!
Sign up for membership to become a founding member and help shape HuffPost's next chapter