Yoga Might Be a Pain-Relieving Contender for Those Living With Low Back Pain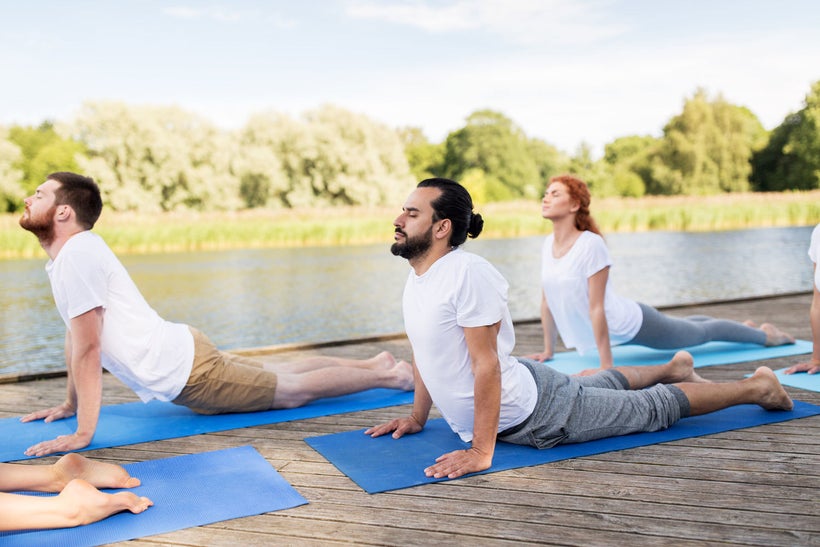 Though yoga has been an up-and-coming fitness trend among the younger generations, new research is proposing that it may help people from all walks of life find relief for their chronic low back pain. (Yoga is the art of meditation—breathing and stretching to lengthen the spine, strengthen the muscles and help the back realign itself.)
A study recently published in the Annals of Internal Medicine compared the effects of yoga to physical therapy (PT) and self-help (this group received self-help books and newsletters to improve their back pain on their own). Participating in the study were 320 individuals from the Boston area (who were predominantly low income). These participants were broken up into the aforementioned three categories. During the study:
· Yoga participants attended classes once a week for three months,
· PT participants attended 15 PT sessions over three months, and
· Self-help participants tried to resolve their pain by themselves
After answering a questionnaire to see how they were doing at the 12-week mark, participants were then asked to continue with their course of treatment for another nine months.
The yoga and PT groups basically showed the same amount of improvement in pain and activity over time (at the end of three months and nine months). In addition, yoga and PT participants were less likely to use pain medication after three months than their self-help counterparts (usage went from 70 percent to 50 percent).
In short, the study concluded that yoga might serve as a viable alternative for treating chronic low back pain. This conclusion falls in line with a recent change to the guidelines presented by The American College of Physicians (ACP) for the noninvasive treatment of different types of low back pain.
What types of poses are recommended to relieve low back pain?
The yoga protocol for the study was created by researchers at Boston Medical Center—working in conjunction with yoga instructors, physicians and physical therapists—that guided participants through a variety of gentle poses (difficult ones were strictly avoided). The poses were broken up into gradual sessions and specifically chosen to ease low back pain. Poses in the guidelines include:
Bridge Pose
Cat/Cow Pose
Chair Pose
Child's Pose
Cobra Pose
Mountain Pose
Sphinx Pose
Wall Dog Pose
Warrior I Pose
Though there's more studying to be done, it would seem that yoga goes a bit beyond standard exercise when it comes to chronic low back pain (and potentially other aches and pains of the body). It works an array of muscle groups and, according to the American Osteopathic Association (AOA), also helps protect the body from injury and improve circulatory health. With any luck, it will one day become yet another weapon in the pain treatment arsenal for people everywhere.
Please note: Anyone considering yoga for low back pain should consult a certified practitioner to ensure proper form and technique to avoid injury.
Calling all HuffPost superfans!
Sign up for membership to become a founding member and help shape HuffPost's next chapter
This post was published on the now-closed HuffPost Contributor platform. Contributors control their own work and posted freely to our site. If you need to flag this entry as abusive,
send us an email
.