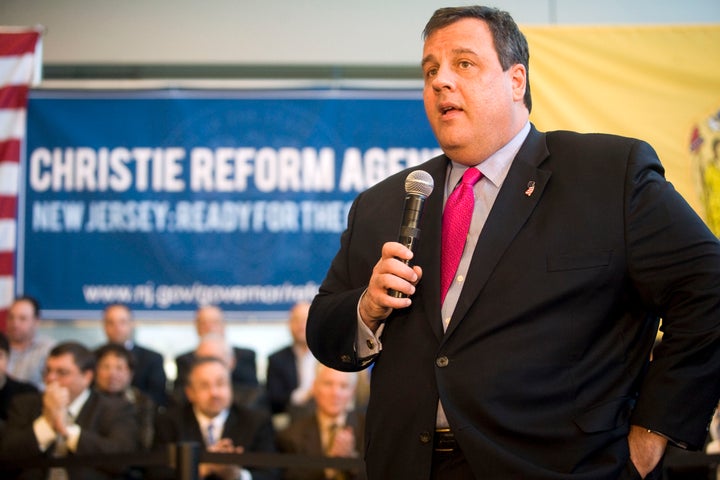 WASHINGTON – The Republican contenders for president are all good guys -– nice guys –- and that's sort of the problem, said the South Carolina lawmaker spearheading a call to draft New Jersey Gov. Chris Christie into the 2012 presidential race.
Crawford, a Republican from the northeast portion of the state, will hold a press conference with several other lawmakers next Wednesday at the Capitol in Columbia, despite Christie's repeated insistence he will not run. In an interview with The Huffington Post, he said that his group felt continued dissatisfaction with the Republican primary field is because the current candidates are, essentially, not tough enough.
"All we're looking for is not just a good person here. The Republican field is filled with good people. But we need someone with attitude and tough leadership," he said by phone.
"Just being a good person who's been a good leader in what I would call a more placid waters sort of state, that's not going to do it," Crawford said, drawing a contrast between the opposition Christie has faced in New Jersey and that encountered by other governors already in the race, such as former Massachusetts Gov. Mitt Romney, former Minnesota Gov. Tim Pawlenty, and others.
"What we're looking for is someone's who's got problems similar to the ones we face nationally, who has fought battles similar to the ones he would have to fight in a presidential race," he said.
"You watch how he's dealt with things from the unions in New Jersey, to the budget, to the same structural problems they've got in New Jersey that we've got nationally," Crawford said. "He's got tough opposition from the same people in his state that if he gets on the stage with Obama he's going to have to take on nationally."
Crawford, who a South Carolina political operative described as one of the more conservative members of the South Carolina legislature, has never met Christie and said Thursday that he was waiting to talk to the governor on the phone. He put in a phone call to Christie's office Thursday morning.
But his decision to try to draft Christie to run for president is more evidence that many conservative Republicans want a candidate who will be combative, confrontational, and unafraid to break some china in dealing with political opponents and tough policy issues, such as budget deficits, unions, government employee compensation, and education.
"Maybe some of these folks will rise to the occasion ... and they just haven't been given the opportunity," Crawford said.
The move by South Carolina legislators follows a similar attempt last week by Iowa Republicans, who traveled to New Jersey to meet with Christie and ask him to reconsider his past declarations that he will not run for president. Christie told the group he still intends to serve his full four-year term as governor –- he was elected in November 2009 -– but said he will travel to Iowa in July for an education summit.
Calling all HuffPost superfans!
Sign up for membership to become a founding member and help shape HuffPost's next chapter