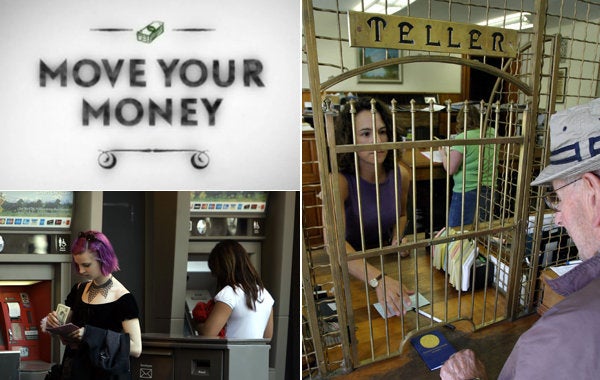 Press coverage hardly captures the whole movement, however. Across social media sites like Facebook, YouTube and Twitter, a surge of grassroots organizing is showing how Americans are making the Move Your Money initiative their own.
Just minutes after Arianna Huffington announced the campaign, Facebook users became fans of the project -- over 7,000 in seven days -- and started sharing their stories through the Move Your Money fanpage as well as the Huffington Post page. Facebook user Carol Merrill commented on her experience:
Reclaimed all my money from Chase & moved to Schools...very happy with the move. It's like going to Cheers...everyone knows my name!
Others are taking even greater initiative on Facebook by starting specialized groups centered around the Move Your Money campaign. Nearly 500 people have organized around an initiative started by conservatives and libertarians who advocate for the campaign in a Facebook group, Time to Bailout From the Bailout Banks & the Dollar.
The group's description reads:
It is time that Americans began to vote with their money and tell the Wall Street bailout banks & the Federal Reserve paper dollar where to go...

Yes, we agree with Gary North and Arianna Huffington to move your funds out of the bailout Wall Street banks and financial institutions as this and future generations will be saddled with this illegitimate debt and drain on the American economy for decades to come.
On Twitter, a similarly grassroots trend has surfaced. Supporters of Move Your Money claimed a hashtag -- #moveyourmoney -- almost immediately after the campaign was launched, which has since been appended to thousands of tweets.
@samberm: Found a community bank...across the street! www.1cbv.com We'll be moving our money this weekend! #moveyourmoney
@lanewood: Grew up in a community based banking family. My current bank had to be bailed out. Thinking about #moveyourmoney http://bit.ly/78xJHT
One tweeter from Norway even weighed in with worldwide empathy for Move Your Money:
Ultimately, YouTube may prove to be the most powerful medium through which Americans can share their stories. Currently, the original Move Your Money video has been viewed on YouTube's site 313,000 times.
The movement has not just inspired conversation, it has incited many people to act. Just a couple of weeks ago, Stephanie Frost was just a fed-up consumer from Atlanta. When she filmed herself closing her Bank of America account, over 50,000 people watched her video on YouTube and over 750 commenters joined in the conversation on the Huffington Post.
In an email regarding the impact of her video, Stephanie wrote:
Overwhelmingly, the blog comments and comments on YouTube have been things like, "You've inspired me! I'm moving my money immediately!" And, keep in mind that switching banks isn't like switching grocery stores. It's more complex...

While the Move Your Money campaign won't put Bank of America or any of the other large banks out of business, in the age of social media, it does send a message. And, that's really the point.
Here at Huffington Post, we're beginning to track how many people have been inspired by Move Your Money. If you're one of them, make a pledge in the box below. Simply click "Take the Pledge" to join the thousands of Americans who are already moving their money.
Popular in the Community