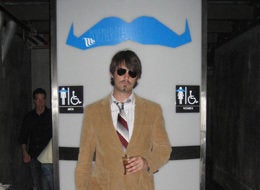 Moustaches, all in all, are pretty cool. Prostate cancer, not so much. While these statements might appear completely incongruous, Adam Garone and Co. have merged the two disparate ideas into one kickass month - Movember. Beginning with the first day of the eleventh month of the year, men across the globe who call themselves Mo Bros (this year, myself included) begin the growing season, accepting sponsorships to grow their moustaches. At the end of the month, gala parties spanning the world take place, where prizes are awarded based on moustache proficiency (including the coveted Man of Movember), and everyone celebrates what a great job they've done for a great cause. And, best of all, the money raised from the sponsorships goes to support the prostate cancer foundation of the country in which the Mo Bro resides.
"It all started back in 2003 when a few mates [that's Australian for 'friends'] were sitting around having beers in a pub in Melbourne," Garone, co-founder of Movember, said. "Just talking about the 70's, and how fashion-wise everything from that era had managed to come back into vogue one way or another, and the conversation then turned to what hadn't come back into fashion. And one of those things we could think of was the moustache." Garone and friends longed for the days when Tom Selleck and Burt Reynolds ruled the world. This new generation wanted to follow in the paths of their "mo-mentors", as these heroes have been labeled, and bring the moustache into the Common Era. And so, just for kicks, Garone and his buddies "managed to convince 30 of our craziest and stupidest friends to [grow moustaches] with us." At the end of the month, the 30-odd guys had a party to celebrate, and called it a year.
But there was a slight problem. Garone worked in the corporate world at that time, "and my boss was saying, 'Hey, what the hell are you doing growing a moustache?'" Bringing back the 'stache, it seems, was going to cause a little bit of tension with the rest of the regular tie-wearing population. The next challenge, then, became the process of making moustache-growing a legitimate endeavor. At that time, most of the men that were on the ground floor of Movember, Garone said, "were involved...in supporting breast cancer through our partners and girlfriends." In that vein, the first class of Mo Bros "thought, 'Well...let's put Movember towards a cause, and let's do something for men's health.'"
One of the men's uncle's bout with prostate cancer led the group to research into the disease. Garone says that they found that "prostate cancer affects as many men as breast cancer does females. But you look at the gap in the number of events, the amount of awareness, the amount of funding that goes to breast cancer - which is brilliant - prostate cancer has never got any traction." Through a want to raise prostate cancer and men's health issues to a level of awareness reached by breast cancer causes, a marriage was born.
There is an immediate advantage of tying such a silly concept as moustache growing to things as serious as prostate cancer and men's health. By using the moustache as a vehicle for the important subjects, the issues are raised easily, in a relaxed manner. Normally, Garone says, "As soon as you start taking about a disease, whether you're a male or female...you're gonna switch off. It's like, 'One in six men [develop prostate cancer] - well, I'm going to be the other five.'" Instead of preaching, Movember provides an easy slide from lightheartedness to the more pressing issues. If you're sporting a moustache in public these days, Garone believes "You're actually compelled to explain yourself...You're compelled to go, 'Hey, I don't normally look like this; I'm growing a moustache for Movember, for men's health.' So it becomes the talking point." The ultimate hope is that the moustache becomes a symbol as analogous as the pink ribbon campaign for breast cancer, but until then, it's a low-pressure way to raise some serious topics.
The second year of Movember, the year the charity issue had been decided, Adam visited the CEO of the Prostate Cancer Foundation of Australia, hoping to get the go-ahead to formalize the event, and receive the official blessing of the Foundation. Garone chuckles when he says, "He [the CEO] sort of looked at me and laughed and said, 'Well, we don't really want anything to do with you guys...[but] if you happen to raise any money, we'll gladly take it.'" That strong vote of confidence was all the guys needed, and in 2004, 450 Mo Bros raised $55,000 in sponsorships, and the Movember movement became the single biggest donor to the Prostate Cancer Foundation of Australia. Just two Movembers later, in 2006, Movember raised $7.5 million for the Foundation. This year, Movember is in Australia, New Zealand, The UK, Spain, Canada, and the United States, and was, according to Garone (as of the middle of Movember), "on track to have 130,000 guys participating, and...raise around seventeen to eighteen million dollars for prostate cancer research." That's not too shabby for a charity event that Garone himself said was founded on "wanting to legitimize [moustache growing] so we could get away with it with bosses and girlfriends."
Of course, now that Movember has grown so large so fast, it's no longer just about the fun of "rocking like a porn star" for a month. Nowadays, the primary function of Movember is to challenge men of all ages to be aware of the health risks facing the gender. While someone participating in Movember may be ten or twenty years away from prostate cancer risks, "It's really," Garone says, "about challenging their dads, their uncles, their bosses, and making them aware of prostate cancer and challenging them to get tested." The money raised goes directly to research for a cure, so maybe those of us in our 20's "can eradicate the disease by the time we get to 45 or 50 years old," but the immediate results are obvious, as well. As Garone says, "We've seen a lot of cases of emails coming in saying, 'Through Movember I was growing a moustache. I asked my dad to sponsor me, I challenged him about prostate cancer, and because of that he went and had the test. He was found to have prostate cancer, caught it early enough...and he's alive today.'" If that were to happen just once, every moustache grown would have been worthwhile, and the fact the Garone says it's a normal occurrence makes being a part of it all the more special.
Miss out on Movember this year? Don't worry. It'll be back even stronger next time around. Garone's aim for next year is to "expand right across America and get a lot more people involved," to make Movember an even more successful event than this last month. Here in the States there's no national event raising awareness for prostate cancer, and Garone would like to see that change, even on this informal basis. The disease is more prevalent on this side of the Pacific than where Movember began - one in six men develop prostate cancer in the US, as opposed to one in nine in Australia. So even though you've probably missed your chance to participate this time, Adam Garone has some very specific instructions for you. "Go to Movember.com, check it out, and we'll see you next Movember with a moustache."
And those gala parties I mentioned earlier? Well, first off, there's definitely a place for all the ladies - the Mo Sistas that support their Mo Bro. Mo Bros come dressed in 70's attire or as their favorite mo-mentor, and the ladies dress to match. Contests are held to determine the best Mo Bro out of a variety of categories during a fashion show. At the San Diego party (hosted by none other than Mr. Adam Garone himself), everyone came dressed to the nines (or at least the sixes or sevens), and a feeling of accomplishment lingered in the air.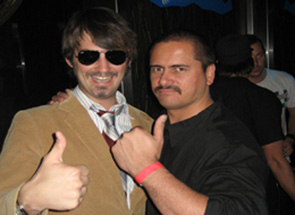 While at the gala, you can grab a drink, meet all the other mustachioed gentlemen and their ladies, listen to the good music, and vote for your choice for Man of Movember. And, if you're very, very lucky, you might meet, and have your picture taken with, THE Randy Jones. Otherwise known as the cowboy from the Village People. If that's not incentive enough to join me next year in growing out the handlebars, I don't know what is. Oh, yeah. You might also help cure prostate cancer. That's pretty good, too.