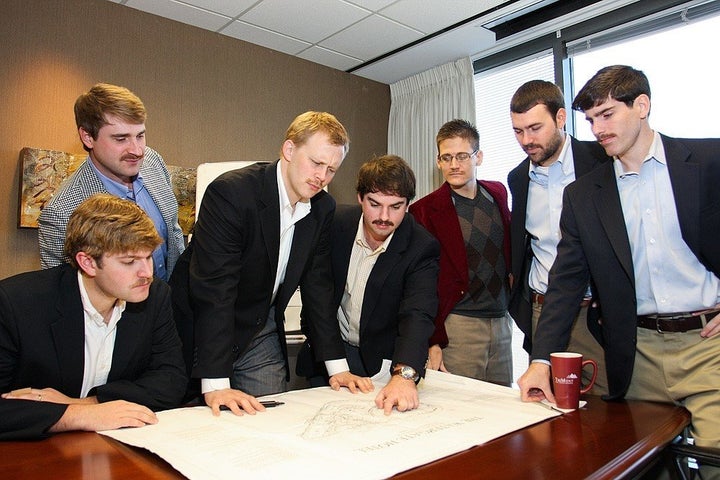 I didn't grow up wanting to be a moustache farmer. But that all changed back in 2003 when I received an e-mail from my brother challenging me to grow a Mo (Aussie slang for moustache) for the month of November. I was like, "Sure why not! Lets put the Mo back on the face of fashion."
In 2003, the rules were create which still stand today:
•Start M(N)ovember 1st clean shaven
•Grow a moustache for the entire month of Movember
•No joining your moustache with your sideburns - that's a beard
•No joining your moustache under you chin - that's a goatee
•Conduct yourself like a true gentleman
For me in 2003 it was just for fun, a social experiment along side 30 other Mo Bros growing moustaches for the first time. What was shocking to us back then, was how many conversations and how much controversy the growth of a new moustache created. Bosses, girlfriends, even strangers on the street would stop, stare and ask why the moustache?
It was only after we said goodbye to our Mo's in 2003, that we had time to reflect on how this month long journey had impacted us. Some of us realized we weren't that well endowed in the upper lip area, while others grew full moustaches within a week. One thing was certain, regardless of the state of our Mo's it got people talking.
The following year, 2004, we decided to grow moustaches again, but this time, we were going to give everyone something to really talk about - a cause behind the Mo. We saw that the breast cancer movement was gaining momentum at a staggering pace, but noticed there was nothing for any men's health issue. When we did a bit of research into the health issues that effect men, it was surprising to learn that the incident rates of prostate cancer were comparable to rates of breast cancer in women. But there was, and still is, a huge gap between the two causes in terms of awareness and funding. And that sealed the deal for us - our Movember moustaches would become for prostate cancer what the pink ribbon is for breast cancer - a hairy ribbon.
And that's how Movember the charity was born.
Eight years ago was our first year as a charitable event, we rallied 450 of our friends to grow, supported by the amazing ladies in our life, raising funds for the Prostate Cancer Foundation of Australia. At the end of the month we had raised the single largest donation made to the Prostate Cancer Foundation of Australia -- $43,000. From that point forward I knew I was destined to become a moustache farmer with Movember as the season. We realized that the moustache was much more than just a lip sweater... it was a powerful tool to raise much needed awareness and funds for a seriously underserved cause.
Movember's mission has never wavered -- to have an everlasting impact on the state of men's health. Our aim is to encourage men to take control of their health, know their family health history, and to be aware of the health issues men they should discuss with their doctor.
Over the years Movember has grown into a truly global movement. With our roots in Australia, we then began campaigns in New Zealand, the UK, US, Canada and Spain. This video highlights that growth of the movement.
Now, as I prepare for my ninth Movember, my sixth in my new home of the US of A, I am overwhelmed by how much Movember has grown. To date, 1.9 million men and women have joined our moustache movement to change the face of men's health. The impact is truly global with Movember now formally running in 21 countries, we are funding world-class programs with our men's health partners in survivorship, education and awareness, and research. In 2009 we created of our own Global Action Plan (GAP), which unites the world's leading prostate cancer researchers to collaborate on research. To date we have raised an incredible $299 million, making Movember the largest funder of prostate cancer programs in the world.
I'm Adam Garone, I'm a moustache farmer and men's health ambassador.
Related
Popular in the Community