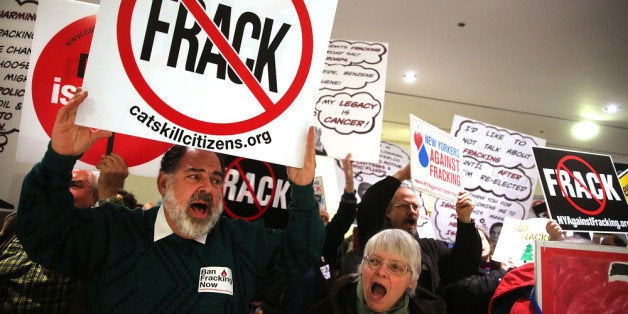 WASHINGTON -- The online progressive organization MoveOn will announce Thursday a new program to support local anti-fracking activists across the U.S. The "Frack Fighters" program provides funding and training to 100 activists fighting natural gas projects.
The effort comes as activists in Colorado and Pennsylvania have won recent fights to ban hydraulic fracturing, or fracking, a process used to extract natural gas from shale rock, in their communities. MoveOn's work is inspired by "both the victories and the potential for more victories," said Victoria Kaplan, the group's campaign director.
The group has selected 100 local activists from 37 states who are leading opposition to some element of natural gas development, from extraction to pipelines to wastewater disposal. Each will receive a $500 support grant as well as training and networking opportunities. The goal of the program, said Kaplan, is to "increase the capacity of grassroots leaders who are already driving strategic campaigns in their own communities to fight fracking."
Kaplan noted that the activists who have been awarded grants range in age from 16-year-olds to people in their 70s. A quarter are minorities and 60 percent are women. "This movement is diverse in many ways," said Kaplan. "That, I think, is a sign of a really formidable, powerful movement."
MoveOn has provided what it calls "opportunity grants" to its activists before, but this is the first program, Kaplan said, to focus on a specific issue. The group decided to start the program after seeing an increase in the variety of fracking-related petitions and campaigns from its members around the country.
One recipient is Susan Weber of Albany, N.Y., who said she has already used her grant to pay for ads to get people out to protest at Gov. Andrew Cuomo's annual State of the State Address, which took place on Wednesday. Cuomo has placed a moratorium on fracking in the state, but has not made a final decision on whether the process will be allowed in the future.
Corlia Logsdon, another activist who received funding, is organizing against the Bluegrass Pipeline, a proposed gas pipeline that could potentially run through her property in rural Woodford County, Ky. She said she intends to use the grant to pay for advertising and signs for rallies in the state capital. "We're up against a multimillion-dollar company with a huge advertising budget, and we're just citizens trying to defend ourselves," said Logsdon.
Support HuffPost
The Stakes Have Never Been Higher
Related
Popular in the Community