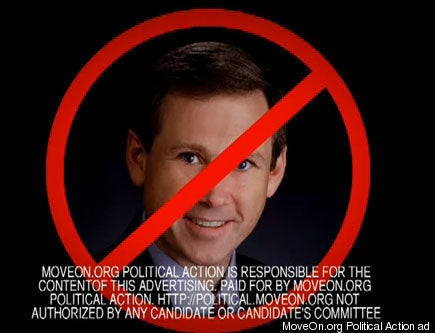 MoveOn.org Political Action released a new ad on Monday, tying Rep. Mark Kirk's (R-Ill.) positions to the U.S. Chamber of Commerce, which is receiving foreign funding. The group has cut other ads going after the Chamber, but this is the first one since the new information came to light by ThinkProgress last week.
"Mark Kirk voted to reward corporations with tax breaks for shipping jobs overseas," says the ad's narrator. "Now the Chamber of Commerce is spending over $75 million to help Republicans like Mark Kirk get elected. And where has the Chamber been getting some of their money lately? From foreign corporations in countries like China, Russia, and India -- the same companies that threaten American jobs. It's time to connect the dots. Exactly who is Mark Kirk working for? Because it sure isn't Illinois."
"Illinois cannot afford to have Mark Kirk, a pawn of the US Chamber of Commerce and their agenda of outsourcing US jobs, in the US Senate," said Justin Ruben, executive director of MoveOn.org, in a statement. The Chamber of Commerce has been running an ad against Alexi Giannoulias, Kirk's Democratic opponent for Illinois's U.S. Senate seat, hitting him for a "record of economic failure."
A spokesperson for MoveOn said that the ad will be airing statewide on both broadcast and cable television but would not release the total amount of the media buy. The Huffington Post contacted the Kirk campaign but did not receive a response.
As The Huffington Post's Sam Stein reported last week, MoveOn is also targeting Democrats who are receiving support from the Chamber. The group sent out an e-mail to its members asking them to contact these lawmakers and urge them to condemn the business organization's ads. "If candidates hear from voters that these ads are backfiring, they'll help us to get this dirty corporate money out of our elections," read the e-mail.
Candidates around the country are attempting to capitalize on the new allegations about the Chamber. WI-7 Democrat Julie Lassa, who has also been the target of ads by the Chamber and other outside groups, urges people in a new web ad to give not only to her but other candidates who are the targets of outside spending. "The only thing that can beat back the millions of dollars from outside groups is your people power," says Lassa in the video. "We need your help right now. But even if it's not me, please get out there and support a candidate about who you care about."
The fight over outside spending appears to be energizing the right as well. Chamber President Tom Donahue said last week that in response to all the criticism his organization has been receiving, they actually decided to invest more money into the midterm elections. "And, I just got our guys together and said 'OK, we're going to put more money in,'" he said.
Karl Rove's American Crossroads reportedly raised $30,000 in unsolicited donations on Sunday, after President Obama stepped up his attacks on outside groups trying to "sway" the elections without disclosing their funding.
*************************
The Huffington Post wants to know about all the campaign ads, debates, town halls, mailings, shenanigans, and other interesting campaign news happening by you. E-mail any tips, videos, audio, and photos to election@huffingtonpost.com.
Calling all HuffPost superfans!
Sign up for membership to become a founding member and help shape HuffPost's next chapter