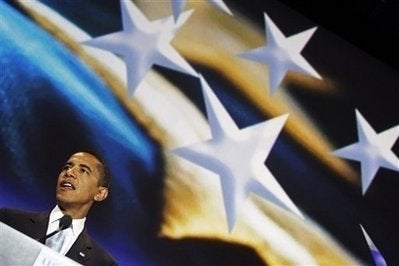 Here's an excerpt from MoveOn's letter:
Dear MoveOn member,

On Friday, House Democrats caved to the Bush administration and passed a bill giving a get-out-of-jail-free card to phone companies that helped Bush illegally spy on innocent Americans.

This Monday, the fight moves to the Senate. Senator Russ Feingold says the "deal is not a compromise; it is a capitulation." Barack Obama announced his partial support for the bill, but said, "It does, however, grant retroactive immunity, and I will work in the Senate to remove this provision so that we can seek full accountability for past offenses."

Last year, after phone calls from MoveOn members and others, Obama went so far as to vow to "support a filibuster of any bill that includes retroactive immunity for telecommunications companies." We need him to honor that promise.

Can you call Senator Obama today and tell him you're counting on him to keep his word? Ask him to block any compromise that includes immunity for phone companies that helped Bush break the law.

Obama's presidential campaign: (866) 675-2008

Then, help us track our progress by clicking here:

http://pol.moveon.org/call?cp_id=758&tg=479

These companies helped the Bush Administration illegally spy on the emails and phone calls of innocent Americans. By giving "immunity" to these companies, all lawsuits brought against them by civil liberties groups would be thrown out of court. That means we may never find out how far Bush went in breaking the law. And once it's done, it can't be undone. That's why we need Obama to promise to block any bill that has immunity.
Read the full letter here.
Popular in the Community