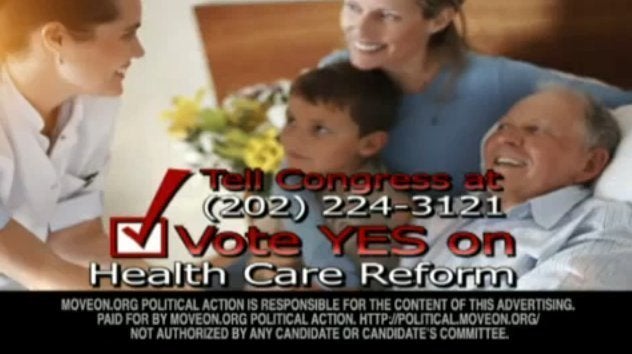 MoveOn.org launched a new pro-health care reform television spot on Monday encouraging voters to call their representatives and ask them "which side of history will you be on?"
"Throughout history, America has been blessed with heroic leaders -- individuals who helped us to navigate between right and wrong," the ad says. "We need our leaders to fight for what's right. Call Congress today and ask them: Which side of history will you be on?"
Coupled with images of Abraham Lincoln, Martin Luther King Jr., FDR and LBJ, the ad appears to liken the current legislative battle in Congress to other momentous decisions throughout history.
The ad accompanies an aggressive email sent out by MoveOn Monday that lays out a new strategy to change the minds of anti-reform Democrats. The email asks members to pledge money to support progressive challengers and says that "conservative Democrats need to know the stakes if they choose to side with Big Insurance over the voters on health care reform."
Popular in the Community