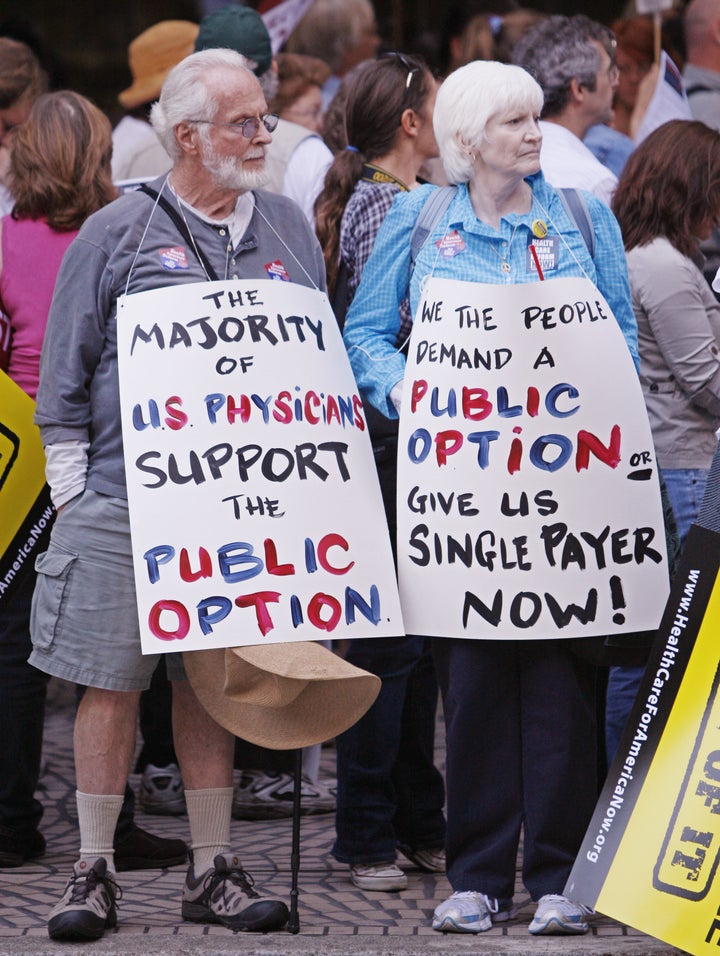 Just days after launching a petition drive to raise funds for primary challengers against Democrats who help defeat health care reform, the progressive activist group MoveOn.org has raised more than $1 million.
An alert from the group's communications arm touted the money raised as a "clear sign of the growing momentum and energy behind health care reform." MoveOn is now calling for an additional $1 million to be raised by Friday.
MoveOn had not named Congressman Dennis Kucinich (D-Ohio) as a potential target for its primary-Democrats effort. But the announcement by the Ohio Democrat - that he will support reform after voting against it - has buoyed its efforts.
As of now, MoveOn has about a half-dozen Democrats that they are looking at as potential take-outs in 2010 primaries, should they end up defeating legislation. The list includes Reps. Scott Murphy (NY), Michael McMahon (NY), Suzanne Kosmas (Fl.), and John Barrow (Ga.). Two other potential targets -- Reps. Bart Stupak (Mich.) and Alan Boyd (Fl.) -- already have primary challengers.
Separately, the pro-reform group Health Care For America Now announced on Wednesday that it was doing a round of six new television ads -- at a cost of $1.4 million -- targeting a host of Democrats who remain undecided about reform. Their list includes Representatives Gary Peters (MI-09), Melissa Bean (IL-08), Dina Titus (NV-03), Chris Carney (PA-10), Betsy Markey (CO-04), and Zach Space (OH-18).
That ad buy, which is in conjunction with he Service Employees International Union (SEIU), the American Federation of State, County and Municipal Employees (AFSCME), and Catholics United comes after the group already launched a wave of ads targeting Representatives Jason Altmire (PA-04), John Boccieri (OH-16), Jim Costa (CA-20), Suzanne Kosmas (FL-24), Harry Mitchell (AZ-05), Scott Murphy (NY-20), Brad Ellsworth (IN-08), Earl Pomeroy (ND), Bill Foster (IL-14), Steve Driehaus (OH-01), and Alan Mollohan (WV-01).

Popular in the Community