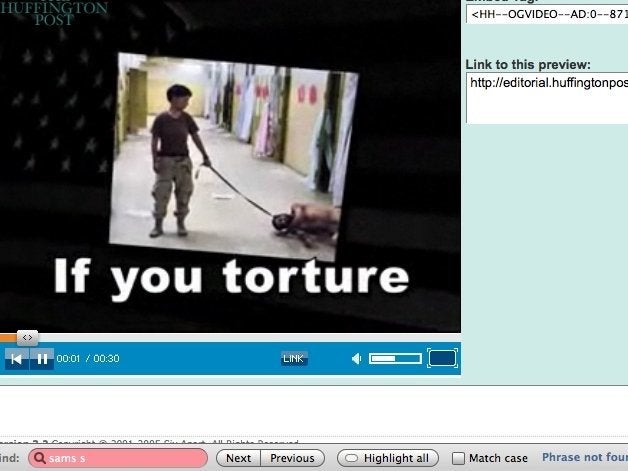 MoveOn.org is set to launch an aggressive new ad campaign calling on Attorney General Eric Holder to investigate the use of torture during the Bush administration and even raising the specter of targeting former Vice President Dick Cheney.
The ad, to premier on the web and blasted out to the group's five million members, is the strongest push yet from the progressive group on this front. Set to a dark voice, the narrator asks whether a double standard is in place in terms of who has been punished for the authorization and use of torture.
"If you torture an individual detainee, you might go to jail," the script reads, with footage of Lynndie England, the former United States Army reservist involved in the abuses at Abu Ghraib. "But if you authorize an entire secret torture program, you get off scot-free?"
The ad then switches to pictures of Cheney, John Yoo and Jay Bybee -- the latter two being top figures of the Bush administration legal team that rationalized these interrogation tactics.
"America is better than this," the video concludes. "Ask Attorney General Holder to appoint an independent special prosecutor to investigate these abuses."
MoveOn.org already has asked its members, in the form of an email petition, to call on Holder to appoint a special prosecutor. Its new video petition is based, in part, off a Senate report released Tuesday evening that shows interrogators used torture techniques to try and get detainees to admit to a link between al Qaeda and Saddam Hussein.
As the accompanying MoveOn.org email announcing the video reads: "The report calls the program 'a perfect storm of ignorance and enthusiasm,' and it confirms that officials at the highest levels, from Dick Cheney to John Aschcroft, were deeply involved. Calls for action are growing by the hour--and getting noticed... We're delivering your signatures and comments to Attorney General Holder tomorrow--but to make sure he hears our message loud and clear, we still need more people to join the campaign."
Popular in the Community