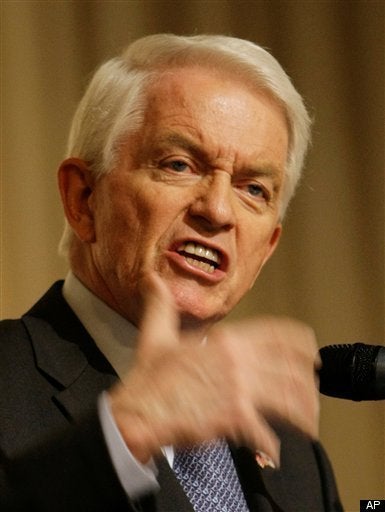 In yet another example of its willingness to throw punches inside the Democratic tent, MoveOn.org has decided to target Democratic candidates who are being aided in their elections by the U.S. Chamber of Commerce.
Acting on reports that the business lobby is using foreign contributions for its election funds, the progressive advocacy organization began organizing members to press Democratic recipients of Chamber support to condemn the ads being run on their behalf.
The targets are a select number of Democrats whom the Chamber chose to back once reports of their foreign funding hit the press. MoveOn sent an email to members in those specific districts, urging them to contact their representative.
The U.S. Chamber of Commerce is spending $75 million in ad money to buy this election--some of it allegedly donated by foreign corporations.

Spending foreign money on elections isn't just undemocratic--it's illegal.

Those ads are being run on behalf of candidates who have supported the Chamber's right-wing agenda, which includes giving giant corporations tax breaks to ship jobs overseas.

Your representative, Jim Marshall, is one of these folks, and there are Chamber ads flooding the airwaves in your district right now.

Can you call Rep. Marshall right now and urge him to condemn these ads and ask that they be taken down immediately? If candidates hear from voters that these ads are backfiring, they'll help us to get this dirty corporate money out of our elections.
In addition to Marshall, the list of MoveOn targets includes Reps. Frank Kratovil (MD-1), Glenn Nye (VA-2), Travis Childers (MS-1) and Bobby Bright (AL-2) -- all, essentially, conservative Democratic members that MoveOn has butted heads with in the past. But the group's willingness to target them over their Chamber ties underscores how eager the progressive community is to burn a few members if it means keeping the debate over third party funding in the spotlight.

Calling all HuffPost superfans!
Sign up for membership to become a founding member and help shape HuffPost's next chapter