Movers around the country are helping to get essential items to mothers in need, just in time for Mother's Day.
Two Men and a Truck, a moving company, has been hosting annual donation drives across the U.S. for mothers at partnering women's and family shelters as part of an initiative called "Movers for Moms." The group is delivering the items, which will include clothing and toiletries, around Sunday.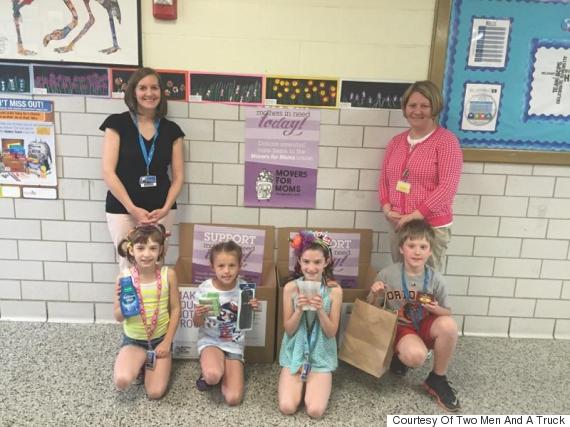 A Movers for Moms collection drive in Baltimore, Maryland.
One homeless mother who requested to be anonymous is currently staying at the Druid House in Baltimore, one of the shelters involved. She told HuffPost that the initiative is more than a nice gesture.
"Especially as mothers with children, we don't want [our children] to see us struggling with the basic needs," she said. "When somebody has made that effort to provide those things to you ... it might seem like something so small but it really gets rid of some of the concern and the stresses."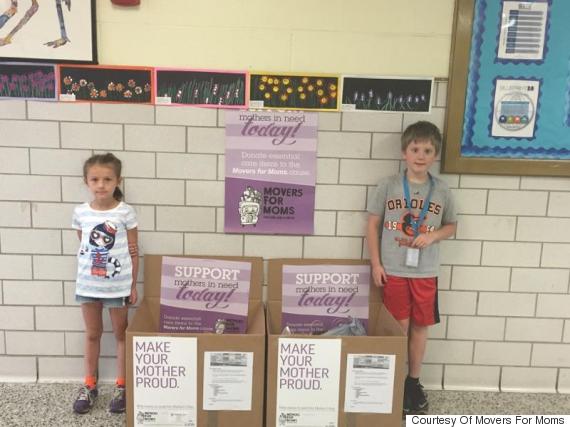 Children at a collection drive.
A variety of organizations, schools and local businesses are working with Two Men and a Truck to contribute items or serve as donation drop-off locations, according to a representative of the company. Items donated can range from basic clothing like underwear or socks, to hygiene products such as toothpaste and soap. Last year, Movers for Moms donated 220,000 goods to mothers in need, a press release pointed out.
The Druid House resident told HuffPost that buying items like toothpaste and soap isn't so simple for people in her position. She explained that because people at the shelter may have difficulty traveling to a convenience store, or have little income, some of these products are not as accessible as one may think.
"You're thinking 'How are you gonna get it" or 'Where are you gonna get it?' 'How are you going to afford it?' 'How are you going to get to the store?'" she told HuffPost of the complications preventing her from purchasing necessities.
The resident told HuffPost that she's grateful for the donations, and it's a moving thought to know that people are willing to help her and others in need.
"When people work together to do those things, it really lets you know that somebody cares. And the children feel it too," she said. "They are so happy and excited when they know somebody is caring about them, and sometimes you just need to know that."
To learn more about the initiative, visit the Movers for Moms website here.
REAL LIFE. REAL NEWS. REAL VOICES.
Help us tell more of the stories that matter from voices that too often remain unheard.
BEFORE YOU GO