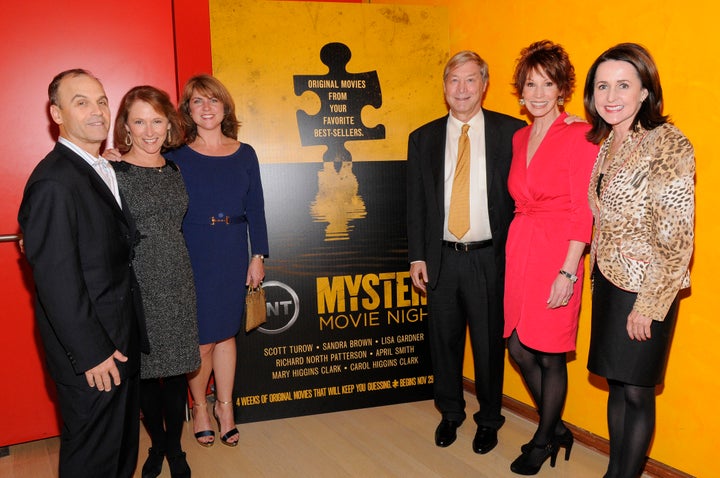 Fans of the nation's top mystery novelists received a treat Thursday when TNT invited them to a Manhattan sneak preview of the filmic adaptation of Scott Turow's "Innocent."
The event celebrated the launch of TNT's Mystery Movie Night series, which brings to the small screen novels by Sandra Brown ("Ricochet"), Lisa Gardner ("Hide"), Richard North Patterson ("Silent Witness"), April Smith ("Good Morning, Killer"), and Mary Higgins Clark and Carol Higgins Clark ("Deck the Halls"), in addition to Turow's "Innocent."
Turow, the novelist and criminal attorney who helped secure the 1995 release of Alejandro Hernandez, a death row inmate who had been wrongly convicted, sat down with The Huffington Post at the New York Times Center, where he was taking part in an author Q&A before the premiere of a teaser clip of "Innocent."
The green room was abuzz, full of authors and actresses (Marcia Gay Harding was on hand to introduce the film), and Turow seemed especially satisfied with the work that had gone into making the night a reality.
"I would say this is pretty close to ideal," he said of working with TNT. "You're talking about an extremely respectful relationship between the director/screewnwriter Mike Robe and the executive producers."
"And I can't imagine how I would have felt," he added, "if I heard this series was airing and 'Innocent' wasn't considered. I would have felt brutalized."
The novel picks up years after where "Presumed Innocent," Turow's 1987 novel, left off. Rusty Sabich, accused of murdering his mistress in the first novel, is back in hot water again after his wife dies unexpectedly. The TNT adaptation stars Marcia Gay Harding, Bill Pullman, Alfred Molina and Richard Schiff.
Of the different kinds of satisfaction derived from novel writing and arguing criminal cases, Turow told The Huffington Post that while "there can't be a feeling in life -- except if you're, say, a surgeon -- like providing that kind of immediate aid to a human being that needs it," he would still choose the writing over the legal work.
"You're using all of yourself when you're a novelist, so if I had to pick one, I'd obviously pick the writing," he said. "That's what I first wanted to do, but I've been very fortunate to have two careers. But as long as no one forces me to give one up, I don't intend to."
Jennifer Giddens, marketing director for TEN Marketing, said TNT chose to focus on adaptations for the series because of the novelists' extremely devoted fans, whom the network has identified as "armchair detectives" (attendees were each given a faux-briefcase with bookmarks, blankets, slippers and scarves that resemble yellow crime scene tape).
"TNT wanted to establish the series, and doing so through the lens of these bestselling novels works because the authors already have the credibility with the viewer," Giddens said.
Though the author Q&A had its fair share of lighter moments (one audience member asked how he can write and publish a book in two months so he can make "lots of money," and another begged Brown to name two future characters after her twins), it was Harding who left the group with an unexpectedly somber mission statement for the crime and mystery genre.
"We're used to seeing the faces of crime in newspapers and on the news, but it's these authors who give them humanity," she said. "It's not our job to make you feel 'I'm glad that's not me,' but to say, 'That could have been me.'"
"Innocent" premieres Tuesday, November 29 at 9 p.m. (ET/PT), on TNT.
REAL LIFE. REAL NEWS. REAL VOICES.
Help us tell more of the stories that matter from voices that too often remain unheard.