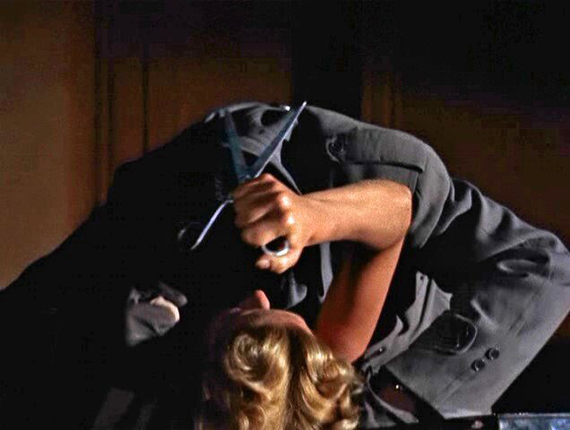 Ah, 3-D! It always seemed more like a gimmick than a true breakthrough in movie making technology. It was first introduced in the 1950s to beat back the threat of television; it was reintroduced in the new millennium to beat back the threat of the Internet. It didn't stop TV, and it won't stop Netflix, but a case can be made that it's more than just a toy.
Film Forum makes that case with its 3-D Auteurs film festival, running November 11-29, and featuring 34 films by serious directors like Alfred Hitchcock, Wim Wenders, and George Miller. Note that Film Forum is the only repertory theater in New York City equipped to show 3-D films in the finicky 1950s dual projector format. Highlights include:
It Came From Outerspace (1953). Cheesy alien invasion movie, the kind they don't make anymore. From a story by Ray Bradbury. You know you want to see it. Is it a metaphor for the Cold War? You decide. Directed by Jack Arnold.
House of Wax (1953). Vincent Price as the ultimate tortured artist. With a young Charles Bronson in one of his earliest screen roles. Plus the Three Stooges in Spooks (1953).
Inferno (1953). One of the toughest of tough guy movies. Illicit lovers Rhonda Fleming and William Lundigan strand obnoxious husband Robert Ryan in the desert, leaving him for the buzzards, but Ryan is just too ornery to die.
Dial M For Murder (1954). Tennis bum Ray Milland plots to bump off in-the-way wife Grace Kelly in this Alfred Hitchcock thriller. Forget the absurdity of any man trying to kill Grace Kelly--dig those crazy scissors!
Creature From the Black Lagoon (1954) and Revenge of the Creature (1955). Two creatures for the price of one! Revenge features a young Clint Eastwood in one of his earliest movie roles. Both directed by Jack Arnold again; if any single director can lay claim to being the 1950s 3-D director, it's Arnold.
Flesh For Frankenstein (1973). AKA Andy Warhol's Frankenstein. Rare 1970s 3-D flick. Warhol produced and Paul Morrissey directed this over-the-top take on the manmade monster. Rated X for excessive sex and violence. Followed with a sequel of a sort, Blood For Dracula (1975), AKA Andy Warhol's Dracula.
Beowulf (2007). Angelina Jolie stars as Grendel's mom in this sexy, decidedly non-traditional version of the Old English epic.
Pina (2011). 3-D is not just for genre pictures. Wim Wenders brilliantly captures Pina Bauch's groundbreaking choreography in this documentary about the dance pioneer.
Prometheus (2012). Wait, did I say they don't make cheesy sci-fi films anymore? After the embarrassing Alien vs. Predator movies, it seemed like the Alien franchise had no way to go forward. Ridley Scott wisely chose to make this prequel to Alien (1979) instead.
Gravity (2013). Sandra Bullock lost in space. Ms. Bullock resuscitated her sputtering career with her brilliant performance in this mostly solo adventure yarn. An updated version of Marooned (1969). I just wish when she finally landed back on Earth she was greeted by intelligent, talking apes.
Pacific Rim (2013). Guillermo de Toro's underrated giant monster mashup. A sequel is in the works, sadly without de Toro directing.
Mad Max: Fury Road (2015). When I first heard George Miller was reviving the Mad Max franchise, I admit I was apprehensive. After the disappointment of Mad Max Beyond Thunderdome (1985), I thought it was dead. I am glad to admit I was wrong; Fury Road is not just a brilliant action film, it's a brilliant film, period.
Office (2015). A Chinese musical about the cutthroat world of office politics? Starring the great Chow Yun-fat (A Better Tomorrow, Hard Boiled, Crouching Tiger Hidden Dragon)? Count me in! Plus added bonus attraction Kiss Me Kate (1953).
Film Forum is located at 209 West Houston Street in Manhattan.
Popular in the Community